Tuesday, July 10, 2012
Page 3
Fox Rothschild's Darrell Miller Honored by National Bar Association
By a MetNews Staff Writer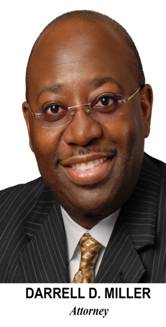 The National Bar Association, the country's oldest and largest organization of African American attorneys and judges, has named Los Angeles lawyer Darrell D. Miller its 2012 Entertainment Attorney of the Year.
Miller's firm, FoxRothschild, announced the honor yesterday. Miller will be honored Monday at the association's 87th Annual Convention in Las Vegas, Nev.
Miller is co-chair of the firm's national Entertainment Law Practice. He has practiced entertainment law for more than 20 years.
The firm described Miller, a former professional singer, as "the go-to person for providing celebrities, athletes and others in the industry with guidance toward formulating solid and informed strategies for career growth." It said he was "able to assist clients in monetizing and protecting their brands, building multiple revenue streams and leveraging new technology and social networking to expand their brands."
It cited his "long-standing relationships with numerous studio executives and creative personnel, including artists, writers, directors and producers associated with a variety of television programs and motion pictures."
Miller has a transactional law practice, with an emphasis on the motion picture, television, music, theatre and new media industries. He has aided and assisted clients in all areas of entertainment law, including motion pictures, television, music, theatre, new media, live-stage events, touring, literary property, licensing agreements, co-productions, partnerships, incorporations, merchandising, intellectual property, syndication, literary book publishing, executive employment agreements, development agreements, productions agreements and distribution agreements, the firm said.
Miller is a member of the Black Entertainment & Sports Lawyers Association Hall of Fame, having served as the association's board chair and president. He has frequently commented on entertainment issues in newspapers and on television. He is also involved with a number of charitable endeavors, including the Pasadena Playhouse.
He is a former member of the Board of Governors of the Academy of Television Arts and Sciences, having served on the Executive Committee and chaired the Membership and Diversity committees.
In other news, criminal defense lawyer Garo Ghazarian has been elected vice-chair of the Glendale Civil Service Commission. Ghazarian, who is also dean and professor at Peoples College of Law in Los Angeles, and chairman of the Board of Governors of the international Armenian Bar Association, was chosen by his fellow commissioners June 27.
He has been a member of the commission for seven months and is actively involved in promoting civil and human rights in Armenia.
Copyright 2012, Metropolitan News Company