Wednesday, July 18, 2012
Page 1
Services Friday for Entertainment Lawyer Marvin B. Meyer
By a MetNews Staff Writer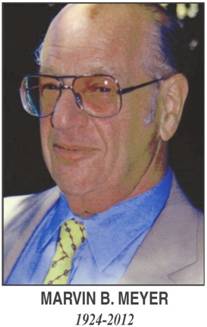 Services are scheduled Friday for Marvin B. Meyer, a major force in entertainment law and an original owner of the Phoenix Suns basketball team.
Meyer died Monday, a family spokesperson said, at the age of 88.
Born in Brooklyn, Meyer moved with his family to Los Angeles and later Boyle Heights. After graduation from Los Angeles High School in 1942, he attended Pomona College and later the University of Illinois.
After service in World War II, he attended Harvard Law School, graduating in 1948 and going to work for MGM and later MCA. He joined Larry Beilenson, the first attorney for the Screen Actors Guild, in forming Bielenson & Meyer—which evolved into Rosenfeld, Meyer & Susman—in 1953.
His clients over the years included numerous movie and television stars, producers, studios, agents, sports figures, athletes, publicists, and record companies.
He served as an adjunct professor at USC's Peter Stark Graduate Film School, and in 1990 was honored by the Beverly Hills Bar Association as "Entertainment Lawyer of the Year."
He was part of the group that brought the expansion Suns to Phoenix, a city once derided by then-NBA Commissioner J. Walter Kennedy as "too hot, too small, and too far away." The group included some of Meyer's clients, including singers Andy Williams and Bobby Gentry.
Meyer worked well into his 80s, most recently as of counsel to the Meyer Law Organization, whose managing attorney is his son, Michael Meyer. He also served as trustee for trusts established by former clients such as Gregory Peck, George Peppard, and Jack Benny.
Survivors include his wife Helen Alameda Lewis and his son. His first wife, Nan Ryan Uhlmann, died in 1978.
Several friends and clients issued statements yesterday commenting on Meyer's passing.
Actress Darryl Hannah called him "a smart, kind & humane human - a rare occurrence in the world of law ... or any world these days."
Producer Chuck Binder explained that he first met Meyer playing tennis at the Palm Springs Racquet Club.
"The producer who was my partner told me to 'take it easy,' because he represented everyone in Hollywood and he needed his clients," Binder recalled. "I later got into the management business and worked alongside him. He immediately became a stabilizing force in the careers of actors such as Daryl Hannah, Sharon Stone and many others. Besides being the greatest lawyer in town, he was an amazing tennis host, friend, father and loving husband."
Publicist Paul Bloch said he "was not only an extraordinary lawyer, but an extraordinary human being."
Friday's services are scheduled for 11 a.m. at Hillside Memorial Park, Los Angeles. His family asked that any memorial donations be made to the Jewish Federation of Greater Los Angeles or the Wilshire Boulevard Temple Food Pantry.
Copyright 2012, Metropolitan News Company