Tuesday, June 12, 2012
Page 1
Services Set for Wilbur Littlefield, 90, Longtime County Public Defender
By a MetNews Staff Writer
Funeral services are set for former Los Angeles Public Defender Wilbur "Bill" Littlefield, who died Saturday at the age of 90.
The cause of death was heart failure.
Services are scheduled for 11 a.m. on June 30 at St. Bridget of Sweden Catholic Church, 16711 Gault St., in Van Nuys.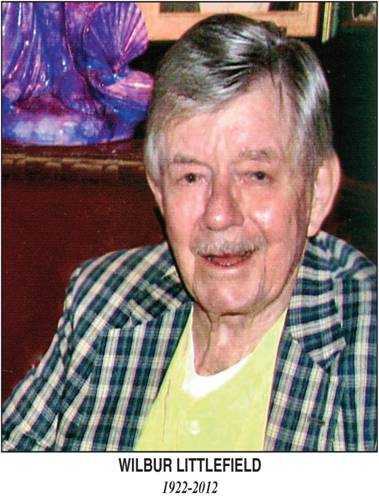 Littlefield was feted on March 20, as his 90th birthday approached—it came on April 6—by a gathering of well-wishers on both the prosecution and defense sides of the criminal bar. The county's district attorney, Steve Cooley, and public defender, Ronald Brown, were present, as were Ninth U.S. Circuit Court of Appeals Judge Arthur Alarcon, and former District Attorney Robert H. Philibosian.
The event was orchestrated by former Los Angeles County Deputy Public Defender Ken Green, who wrote, in connection with the celebration:
"[Littlefield] joined the Los Angeles County Public Defender's Office in 1957 as its 26th lawyer….
"He tried more death penalty cases than any lawyer in L.A. County—probably more than any lawyer in California and perhaps more than anyone in the country.
"He was promoted to 'Chief of Branch and Area' after eight years of trying death cases.
"In 1976, he was selected as the department head and served in that capacity until his retirement in 1993.
"He served a total of 36 years in the office."
Green said Sunday:
"Bill Littlefield and I were best friends for almost forty years.
"I will miss him forever."
Cooley yesterday termed Littlefield "one of my favorite people of all time in the Los Angeles County criminal justice system." The district attorney credited the former public defender with having been "a man of honor, displayed in many venues, whether in combat in World War II or defending death penalty cases in our courts."
In World War II, Littlefield, as an Army lieutenant, headed the Alamo Scouts, a secret unit that performed 106 missions behind enemy lines.
Hillside Strangler Case
Court of Appeal Presiding Justice Roger Boren of this district's Div. Two recalled that, when he was a deputy attorney general, he came to know Littlefield when they were opposing counsel in the Hillside Strangler case in 1982-83. Littlefield and Deputy Public Defender Alan Simon represented Kenneth Bianchi, he noted.
He was an erudite figure, who often had keen insights into the intricacies of the American jury system," Boren said. "I learned a lot from his views.
"Later, as a judge, my respect for Bill Littlefield grew even more as I saw how well he managed and taught his attorneys."
Boren observed that as public defender, "Littlefield "headed one the finest, if not the finest, criminal defense agencies in the United States," adding:
"He did so with great respect from prosecutors and judges."
Court of Appeal Presiding Justice Norman Epstein of this district's Div. Four said he knew Littlefield "on two levels," explaining:
"One was from his reputation and the excellence of his deputies who reflected his penchant for thoroughness, effective advocacy, and ethical behavior.
"I also had the privilege of serving with him for many years on the CALJIC committee, the body then responsible for standard criminal jury instructions in California. His opposite number on that committee was the late William James (another Bill) who was the Assistant Attorney General in charge of representing the People in criminal appeals from cases tried in Los Angeles and other southern California counties. Each was fully knowledgeable, did his homework, and worked together to help produce fair, accurate and (hopefully) understandable instructions.
"Bill Littlefield always had a sparkle, and always was able to add a dollop of common sense to our often theoretical discussions. He brought honor to his office, and to the profession."
'Voice of Reason'
Los Angeles County Supervisor Michael D. Antonovich remarked:
"Will was a true professional and a man of character. During my Chairmanships of the [County-wide Criminal Justice Coordinating Committee] and as a member of the Board of Supervisors, Bill was a team player and voice of reason and common sense."
Former Los Angeles County Bar Assn. President Harry L. Hathaway of Fulbright & Jaworski L.L.P hailed Littlefield as "a pioneer and giant, deeply respected by all who worked with and opposite him."
Another former LACBA president, Patricia Phillips of Phillips Jessner LLP, described Littlefield as "a consummate gentleman." She recounted:
"I first met him through Los Angeles County Bar activities. At a time in the early '80s there were few women in the hierarchy of the Bar and my presence on the Law Enforcement Group comprised of the Public Defender, the District Attorney, the chief of police, the Presiding Judge of the Court and the President of the County Bar Association was a novelty. Bill Littlefield made it easy.
"He was a dedicated lawyer and brought real insight and intellect to his job as Public Defender."
Former Los Angeles Superior Court Judge Phillip Argento reflected:
"One of the icons of criminal justice in Los Angeles County has left us."
Licensed 62 Years
Littlefield was admitted to practice on Jan. 5, 1950. Although he went on inactive status on Aug. 20, 2001, the total length of his State Bar membership exceeded 62 years.
He was the eighth holder of the post of public defender. The Los Angeles County Public Defender's Office was the first such office in the nation, instituted under the reform-era Charter of 1913.
It gained national attention in 1954-55 by virtue of a nationally syndicated television show, "Public Defender," which, in the opening, showed pin marks on a map of the United States indicating places where similar offices had opened.
Surviving Littlefield are two sons, two daughters, nine grandchildren, nine great grandchildren.
One of his granddaughters, Christina Miller Littlefield, is a deputy public defender. She is among more than 700 attorneys in the office.
By contrast, when her grandfather was hired as a deputy in 1957, he was the 26th lawyer (all male) to join that office.
Copyright 2012, Metropolitan News Company