Thursday, August 2, 2012
Page 3
Lillie's Name Goes Back On Law Library Building
New lettering was mounted on building yesterday.
By a MetNews Staff Writer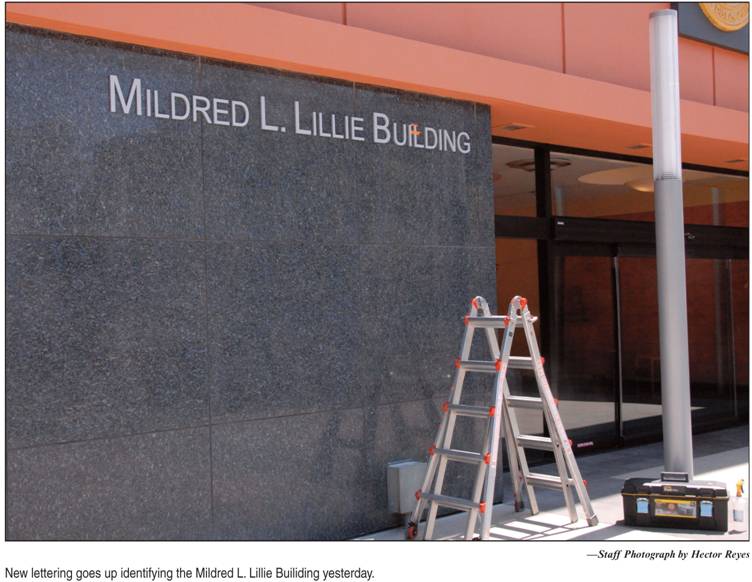 The main Los Angeles County Law Library building at First Street and Broadway in the downtown Los Angeles Civic Center yesterday regained its identity as the Mildred L. Lillie Building.
It was renamed in honor of the late Court of Appeal presiding justice on Nov. 7, 2004. After tarp had been removed following a recent repainting of the structure, lettering identified the building as the law library but Lillie's name was missing.
"We were waiting for new lettering—several letters were missing after the painting process," the library's executive director, Marcia J. Koslov, explained in an e-mail.
She also advised:
"Our new logo is also going up on the granite on First & Broadway and on First & Hill. We've received good marks for the building—and the best part is that the repair/rehabilitation of the roof and the below grade waterproofing will help the building last for another 50 years!"
Lillie died of cancer on Oct. 27, 2002, after 55 years as a judge. Appointed to the Los Angeles Municipal Court in 1947, she made her way up the latter to the Superior Court in 1949; the Court of Appeal, as an associate justice, in 1958; and as a presiding justice of the Court of Appeal in 1984.
In each instance, Lillie, a Democrat, was appointed by a Republican governor.
Copyright 2012, Metropolitan News Company