Tuesday, October 2, 2012
Page 3
Lew May Return to Work Next Week, Spokesperson Says
By a MetNews Staff Writer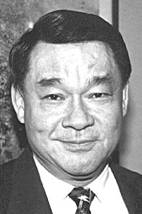 RONALD S.W. LEW
Senior U.S. District Judge
Senior U.S. District Judge Ronald S.W. Lew may return to work as early as next week, a court spokesperson told the MetNews yesterday.
The jurist, who underwent two operations to reduce swelling on the brain after suffering a fall while on a visit to Cambodia, will likely work one to two days per week in the beginning, but plans to eventually resume his normal schedule, the spokesperson said.
Efforts to reach Lew himself for comment were unsuccessful.
Lew first underwent surgery two months ago at Bangkok Hospital Medical Center after being flown to Thailand from Cambodia, where he fell four feet while visiting the ruins of Angkor Wat. He had a second brain operation Aug. 31, and had surgery prior to that to treat a fracture of his right wrist.
Lew was appointed to the federal bench in 1987 by President Ronald Reagan, making him the first Chinese-American U.S. district judge in the continental United States. He took senior status in 2006.
He was appointed to the Los Angeles Municipal Court by Gov. Jerry Brown in 1982, after having worked as a deputy city attorney in Los Angeles and for eight years as a partner in a local firm. He was elevated to the Los Angeles Superior Court by Gov. George Deukmejian in 1984.
He turned 71 years of age last month.
Copyright 2012, Metropolitan News Company