Monday, August 20, 2012
Page 3
Senior U.S. District Judge Lew 'Quite Stable,' Physician Says
By a MetNews Staff Writer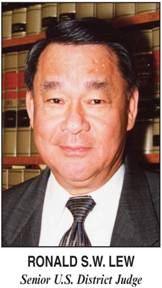 Senior U.S. District Judge Ronald S.W. Lew of the Central District of California is doing well, two weeks after undergoing skull surgery in Thailand, a doctor at the Bangkok Hospital said Friday.
The physician, who said his first name was Panat, said Lew was "quite stable" and would likely leave the hospital "very soon."
Lew was operated on at the hospital, reputed to be one of the most advanced medical facilities in the world, after being airlifted from Cambodia.
Lew, 70, stumbled and fell four feet off a ledge while visiting Angkor Wat, a Hindu complex in Cambodia, according to knowledgeable sources. The jurist hit his head and was rendered unconscious for a matter of minutes.
He was flown to Thailand for treatment of his head trauma, and underwent craniotomy surgery (entailing an opening of the skull) to remove blood and pressure.
The doctor said the judge suffered a subdural hematoma, and that while it was initially feared he might need a second operation, a follow-up CT scan showed that the situation was "resolving itself with conservative treatment."
The judge has now left the intensive care unit, the doctor said, adding that "he is talkative, he knows what's going on" and is undergoing physical therapy and is able to walk.
Sources said his wife, Mamie, and two daughters are with him.
Lew was appointed to the federal bench in 1987 by President Ronald Reagan, and took senior status in 2006.
He was appointed to the Los Angeles Municipal Court by Gov. Jerry Brown in 1982 and elevated to the Los Angeles Superior Court by Gov. George Deukmejian in 1984.
The jurist turned down an offer of an appointment to the Court of Appeal by Deukmejian to pursue a nomination to the U.S. District Court.
Copyright 2012, Metropolitan News Company