Thursday, October 4, 2012
Page 1
Carolyn Kuhl Elected Assistant Presiding Judge
By KENNETH OFGANG, Staff Writer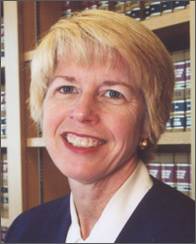 CAROLYN KUHL
Los Angeles Superior Court Judge
Los Angeles Superior Court Judge Carolyn Kuhl has been elected assistant presiding judge of the court for 2013 and 2014, court officials said yesterday.
Kuhl, a judge since 1995, defeated Judge Dan T. Oki. In keeping with the court's longstanding practice, vote totals were not disclosed.
If tradition is maintained, Kuhl will serve her two-year term as assistant presiding judge and then run unopposed for the post of presiding judge for 2015 and 2016. The current assistant presiding judge, David Wesley, will be the presiding judge for the next two years.
Kuhl said she was "honored and humbled to have been chosen by my colleagues." She told the MetNews that the court has "many challenges ahead," but has "strong and devoted bench officers who are dedicated to serving the public by adjudicating cases."
'Long' Campaign
She said she was relieved that the "long" campaign was over. Kuhl announced her candidacy in mid-March, Oki his in February.
Oki could not be reached for comment, but Kuhl provided a copy of a joint letter the two sent to their fellow judges Tuesday afternoon, prior to the vote count.
It read:
"Dear Colleagues:
We both want you to know that we end this APJ election process with great respect for each other and for you, our colleagues. We have both truly enjoyed the opportunity to travel throughout the county, renew old friendships, and meet many of our newer colleagues. The election has not marred our relationship with each other, and we look forward to working together, and with David Wesley….Our beloved Court faces the greatest challenges of its history. Both of us ask you to renew your commitment to work together as colleagues and to work with our Court leadership. We truly believe that our bench officers are the finest in the country, and that you will do whatever is necessary to help our Court through the tough times ahead."
'Hubris and Mismanagement'
In announcing their bids for the post earlier this year, Kuhl and Oki sounded similar themes. Kuhl aligned herself with Presiding Judge Lee Edmon and Wesley in their emphasis on the needs of trial courts in allocating judicial branch funding.
Kuhl criticized "the hubris and mismanagement" of state court officials, citing as "only one example" the since-abandoned statewide case management system, which she called a "disaster that has directly harmed the courts."
A St. Louis native, Kuhl moved to Los Angeles in 1978 to join the law firm that became Munger, Tolles & Olson. After three years with the firm specializing in corporate law, Kuhl moved to Washington where she served for a year as special assistant to Attorney General William French Smith in the Reagan administration.
Kuhl returned to Munger Tolles in 1986 as a partner and focused on litigation and appellate work before being named by then Gov. Pete Wilson to the Los Angeles Superior Court in 1995. She has held both criminal and civil assignments.
She is presently in her second stint as supervising judge of the civil courts, having served in between as supervising judge of the complex litigation courts. She is married to fellow Los Angeles Superior Court Judge William Highberger.
Copyright 2012, Metropolitan News Company