Monday, March 26, 2012
Page 1
Judge Kuhl to Seek Assistant Presiding Judge Nod
By KENNETH OFGANG, Staff Writer
Los Angeles Superior Court Judge Carolyn Kuhl, who supervises the civil courts, confirmed Friday that she is seeking election as assistant presiding judge.
Kuhl declined to be interviewed by the MetNews, saying she views the election as "an internal matter." But the jurist provided a copy of the letter she sent to her colleagues earlier last week.
"These are tough times and I believe I can provide the leadership needed to preserve the excellence of our Court – the best and the largest trial Court in the country," Kuhl wrote.
Sounding many of the same themes that Judge Dan Oki set forth in his letter seeking support for the same office about a month ago, Kuhl aligned herself with Presiding Judge Lee Edmon and Assistant Presiding Judge David Wesley in their emphasis on the needs of trial courts in the wake of "extraordinary funding problems that threaten our core functions."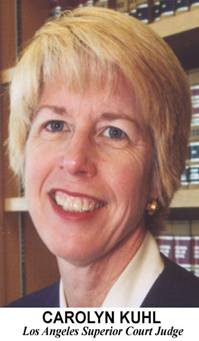 She wrote:
"We have argued to the Judicial Council and AOC that the branch's highest priority must be to preserve the judicial function, and we must have the same priority within our Court."
Kuhl criticized "the hubris and mismanagement" of state court officials, citing as "only one example" the California Case Management System, which she called a "disaster that has directly harmed the courts."
A St. Louis native, Kuhl moved to Los Angeles in 1978 to join the law firm that became Munger, Tolles & Olson. After three years with the firm specializing in corporate law, Kuhl moved to Washington where she served for a year as special assistant to the-Attorney General William French Smith in the Reagan administration.
Kuhl returned to Munger Tolles in 1986 as a partner and focused on litigation and appellate work before being named by then Gov. Pete Wilson to the Los Angeles Superior Court in 1995. She has held both criminal and civil assignments.
She is presently in her second stint as supervising judge of the civil courts, having served in between as supervising judge of the complex litigation courts. She is married to fellow Los Angeles Superior Court Judge William Highberger.
Kuhl was nominated in 2001 by then-President George W. Bush for a seat on the Ninth U.S. Circuit Court of Appeals. The nomination drew Democratic opposition, based in part on positions she argued on behalf of the government while at the Justice Department.
Supporters were unable to break a filibuster, and Kuhl withdrew from consideration in December 2004.
In her letter last week, Kuhl said she would:
-"[R]ecogniz[e] our constitutional and statutory mandates and the needs of society's most vulnerable persons," in keeping courts open in a period of downsizing. "Given our collective problems, this is not the time for pitting district against district, civil against criminal, or either against family, juvenile and probate. Instead, we must promote a common vision of a county-wide system of justice. We all must bear the weight and obligations of the future fairly and equitably."
-Protect judicial benefits, including "Mega-Flex and our judicial retirement
plans."
-Maintain relationships with the court's "justice partners" and with the bar.
The court will elect an assistant presiding judge this fall, and Oki and Kuhl appear to be the only candidates. The winner will take office in January for a two-year term.
Wesley is expected to run unopposed for presiding judge, in accordance with the court's tradition of many years.
Copyright 2012, Metropolitan News Company