Monday, September 17, 2012
Page 1
King Succeeds Collins as Central District Chief Judge
By KENNETH OFGANG, Staff Writer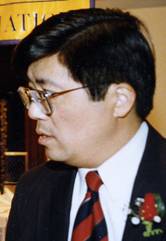 GEORGE H. KING
Chief U.S. District Judge
U.S. District Judge George H. King is the new chief judge of the Central District of California, having succeeded Audrey B. Collins on Friday.
The court announced the transition in a two-sentence "Notice From the Clerk."
No reason was given for Collins, 67, stepping down. She has held the post since Jan. 5, 2009 when Alicemarie Stotler took senior status, and could have remained chief judge until 2015, when she will turn 70.
Federal law provides that the chief judge of a district or circuit be succeeded by the senior member of the court among those active judges who are less than 65 years of age and have never previously served as chief judge.
King—an appointee of President Bill Clinton—has been a member of the court since June 30, 1995, making him senior to all of the active judges except Manuel Real, Stephen Wilson, and Collins. Real is a former chief judge, and Wilson is ineligible to be chief judge at age 70.
Pregerson Next in Seniority
King's elevation could create a future opportunity for the next member of the court in seniority, Judge Dean Pregerson—who, like King, was born in 1951—to serve as chief judge down the road. Stotler's decision to relinquish the post several years before she had to create a similar opportunity for Collins, who would have become ineligible, had Stotler served her full term.
Collins graduated Phi Beta Kappa from Howard University in 1967, and earned her master's degree in government and public administration from American University in 1969.
She graduated Order of the Coif from UCLA's law school in 1977, and joined the Legal Aid Foundation of Los Angeles as an assistant attorney.
One year later, Collins became a deputy district attorney for Los Angeles County. She served as the head deputy in the Torrance branch office from 1987-1988, assistant director of the Bureau of Central and Special Operations from 1988-1992, assistant district attorney from 1992-1994, and deputy general counsel for the Office of the Special Advisor to the Los Angeles Board of Police Commissioners in 1992.
At the time then-President Bill Clinton nominated Collins to the bench in 1994, she was the highest ranking African American, and third highest ranked administrator, in the District Attorney's Office.
Shanghai Native
King is a native of Shanghai, and becomes the first Chinese-American chief judge, as well as the first person ever to serve as both chief magistrate judge and chief district judge, in the district. He received his undergraduate degree in 1971 and his law degree in 1974 from USC.
He was in private practice in Los Angeles from 1974 to 1975. He was an assistant U.S. attorney for the Central District of California from 1975 to 1979.
He returned to private practice from 1979 to 1986, and served as a hearing examiner for the Los Angeles Police Commission from 1980 to 1982.
The district judges appointed him a magistrate judge in 1987, He became chief magistrate judge in February 1995 and held that post until his appointment as district judge months later.
In other news, the District Court announced that it will, beginning today, accept applications for admission electronically. The form can be found on the court's website at www.cacd.uscourts.gov/attorneys/admissions.
Copyright 2012, Metropolitan News Company