Monday, July 23, 2012
Page 1
Patrick M. Kelly Elected President of State Bar for 2012-2013
Rodriguez, Nelson Also Elected to Posts in Board's New Structure
By a MetNews Staff Writer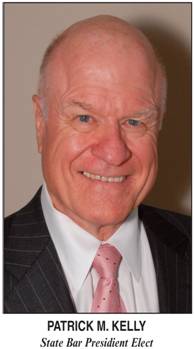 Patrick M. Kelly, western regional managing partner at Wilson Elser Moskowitz E­del­man & Di­cker LLP, was elected Friday as president of the State Bar of California for 2012-2013.
A bar spokes­person said the Board of Trustees, meeting in San Fran­cisco, elected Kelly over fellow board mem­bers Lo­ren Kieve of San Francisco and Wells B. Lyman of La Mesa. No vote totals were released.
Kelly, 69, will be sworn in as the 88th president of the 238,000-member organization at the bar's Annual Meeting in October in Monterey.
Kelly said Friday his goal will be to "help lawyers be better lawyers."
Brandeis Speech
He recounted a speech made by Louis Brandeis in 1905 at Harvard in which the future United States Supreme Court justice bemoaned the legal profession veering from its traditional role of peace-making and problem-solving. Kelly said that at a time "when our judicial resources are so strained," a return to the profession's traditional "central role" is to be encouraged.
Inclusiveness, he said, will be a hallmark of his presidency. The former Los Angeles County Bar Assn. president said he will "reach out to the youngest lawyers," who are having difficulty finding jobs, "and to the most senior lawyers," who are being cast aside by their firms, and also ensure inclusion of minority lawyers.
He credited the late Sam Williams, who had been a LACBA president and a State Bar president, for "mentoring me on equal opportunity."
Under the board's new governance structure, dictated by the Legislature as part of last year's dues bill, SB 163, a vice president and treasurer are elected at the same time as the president, and serve concurrent one-year terms.
Both of those positions went to Los Angeles attorneys, as Deputy Public Defender Luis Rodriguez was elected vice president without opposition, and Gretchen Nelson, managing partner of Kreindler & Kreindler LLP's Los Angeles office, was elected treasurer.
Nelson, 58, defeated San Diego attorney Heather Rosing.
Kelly is a former president of the Los Angeles County Bar Association, as well as of the Breakfast Club.
"We are in a severe economic crisis that threatens our courts, other institutions of government, and even this Bar," he said in his candidate statement. "Perhaps more troubling, there is an ever growing lack of public trust in our institutions of government, our legal system and our lawyers."
"The challenges we face also create a tremendous opportunity that calls for the very best in leadership and commitment to service each of us can bring," he said.
Longtime Lawyer
Kelly is a graduate of Pomona College and Loyola Law School, and was admitted to the State Bar in 1970. He was elected to the Board of Governors, renamed the Board of Trustees under the new legislation, in 2009.
Rodriguez, 45, was elected to the Board of Governors in 2010. His undergraduate and law degrees are from the University of Santa Clara.
He was admitted to the State Bar in 1994, the same year he joined the Public Defender's Office. He is a past president of the California La Raza Lawyers Association, the Mexican American Bar Association, and the Latino Public Defenders Association.
Nelson, 58, was elected to the Board of Governors in 2010. She is a graduate of Smith College and Georgetown University's Law School and was admitted to the State Bar in 1984.
She is a past president of LACBA, the Breakfast Club, and the Cowboy Lawyers Association, and a former MetNews Person of the Year.
Under SB 163, the Board of Trustees is transitioning from a 23-member body primarily elected by lawyers to a smaller board with a primarily unelected membership.
When the transition period ends in October 2014, the board will consist of 19 members, five of whom will be attorneys appointed by the Supreme Court.
The first of those attorney members will be appointed this year, for a renewable three-year term beginning at the State Bar Annual Meeting in October. The application period for that position closed last month.
The new board will also include six elected lawyers, one from each of the state's six appellate court districts; six public members, same as at present; and two attorneys appointed by the legislative leadership.
Copyright 2012, Metropolitan News Company