Wednesday, May 9, 2012
Page 4
JUDICIAL ELECTIONS: Los Angeles Superior Court Office No. 65:
Three Prosecutors Compete for an Open Seat
Three prosecutors are vying for one of three open seats on the June 5 ballot.
Los Angeles Deputy District Attorney Shannon Knight , running as a "Gang Homicide Prosecutor," and Los Angeles Deputy City Attorney Matthew Schonbrun, labelled on the ballot a "Criminal Prosecutor," both drew a Los Angeles County Bar Assn. rating of "qualified" and did not appeal. Los Angeles Deputy District Attorney Andrea C. Thompson, whose ballot designation is "Child Molestation Prosecutor," boasts a LACBA rating of "well qualified."
Thompson has the endorsement of the Los Angeles Times.
Knight and Schonbrun are profiled today; Thompson will be featured tomorrow.
SHANNON KNIGHT
Deputy DA Relies on Ex-Colleagues, Now Judges, For Campaign Advice
Deputy District Attorney Shannon Knight does not have a political consultant in her campaign for a Los Angeles Superior Court open seat.
Does she need one?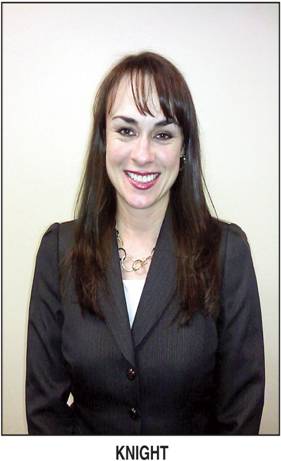 "We'll find out," she responds, with a laugh.
Knight adds that she does have "friends who have gone through this process before" with whom she is conferring "on a regular basis."
The friends, she elaborates, are former deputy DAs, now elected judges: Daviann Mitchell, Kathleen Blanchard, Michael Jessic, and Valerie Salkin.
"They've all been very nice and very helpful in giving me advice and sort of guiding me through the process and what to expect," Knight says.
Those judges have formally endorsed Knight. Other erstwhile deputy DAs who have been recently elected to the bench and are endorsing her are Judges Michael O'Gara, Hilleri Merritt, Thomas Rubinson, Alan Schneider, and Hayden Zacky.
Merritt probably doesn't count, however. She's also endorsing the chief rival of Knight, Deputy District Attorney Andrea Thompson.
Too Early?
Some observers say that Knight is too young, not ready for a judgeship.
"I'm 38," Knight responds.
She says that "in looking at the last several judicial elections, and even a lot of the appointments," it's seen that it is no longer uncommon to have judges in the "38-42-year age range."
Knight remarks:
I don't know if it's a blessing or a curse, but sometimes people look at me and think I'm younger than I am."
She points out:
"I've been in hardcore gangs for the last five years…doing very complicated cases. I've tried over 92 jury trials….and some additional court trials, 17 murders. I think there a lot of people who would go their entire careers and not have those numbers."
The Los Angeles Times disagrees with the perception that Knight's bid is premature. Its April 22 editorial endorses Thompson, but says of Knight: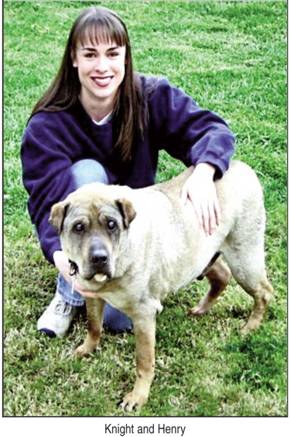 "She is ready to be a judge right now, and we would not hesitate to endorse her if her opponent was also not of such high caliber."
Performance Evaluations
Knight's latest office performance evaluation, for a one-year period ending last Oct. 23, gives her a rating of "Exceeded Expectations (Very Good)." That's akin to a "B."
The comment is:
"Shannon has had a very productive year in the Hardcore Gang Division. She has handled her own caseload plus volunteered to help out fellow deputies. She reviews and files many of her own cases and has developed strong relationships with her fellow task force members."
That's an improvement over the 2009-2010 rating of "Met Expectations (Competent)" The commentary terms her "an excellent young gang prosecutor" who is "self motivated."
The 2008-2009 rating is "Exceeded Expectations (Very Good)." The commentary chides the judicial officers in the San Fernando Courthouse, where Knight prosecuted gang members. It says:
"Shannon's assignment…requires her to deal with the San Fernando Bench that can at times be extremely difficult to get to take cases to trial. Notwithstanding, she has done 6 trials and done an excellent job of educating the Bench at how important it is to move gang cases along. It is a constant battle and Shannon has done an outstanding job. She is a very bright young lady…."
The Los Angeles County Bar Assn. has tentatively rated her "qualified" and Knight has opted not to appeal.
Would Admit Errors
Knight says she would be a judge who would admit having erred. She declares:
"There are sometimes judges who maybe just want to react quickly to something and might not always make the right call, which is fine—no one's going to make the right call all the time—but I do admire judges who will go back, and take a look, and do the research, and if they find that they were mistaken earlier about something, they will come back and correct the situation.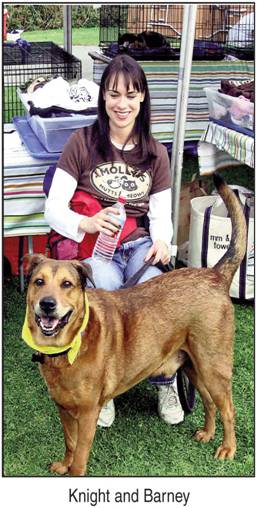 "I've had that several times with judges and I think that shows a lot of integrity and a lot of character when someone is willing to admit, 'You know what? I made the wrong call, and let me go back and correct it'—even if it's not in my favor."
She elaborates that she wants judges to rule in her favor "because I'm right," adding:
"If I'm not right, I don't want them ruling in my favor because it's just going to come back. It's just going to create a problem."
Comments on Kumar
A central figure in this year's judicial elections is Los Angeles Superior Court Judge Sanjay Kumar. By all accounts, his performance as a judge is exceptional. His opponent, Kim Smith, in banking on voter preference for a person with a name like his over someone with a foreign-sounding moniker.
Knight utters comments on Kumar not in connection with his campaign, but in the course of answering questions about hers.
A question posed to her is what judges she would seek to emulate. She says "there are so many who are wonderful," but singles out Kumar.
She sizes him up in these words:
"Very, very smart, very knowledgeable on the law, will research any issues that come up thoroughly, and will have authority for everything that he does. But in addition to being very smart and knowledgeable, he also has a great temperament and a great personality and treats everyone with courtesy and respect and just couldn't be nicer.
"It really does make a huge difference when you're appearing in a court where the judge not only makes the right calls but the experience is a pleasant one, for everyone."
Praise for Knight
Kumar, in turn, says that Knight "has tried complex murder cases in my courtroom" and comments that "[o]f the people who have appeared before me, nobody has demonstrated a more thorough knowledge of the law" than she.
He adds:
"Ms. Knight is a down-to-earth intellectual who treats people with dignity. I am confident she would strengthen the Los Angeles Superior Court if she were elected judge."
Los Angeles Superior Court Judge Harvey Giss observes:
"Simply put, she tried a very serious and complicated jury trial in my court and she proved herself to be a highly intelligent, skilled, dedicated and conscientious advocate. She was well prepared. She was industrious and she was able to remain professional and balanced throughout the trial….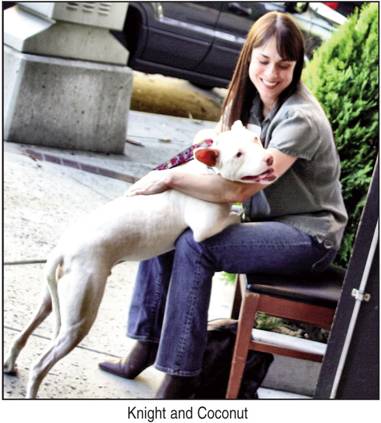 "She has had many pretrial motions before me on other cases and her research and writing was outstanding. Criminal trial work is very messy stuff. I think she has what it takes to absorb the beating a busy criminal trial judge has to endure. She has a certain toughness that the job requires. I think she would be a great asset to the bench."
Rescues Dogs
In 1998—the year she received her law degree from Chicago-Kent College of Law and was admitted to the State Bar of California—Knight went to work for a non-profit, no-kill animal rescue organization. After gaining employment as a deputy district attorney, she continued to devote time, as a volunteer, at dog rescue homes and shelters, as well as taking abandoned dogs into her home. She preasently has two pit bull terriers.
Knight was asked to e-mail a photograph of herself with her dogs. Here's her response:
"I have discovered that I have tons of photos of the dogs, but very few with me in them. The ones I have are a few years old. I'm sending a few so you can choose whicever you think is best.
"One is with Henry, a dog I found on my way to work when I was assigned to East LA. He was skin and bones, covered with mange, and had very little hair when I found him. The vet said he had been hit by a car years before and never got medical treatment, so his femur was permanently dislocated. With some good food (as you can see, probably too much of it), supplements, and etogesic, he made a remarkable recovery and lived five more happy years. I made efforts to place him, but, as you can imagine, there were no takers.
"Another is me and Barney at a mobile dog adoption event. I found Barney in 2006 in Echo Park on my way home from work. He was scrounging for food near a restaurant and some kids started chasing him on skateboards in a parking lot. I took him in to the L.A. Animal Services shelter for that area, but no one claimed him. So I got him out and tried to place him, taking him to adoption shows and posting him on the internet. Big dogs and older dogs are hard to place, and he was both. The first call I got from his posting was about four years later. By then, I had decided to let him live out the rest of his days with me. He passed away last September.
"The last photo is of me with a white pit bull mix named Coconut taken outside a charity event for Pacific Coast Dog Rescue, where I used to volunteer. He was one of their dogs. Not only did he have his breed working against him, he was also completely deaf and did not get along with any other dogs. I believe he was never adopted and passed away at the rescue."
_____________________________________________
MATT SCHONBRUN
Deputy City Attorney: Rivals, Both Deputy DAs, Don't Work At Higher Level in System
Deputy Los Angeles City Attorney Matt Schonbrun is pitted against two deputy Los Angeles deputy district attorneys. Although he's handling misdemeanors while they're prosecuting felonies—Shannon Knight dealing primarily with murder cases and Andrea Thompson chiefly with child molestation cases—Schonbrun won't concede that they're operating on a higher level than he.
"I don't equate the severity of a crime, necessarily, to mean that it's operating on a higher level," he says.
"One of the things that I think has really helped me get my trial legs and made me the trial attorney that I am is the fact that I am in court doing nitty-gritty, sometimes unpopular misdemeanor trials," the candidate observes.
He contends that pushing for convictions in cases where jurors don't believe the conduct should be a crime can be more challenging than prosecuting homicide cases. Schonbrun explains: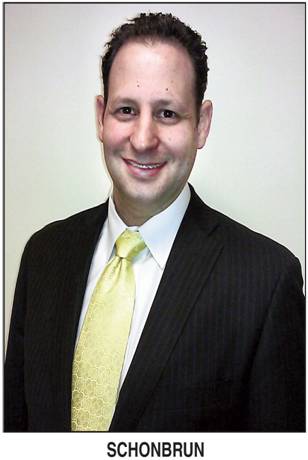 "When I first started, I would do these prostitution trials, and I'd stand up in front of my jury pool and say, 'I want you to raise your hand if you think prostitution should be legal,' and I get half my jurors raise their hand and they'd say things like, 'What two consenting adults want to do is none of my business.' So, this is a case, from the get-go, I had half my jury pool not even believing that the charge that my office filed should be an appropriate charge—so I had to spend time educating them, saying, '…[I]f you want to change the law, you write a letter to your legislator, but you have to follow law, even if you don't believe [in] it.'"
The candidate continues:
"So those types of cases is really what makes for an excellent trial attorney because it's a stretch. It makes the attorney have to relate to a juror who doesn't want to be there, who may be disinterested, who may be bored, who wants to be at work or at home, and yet, it's an important case."
Schonbrun also recounts handling "bandit taxi cab cases" which evoked juror apathy. These were cases where taxicabs were not licensed, with proof of compliance affixed to the exterior of the vehicles.
Felonies Deemed Misdemeanors
He points out:
"The distinction between felonies and misdemeanors, as you may be aware, because there's so much crime in L.A., a lot of the cases that we handle would be felonies in other jurisdictions. They may just get reduced to misdemeanors from the DA's Office.
"So I've done assault with a deadly weapon trial, where a gentleman was hit over the back of the head by a beer bottle. And that is a blow that could kill someone. The strike with the beer bottle on the back of the head—one—and falling and hitting the head on the ground—two—that could be a fatal attack."
Schonbrun comments:
"Because I have handled 'wobblers.' serious cases that can be charged as either misdemeanors or felonies, I have experience in handling serious cases similar to what some DDAs may handle, as well as less serious cases."
Schonbrun notes that he has dealt with "[r]ecanting victims in domestic violence cases…. sex crimes, ID theft, violent crime, DUI."
He goes on to say:
"So, I really have a broad, very broad range. And, yes, it's in a misdemeanor realm, but those misdemeanors include vehicular manslaughter, assault with a deadly weapon, domestic violence."
He says he handles "violent crimes—everything short of homicides."
Homicide Prosecutions Easier
Schonbrun insists it is inconsequential that he has not handled a homicide prosecution, explaining:
"My view on that is that, without alienating any homicide prosecutors, is that, it seems to me that that's probably easier, to be able to stand up in front of a jury and you got the evidence, you got the dead body, you got—'Hey, look, a crime is committed, we got the dead body, you're going to see photos, the defendant must be held responsible, do your justice and convict the defendant.' "
To him, he says, such a prosecution "does not seem any more difficult than some of the misdemeanor trials that I've handled," declaring:
"I would not, under any circumstances, say that the lack of me doing a homicide trial is me operating on a lower level."
10-Year Mark
If Schonbrun were to be elected outright in the June 5 primary—a prospect not forecast by political observers—he would be constitutionally qualified, but barely. Art. VI, §15 of the state Constitution provides: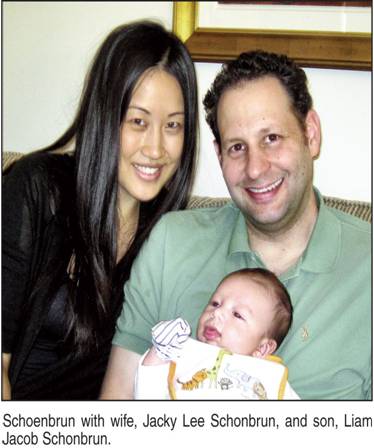 "A person is ineligible to be a judge of a court of record unless for 10 years immediately preceding selection, the person has been a member of the State Bar…."
Schonbrun was admitted to practice law in California on June 4, 2002, the tenth anniversary of his admission falling one day before the primary election.
The relative brevity of his membership in the State Bar has not escaped notice. In its editorial endorsing Thompson, the Los Angeles Times opines:
"Deputy City Atty. Matt Schonbrun also has potential, but he may be rushing things just a bit. Candidates must have 10 years of experience as licensed California attorneys before taking the bench, and Schonbrun won't notch his decade until the day after [it should read "before"] the election."
Schonbrun responds to concerns over the shortness of his status as an attorney by saying:
"I have over 10,000 hours of courtroom experience….Malcolm Gladwell, who wrote this book called 'Outliers,' says that in order to be an expert in anything, one needs to have [10,000] hours of experience. He talks about the Beatles—and they played in night clubs, for years before they made it. And he did the math, the hours, and looked at different occupations, and he said that when someone has 10,000 hours of doing anything, they become an expert in that field."
He declares:
"I may have only 10 years under my belt but I have my 10,000 hours. I don't think that I'd be any more qualified at 20,000 hours.
"I don't want there to be a demerit against me because I have only 10 years and another candidate may have more."
He acknowledges, as to his rival Thompson: "She has a lot more experience." Thompson has been a deputy district attorney for 27 years.
"What I say is: 'I'm ready, I'm ready now," Schonbrun maintains.
Schonbrun's Endorsements
Los Angeles Superior Court Judge Joseph S. Biderman, who supervises the West District, says:
"Matt appeared before me numerous times in 2003 when I presided over misdemeanor matters in the Foltz Criminal Justice Center. As a young and rising deputy city attorney, he exhibited a high level of professionalism and reasonableness in handling cases."
Biderman has endorsed him, as have Los Angeles Superior Court Judges Lauren Weis Birnstein, Marcelita V. Haynes, Rex Heeseman, Elaine Mandel, M.L. Villar de Longoria, and Deborah Sanchez. He is also endorsed by the San Fernando Valley Young Democrats.
Candidate's Background
Schonbrun received his law degree from the Thomas M. Cooley Law School in Lansing, Mich. He has been in the City Attorney's Office since August, 2002.
The lawyer is accessible by e-mail these days in the middle of the night. He's on diaper-changing duty.
He and his wife have an 8-week-old son.
—Roger M. Grace
Copyright 2012, Metropolitan News Company