Wednesday, April 18, 2012
Page 4
JUDICIAL ELECTIONS: Los Angeles Superior Court Office No. 10
Assistant Hawthorne City Attorney Challenges Judge With Indian Name
Kim Smith, assistant Hawthorne city attorney, is banking on his moniker to carry him to victory over a Los Angeles Superior Court judge with the name, "Sanjay T. Kumar." Smith, who two years ago ran unsuccessfully for an open seat and was adjudged by the Los Angeles County Bar Assn. to be "not qualified," is waging no discernible campaign.
SANJAY T. KUMAR
Jurist Wants to Retain Post but Won't Falsify His Name in Aid of Effort
"I love the job," Los Angeles Superior Court Judge Sanjay T. Kumar says of his judicial post.
A lawyer named Kim Smith wants to take it away from him.
Smith, an assistant city attorney in Hawthorne, has challenged Kumar in the June 5 election. His ballot designation is "Criminal Prosecutor."
Although Smith has no discernible campaign, political observers do not discount the possibility of his winning simply on the basis of his name—which could be that of a woman—contrasted with that of the incumbent, a name that has a foreign ring to it.
There had been pre-election season speculation within the legal community that Kumar might, on the basis of his name, draw a challenge. The judge says he heard no such talk, declaring he was "surprised" when he learned that he had drawn an opponent.
Some wonder why he did not run as "Jay Kumar" or "S.T. Kumar." He explains:
"I have too much integrity to be changing my name for purposes of the ballot."
Family Background
Kumar discusses his family background in the Spring, 2006 issue of the Los Angeles Superior Court's Gavel to Gavel magazine. He tells of his British mother, raised on a dairy and poultry farm in West Yorkshire, in the north of England, becoming a nurse at the local Halifax Hospital, and meeting an intern from the Northern part of India. Kumar writes: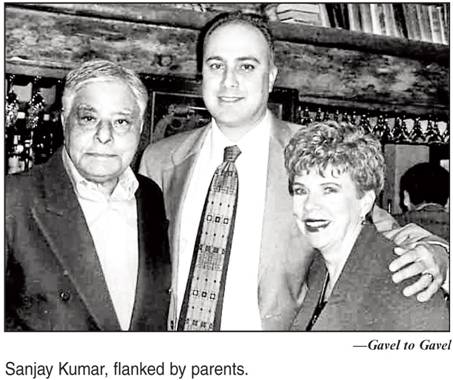 "They were married in England and remained there to allow my father to finish his internship. After completing his internship, my father was offered a residency position at Harvard's Massachusetts General Hospital. Because of the prestige of this institution and the opportunities available in the United States, my parents immigrated to the United States."
That was in 1964. Sanjay Kumar was born in Boston on March 24, 1965.
His parents "eventually moved to Chicago where they raised my sister and me," Kumar notes.
He went through public schools there, attended undergraduate school at University of Loyola of Chicago, then came here and received his law degree from Pepperdine.
Kumar was admitted to the State Bar in 1990, and went to work for the state Attorney General's Office.
Though a neophyte, he was quickly assigned to handling appeals in major cases.
Charles Keating Case
Kumar in 1993 gained an affirmance in the state Court of Appeal of the 1991 conviction of Lincoln Savings chief Charles Keating Jr. for securities fraud in connection with massive sales of "junk bonds," primarily to elderly persons.
The California Supreme Court granted review in 1993, then changed its mind and, in 1995, dismissed review as having been improvidently granted, remanding the matter to the Court of Appeal. That court didn't act because federal proceedings were soon instituted challenging the state court conviction.
Kumar was unsuccessful in opposing Keating's petition for a writ of habeas corpus in U.S. District Court for the Central District of California. The writ was granted in 1996 because Los Angeles Superior Court Judge Lance Ito's instruction on aiding and abetting did not include reference to the mens rea element, breaching the defendant's federal due process right, according to the ruling.
The lawyer had been unable to persuade District Judge John G. Davies (since retired) that the federal court lacked jurisdiction inasmuch as the contentions had not been presented by Keating to the California Supreme Court in his petition for review.
Kumar did so convince a three-judge panel of the Ninth U.S. Circuit Court of Appeals, which held in 1998:
"Because the constitutional claim raised in Keating's federal habeas petition has not been fairly presented to the California Supreme Court, Keating has not exhausted his state court remedies, and his petition for habeas corpus must be dismissed without prejudice."
Keating one week later filed a new habeas corpus petition in the U.S. District Court which omitted reference to the aider-and-abettor instruction. It was granted and the Ninth Circuit affirmed in 1999.
An Associated Press dispatch reporting that affirmance says:
"Deputy Attorney General Sanjay Kumar said he disagreed with the court and wouldn't rule out an appeal, though no decision has been made. 'As a prosecutor, you want to see that justice is done,' he said."
Certiorari was denied by the U.S. Supreme Court in 2000.
Other Appeals
In 1994, Kumar obtained a ruling by the Ninth Circuit upholding California's criminal antipiracy statute relating to sound recordings against sundry challenges, including the contention that federal law was preemptive.
He was also assigned to defend the convictions of the Menendez Brothers, Erik and Lyle, who had viciously murdered their parents. A 1998 Court of Appeal opinion affirmed. Although the trial had been an exceedingly high-profile one, the arguments for reversal were viewed as routine and unmeritorious, and the opinion was not certified for publication.
The California Supreme Court denied review.
Becomes Court Commissioner
In 2001, Kumar was elected a court commissioner by the judges of the Los Angeles Superior Court. There were roughly 200 applicants, and Kumar landed the third spot on the eligibility list.
Los Angeles Superior Court Judge David Sotelo was the Metropolitan Courthouse (traffic court) supervising judge in 2003 and 2004. He recalls:
"I watched Sanjay Kumar 'cut his judicial teeth' as a newly appointed Superior Court Commissioner. I immediately assigned him to a courtroom where the demands and strains could, and often still do, breakdown and expose the flaws in the character of aspiring judges. Although Court Commissioners are rigorously vetted and then selected by a special committee of judges, the committee really doesn't know if it has made the 'right selection' until the new bench officer is placed in the social reality of a variously demanding and busy courtroom. Commissioner Kumar passed that ultimate test with flying colors. He displayed and exemplified the emotional stability and serenity of temperament that Californians expect of judges, and as far as I know, he was never the subject of a Non-Stipulation.
Sotelo adds:
"Clearly, that is why our Governor also vetted, selected and then commissioned Sanjay Judge of the Superior Court of the State of California. The fact that Sanjay has been invited to preside at the Court of Appeal speaks for itself: besides his flawless courtroom character, Judge Kumar knows the law better than most of us. Many of us knew that from the beginning. He's brilliant."
Kumar later was assigned to handle criminal matters.
"I had the privilege of supervising him," David Wesley, then assistant supervising judge of the criminal courts, recounts.
He terms Kumar's performance "spectacular."
Wesley, now the court's assistant presiding judge, hails Kumar as "one of the best bench officers on the Los Angeles Superior Court," adding:
"He's conscientious, he cares about cases. He's smart."
At the age of 40, he was appointed by Gov. Arnold Schwarzenegger as judge of the Los Angeles Superior Court. He was the first south Asian appointee to that body. Sunday marked seven years since he took the oath of office.
His current assignment is as a judge of the Appellate Division.
A year ago, he wrote the opinion holding that photographs derived from the Automated Traffic Enforcement System ("ATES")—that is, red light cameras—are admissible evidence of speeding. The opinion declares:
"[I]t is our view that photographs taken by an ATES may be admissible even if the testifying officer was not a percipient witness to the violation and was not personally responsible for setting up the camera. We conclude the accuracy of the photographs is subject to a rebuttable presumption pursuant to Evidence Code sections 1552, subdivision (a), and 1553. Moreover, apart from such a presumption, the photographs may be authenticated by a law enforcement officer who has knowledge about the methods used by the ATES to transmit the photographs to the officer's law enforcement agency. Finally, the data and images on the photographs did not constitute hearsay because they did not amount to a 'statement' from a human declarant."
Court of Appeal Decisions
Kumar served on assignment to Div. Five of this district's Court of Appeal in late 2010. A second stint, which ended last Feb. 29, was of a year's duration.
•In a Jan. 6, 2012 opinion, Div. Five held that the sister of a second-degree murder victim was not herself a "victim" of the crime, precluding application of the provision of Penal Code §3003 that "an inmate who is released on parole shall not be returned to a location within 35 miles of the actual residence of a victim of. or a witness to, a violent felony...." Justice Richard Mosk wrote the opinion and Acting Presiding Justice Orville Armstrong concurred.
Kumar's dissent says:
"The majority finds the word 'victim' to be unambiguous, then identifies some ambiguity by pointing out that there are various definitions of 'victim' under the law, vows not to rewrite section 3003, subdivision (f), and then rewrites the statute to delete murder victims from its ambit. I respectfully disagree with this approach.
"I would avoid rewriting section 3003, subdivision (f) and give 'victim' a meaning consistent with the California Constitution. With this approach, a murder victim's sister is a qualifying 'victim,' has standing to invoke this provision of the statute, and may request the paroling agency require the murderer, as a condition of parole, live over 35 miles from her residence."
Kumar notes that under Prop. 9—"Marsy's Law"—Art. I, §28 of the state Constitution defines "victim" as including the direct victim's "spouse, parents, children, siblings, or guardian."
•Fraudulent voting charges against state Sen. Rod Wright, D-Inglewood, were reinstated by the Court of Appeal on July 12, 2011, in an opinion by Kumar, after they had been dismissed by Los Angeles Superior Court Judge Kathleen Kennedy.
The Public Integrity Unit of the Los Angeles District Attorney's Office insisted that Wright did not actually live at the residence on Glenway Drive in the City of Inglewood which he claimed as his abode.
Kumar's opinion sets forth at the outset:
"Elections Code section 2026 provides, 'The domicile of a Member of the Legislature...shall be conclusively presumed to be at the residence address indicated on that person's currently filed affidavit of [voter] registration.' The statute was enacted to allow elected officials to obtain a residence near Sacramento yet maintain, for voting purposes, their home district residence as their domicile. The question before us is whether this conclusive presumption applies even if the address listed on the affidavit of registration is not one of the legislator's legal residences. We conclude it does not and grant the People's petition for writ of mandate."
The case is still pending.
•In an Aug. 19, 2011 opinion, which was not certified for publication, an opinion by Kumar invalidates a controversial action by Los Angeles Superior Court Judge Hilleri Merritt. The opinion summarizes the holding at the outset, in these words:
"Real party in interest, Alberd Tersargyan, is the defendant in a criminal prosecution for murder. Petitioner, Los Angeles Times Communications LLC, has filed a petition for writ of mandate requesting this court order respondent superior court to vacate its order prohibiting petitioner from publishing photographs lawfully taken of defendant during criminal proceedings. We conclude the superior court's order amounts to an unconstitutional prior restraint on speech."
In the waning days of the administration of Gov. Arnold Schwarzenegger, Kumar came under consideration for appointment to the Court of Appeal, and is believed to have drawn highly favorable comments from the bench and bar.
"I really like research and writing," he says. "I think that's my strong suit."
He has the endorsements of 13 justices of this district's Court of Appeal, as well as 100 sitting or retired Los Angeles Superior Court bench officers.
Jurist Draws Praise
One of those endorsing him is Court of Appeal Presiding Justice Norman Epstein of this district's Div. Five, who says:
"I know Judge Kumar from his work as a California Deputy Attorney General and from his service as a justice pro tempore on Division Five of this district. He is an excellent and well-regarded judge highly worthy of retention."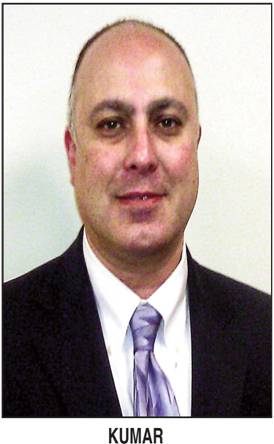 Div. One's presiding justice, Robert M. Mallano, opines:
"Judge Kumar enjoys an excellent reputation among the court of appeal justices who have had occasion to review his rulings. He has a deep understanding of the law and is blessed with common sense. He has had a broad range of experience as a trial court judge and has served with distinction as a justice pro tempore on the court of appeal. I wholeheartedly support his re-election as a tried and true judge."
E-mailing from Albania is Los Angeles Superior Court Judge J. Stephen Czuleger, a former presiding judge. He says:
"Judge Kumar is a true asset to our court. I have worked with him for years and know that he is a strong mainstay to our operation. He is not only an excellent judges, he is leader on our court. It is simply a shame that he faces this challenge for obviously suspect reasons surrounding his name. I truly thought our community was beyond this."
Los Angeles Superior Court Judge Lance Ito comments:
"#1 the challenge to Judge Kumar based upon his perceived vulnerability due to the ethnic nature of his name is nothing short of despicable. #2 he is one of our finest bench officers. #3 to kick a guy when he is down, having suffered the loss of his wife 6 months ago after a long and painful illness, is simply cruel and inhumane. I am glad our court's leadership and major players in the bar have rallied to his defense. I pray it is enough."
Kriegler Sums Up
Court of Appeal Justice Sandy Kriegler, who sits on Div. Five (the panel Kumar assisted), provides this tribute:
•The challenge against Judge Kumar is indefensible and despicable. Judge Kumar is simply one of the best judges in the State of California. There is no rational ground for an election challenge. The judiciary cannot afford to replace this superb bench officer with a candidate previously found by the County Bar to be unqualified for the position. The fact that the challenger's last two employers, District Attorney Steve Cooley and Sheriff Lee Baca, have endorsed Judge Kumar, demonstrates the easy choice for the voters in June.
•Judge Kumar is fair, knowledgeable, and unflappable, even in the most difficult of circumstances. It is just a matter of time until he is elevated to a higher court, which is where he belongs. The job he has done as a justice pro tem for the Court of Appeal over the past year has been remarkable. He has produced a large volume of diverse work, without the assistance of research attorneys, while interacting in a collegial fashion with the permanent members of Division Five. Every member of Division Five has profound respect for his work and we have greatly enjoyed working with him.
•Judge Kumar has distinguished himself at every step of his career. His work as a Deputy Attorney General was first rate. Despite his youth, he was assigned some of the most important matters in the office, such as the appeal of the conviction in the Menendez brothers murder case. He is one of the few lawyers to have argued two cases in the California Supreme Court in one day.
•Judge Kumar's election as a commissioner was quite remarkable. Although he was an outsider when he applied for a commissioner position with the Los Angeles Superior Court (because he was an appellate lawyer who did not frequently appear in the trial courts), he finished 3rd in the ratings out of approximately 200 applicants and was hired shortly thereafter. Judge Kumar quickly earned high praise from judges, who often sought his advice in criminal law matters. I believe he was twice placed in a position as assistant site judge as a commissioner, something which may be unprecedented, because it meant a commissioner was supervising judges.
•Since Judge Kumar's appointment to the Superior Court in 2005, he has had an impeccable career, often handling the most difficult and complex cases in the San Fernando Branch Court. Lawyers on both sides rave about his performance. The broad range of support he has in this election is a testament to how he is perceived by the bench and bar.
•Judge Kumar and his late wife, Jeanine, have two wonderful school-age sons. Judge Kumar, in addition to being a terrific judge, is a caring and devoted father. This is a quality human being who deserves to be reelected.
Kumar's sons are aged 11 and 15.
_____________________________________________
Challenger's Motives in Targeting Kumar Hit, Demeanor Rapped
Two years ago, in running for a Los Angeles Superior Court open seat, Assistant Hawthorne City Attorney Kim Smith boasted three endorsements, which he posted on the League of Women Voters website. That year, as this, he had no campaign website of his own.
The three were Los Angeles County District Attorney Steve Cooley, Los Angeles Superior Court Judge Mark Arnold, and Redondo Beach City Attorney City Attorney Michael W. Webb.
Cooley told the MetNews in February: "I am very disappointed in Kim Smith, who is a former deputy district attorney, for undertaking the challenge for a very wrong reason."
The district attorney said that in trying to talk Smith out of running, Smith "did not deny" he was targeting Kumar because his Indian name renders him vulnerable to voter rejection.
Cooley asserted that Smith's candidacy was "deplorable and despicable."
Arnold now says:
"Judge Sanjay Kumar has an excellent reputation for being an outstanding judicial officer. He is smart and fair. Mr. Smith, to my knowledge, has never appeared in front of Judge Kumar. A challenge to a judicial officer who is doing a very good job because of his name, to me, is wrong, selfish, and repulsive. I am 100% in support of Judge Kumar."
Webb declares:
"Although I have endorsed Mr. Smith in the past, in the current election I am endorsing Judge Sanjay Kumar who has an excellent reputation within the legal community as a brilliant, fair and principled judge."
Praise—With Reservation
Another supporter of Smith two years ago was Deputy District Attorney David Berger, who maintains the losangelesdragnet.blogspot.com. He still has high regard for Smith, saying:
"Kim Smith was my officemate in 1999 at the DA's Office. He was the kind of guy who you could always turn to for advice, even when he was trying some of the toughest cases. He has a great work ethic and was always well prepared."
Berger adds, however:
"I believe he would make a great judge, but I do question the wisdom of his decision to run against a sitting judge with an apparently unimpeachable record."
Judge Sotelo Comments
Los Angeles Superior Court Judge David Sotelo—who supervised Kumar in his first assignment as a court commissioner, hearing traffic matters—has this to say:
"It is an awful thing that a mediocre man and average lawyer named Kim Smith, a person with a reputation for racial and gender bigotry, would target Judge Kumar simply because Sanjay's father and his British mother named him Sanjay, rather than Harold Kumar. And it is even more disheartening that a so-called officer of the Court, an 'unqualified' man named Smith, would bank that Los Angeles voters will select him simply because his name is Smith over an 'exceptionally well qualified' judge who's name is Sanjay Kumar."
A judge, who requests anonymity, says Smith's reputation has been conveyed to him by colleagues in Torrance. He relates:
"All of our bench officers are repelled (and I mean unanimously!) at the thought of this man putting on a robe….[T]those that know Kim are of the opinion that Kim's nasty demeanor and intolerant attitude as an attorney, will only be exacerbated if he makes it to the bench. This even from a judge who a few years ago supported Kim on a previous run for judgeship: That colleague says he really didn't know Kim but endorsed him because Kim was a veteran. He knows better now."
A prosecutor in the South Bay sizes up Smith in these words:
"He is a strident overzealous prosecutor who seems to equate a courtroom with a combat zone. He does not seem to use discretion or much thinking before he speaks. That he is undoubtedly using his gender neutral American name to run against a reputable bench officer with a name of foreign origin to pander to the worse facets of voter prejudice is regrettable."
Courtroom Discord
Hawthorne cases were moved last year from Department 4 in the Inglewood Courthouse to Department 7. The switch, a judge advises, was the result of Smith "causing a hostile work environment" in the former department.
The clerk in Department 4 is Kathy Evans. Stressing that she is speaking as an individual and not on behalf of the court, she says of Smith:
"He doesn't have a personal filter. If something comes to his head, he says it."
She relates that she was put in a "state of embarrassment" when Smith came up to her one day, in response to no inquiry from her, and showed her "a three-by-five photo of a black woman," whom he identified as his first wife. Evans is African-American, and Smith is white.
"I didn't know whether it was a flirt," she says. "I didn't know whether he was ingratiating himself to me. I thought it was bizarre."
Evans notes that Smith used to eat his lunch in the courtroom during the noon recess, while she would be working. He would routinely ask that she stop what she was doing and check on the status of cases for him, Evans says.
On July 7 of last year, she recites, she was too busy to accommodate him. She says, reading from a report she made to her supervisor, he went into a "tantrum, the likes of which I never have seen before"; that he "stormed into the jury room, slamming the door," spoke loudly on his cell phone, then returned to the courtroom, exiting, and "slammed his way out of the courtroom."
He was transferred a short time later, Evans reports.
Candidate's Background
Smith received his undergraduate degree from Occidental and his law degree from Southwestern.
He has served as a sergeant in the Sheriff's Department.
Two years ago, Smith vied with seven other candidates for a Los Angeles Superior Court open seat. He lost in the primary. The Los Angeles County Bar Assn. rated him "not qualified."
—Roger M. Grace
Copyright 2012, Metropolitan News Company