Friday, April 6, 2012
Page 8
JUDICIAL ELECTIONS: Los Angeles Superior Court Office No. 3:
Musician/Broadcaster Competes With Two Deputy DAs, Pro Bono Lawyer
There are four candidates for Office No. 3, an open seat. Deputy District Attorneys Sean D. Coen and Craig Gold, along with pro bono attorney Laurence N. Kaldor, were profiled yesterday. Today, the spotlight is on the fourth candidate, the most colorful of them.
JOE ESCALANTE
Candidate Has Background as Punk Rock Musician, Radio Host, Amateur Bullfighter
"I don't think I'm a kook-fringe candidate," judicial aspirant Joe Escalante says, but acknowledges:
"I'm certainly not the typical one that gets endorsements from the bar association or the Times."
With respect to the upcoming Los Angeles County Bar Assn. rating, Escalante admits that he foresees a rating of "unqualified," then queries, in jest: "Is there an 'extremely unqualified'?"
(The ratings are "exceptionally well qualified," "well qualified," "qualified," and "not qualified.")
He minimizes the potency of the ratings, however, saying he knows of "a couple" of candidates who won election to judgeships despite flunking grades from LACBA. He identifies one of them: Los Angeles Superior Court Judge Pat Connolly, who he says endorses him.
While Connolly did gain election in 2008, and had a LACBA rating of "not qualified," each of his three opponents in the primary was also branded as unfit.
Varied Undertakings
Born Jan. 30, 1963, Joseph Patrick Escalante in 1980 became a drummer with a Huntington Beach punk rock group, The Vandals, switching to the bass guitar in 1989. He's the only early member who remains with the band (and now owns it).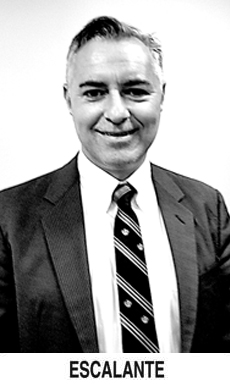 Escalante received his undergraduate degree from UCLA, did graduate work at the University of Iceland in Reykjavík, and, in 1992, gained a law degree from Loyola. He went right to work for CBS as a talent and program negotiator, a job he retained after being admitted to the State Bar in November, 1993.
Since then, he has engaged in various pursuits, ranging from amateur bullfighting to directing films.
He studied bullfighting in Tecate, Mexico, and can be seen in his role as a matador on YouTube.
Most notable—or least forgettable—among films he directed is a 2005 comedy, "Cake Boy." The Netflix website says of the plot:
"With danger hot on his heels, erotic-cake baker Selwyn (Warren Fitzgerald) flees his abusive girlfriend and takes up with a punk band in this inspiring tale."
In the trailer, available on YouTube, the baker is seen standing behind a counter, on top of which is a large cake in the form of female breasts. A customer inquires, sheepishly:
"I'm wondering if you could make a cake with a vagina on it?"
The Netflix description notes:
"The Vandals bassist Joe Escalante directs this film featuring songs from Yellowcard, The Bronx, Jackson, Piebald and many more."
In a 2005 interview, posted on the Suicide Girls website, Escalante tells what scene was the toughest for him to direct:
"It was the bathroom scene. We took all day long to shoot that three or four minutes. To me it would be the scene people would remember the most so I wanted to spend the most time on it. Usually we might spend half a day on three minutes but this was all day long. There was a lot of pre-production stuff like diarrhea making and stuff like that."
Escalante has an acting part in the movie, as does his wife, Sandra.
He is listed at IMDb.com as an actor, director and producer.
Radio Host
In 2006, Escalante began hosting a morning drive-time radio show on KDLD-FM in Santa Monica. He was ousted from that role two years later, as part of station budget trimming—but still had his legal advice show, "Barely Legal," on KDLD. The program, now heard elsewhere on the dial, had been launched in 2005.
Escalante says on his website, joeescalante.com:
After spending the last 3 years as a Volunteer Temporary Judge in the Los Angeles County Superior Court, I've decided to run for a permanent seat on the bench.
I continue to host the Barely Legal Radio Program now heard on Sundays 5 to 7 PM on KTLK AM 1150 in Los Angeles and Fridays at 11 AM PST on [Internet site] indie1031.com [repeated on another Internet site] at 2 PM on Radio Weezer where I dispense free legal advice for artists and entertainers. I also keep busy being the bassist for 2 bands, maintaining the Kung Fu Record label, serving as a volunteer Temporary Judge for the L.A. Superior Court, paddle surfing, and hosting a Catholic radio program heard on EWTN. You can also get general free legal advice from me by posting questions on Legalzoom's Facebook. I answer them on Tuesdays & Fridays at 10 AM PST. For entertainment questions email me now if you can't wait for the radio shows.
If you need free legal advice right now, call 877-LAW-4777 and we will get you sorted.
Ballot Designation
In filing his election papers with the Registrar-Recorder's Office, Escalante chose the ballot designation of "Volunteer Temporary Judge." That was rejected; a 1988 Court of Appeal decision provides:
"We…hold that neither a court commissioner, nor any other individual who is not a 'judge,' as that term is defined in the Constitution and statutes of this state, may utilize a ballot designation containing the word 'judge' or a derivative thereof."
Next, he tried to be listed as "Anti-Corruption Attorney," predicting to a MetNews reporter: "That one's not going to fly either"—and it didn't.
In the end, the Registrar-Recorder's Office accepted his designation as "Attorney/Legal Commentator."
Under Elections Code §13107(a)(3), Escalante is limited to "no more than three words designating either the current principal professions, vocations, or occupations of the candidate, or the principal professions, vocations, or occupations of the candidate during the calendar year immediately preceding the filing of nomination documents."
Holding active membership in the State Bar, the rules allow him to use the word "attorney." Is "legal commentator" a principal occupation?
Legal Analyst
Escalante justifies his designation as a "legal commentator" by saying:
"On KABC radio, I'm more or less an official legal analyst for the John Phillips show—and there's plenty of record there of me doing legal analysis on that show. I've done it for Fox News several times….and KFI.
"And KTLK is where I have my weekly program where I give out legal advice—and not just legal advice. I provide analysis on current entertainment associated trials and business transactions on that show."
Escalante's appearances on the John Phillips Show are sporadic. "I'm on call with KABC, and it goes some weeks I'm on every night with KABC, some weeks, a month will go by when I'm not on at all," Escalante says.
He does not show up at KABC only to talk about law. On Oct. 27, 2010, his appearance was sparked by news reports of actor Charlie Sheen "trashing" a hotel room in New York City in a semi-nude state and while drunk, in the company of a frightened woman who was naked. Phillips introduced Escalante by saying:
"Joining me in the studio right now is a man who is an authority on trashing hotel rooms, real life rock star, Joe Escalante, from The Vandals, Orange County band."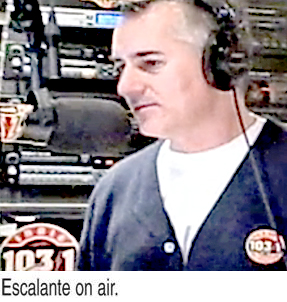 The interview did foray on to a discussion of the gubernatorial election, during which Escalante insisted that there is "a corrupt Legislature in California," also remarking:
"I don't think you can predict what Jerry Brown's going to do [as governor]. He's nuts. He's nuts. He's nuts. He might do some great things that surprise us."
On the barelylegalradio.com website, there are five video clips of Escalante broadcasting at a radio station. If Escalante does serve as a "legal commentator" on his advice show, it is not evident from any of these YouTube clips—unless legal commentary is discerned from a digression in which he likens slaves in America to college interns:
You should be aware that it is illegal to employ an unpaid intern unless they are receiving school credit, the reason being: the pesky 13th Amendment, prohibition on slavery. Slaves, I think we all know, were really interns. They were cotton interns. But they weren't getting any credit—no school credit. Uncle Remus would read to them and read to them, and they were like auditing Uncle Remus's class on the porch, but they weren't getting any credit. It was a total rip-off. So, we have this 13th Amendment. Solved that problem. Big, big apologies to everyone who got caught up in that. Now we have the 13th Amendment. You can't hire an intern, or a slave, to do any work unless they're getting college credit—and then, even then, when they're getting college credit, you can't hire them and get them college credit, and then go out in the field and pick cotton. They have to be learning something. Even back then, like let's say we said then, back in the slavery times, we said, "All right, we're going to start giving the slaves some college credit." That would have been better than nothing. But we couldn't just have them pick cotton, because that's just manual labor. They have to be learning something, because college credit is for learning, not for manual labor.
Activities as Attorney
The candidate declares that he does, with regularity, perform as an attorney. He includes time he spends giving free legal advice on Facebook and on the air. Actually, he notes, he does derive income from the advice to radio listeners, pointing out that he has a sponsor and is paid to be on the show.
"I'm definitely getting paid for free advice, as strange as it sounds," Escalante says.
Aside from that, he has paying clients—"20 or 30 right now," he relates.
He says he has a law office "on Main Street in Seal Beach" (in Orange County) which he "shares with another guy." Despite having that office, he relates, he does "a lot of work out of the house," in Los Angeles's Signal Hill.
Escalante says he has spent "hundreds of hours as a pro tem," handling such matters as small claims, unlawful detainers, and traffic tickets.
Defends The Vandals
One case he handled recently was defending against an action by Reed Elsevier, owner of Variety. Initially, suit was brought against The Vandals in 2004 based on alleged trademark infringement in the form of using lettering on an album resembling the "Variety" logo. The case was settled with a proviso that if there were a repetition of the transgression, The Vandals would pay Reed Elsevier $50,000 in damages, plus attorney fees.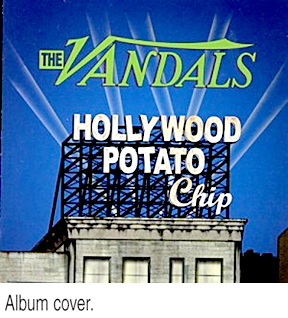 In 2010, the media conglomerate brought suit in U.S. District Court for the District of Delaware against the Vandals and Escalante based on use of the lettering on websites. The defendants disclaimed responsibility for the use. On March 29, 2011, Escalante succeeded in getting the action transferred to Los Angeles.
A Feb. 13 posting on Hollywoodreporter.com announces that Reed Elsevier was dismissing its action. The account quotes Escalante as saying:
"This was the worst thing that's ever happened to me, and to the band, and the hardest thing I've ever done. However, as my wife says, the crash course in federal court litigation made me a better lawyer."
The following day, Escalante tweeted on Twitter:
"Thanks to everyone who left comments here about Daily Variety. You are kicking ass!!!"
Escalante posted this on Ricochet, a social media site, on Feb. 29:
"To believe a media company that would step all over the 1st Amendment, from which they derive all their rights as a media company, would honor a settlement agreement is a fantasy. The fantasy turned into a nightmare, but the nightmare is over. Overwhelmed by negative publicity (Google them)…, the Plaintiffs dismissed all their claims on the eve of pre-trial conferences, as some predicted they would. Since we have no 'loser pays' system here, our legal fees are our own burden and The Daily Variety goes on their merry decline in readership and add [sic] revenue, pretending they didn't just spend $800,000 unsuccessfully suing 4 musicians over a font."
Dearth of Experience
Escalante readily concedes that he has never tried a case to a verdict, either before a jury or a judge.
If elected, which judges before whom he's appeared in Los Angeles would he emulate? Escalante responds:
"Appearing before judges, I've hardly appeared before any. There's a couple in Orange County and a couple in L.A. County. I have not appeared before a judge in L.A. County that I would emulate."
Who are those Los Angeles judges before whom he appeared?
"I'm not going to say," he responds.
The case-search feature on the Los Angeles County Bar Assn. website reflects that Judge Ross Klein handled a matter in which Escalante unsuccessfully sought a relief for his client from a default. Klein advises, by e-mail:
"After receiving your email, I, candidly, could not recall Mr. Escalante. As I had no distinct recollection of him, I pulled the file in Brown (Cardboard Robot) v. The Merchandise Company, case number NC-055699. Mr. Escalante appeared before me on July 26, 2011 to argue a CCP section 473(b) motion to set aside a default entered against his client (defendant) who had defaulted before the client retained him. The motion was denied and I transferred the case to a Commissioner for a default prove-up hearing. In fairness to both you and Mr. Escalante, Mr. Escalante's brief appearance for this one motion did not give me enough information to allow me to form an opinion as to his qualities and character to sit as a judge."
Escalante mentions:
"A couple judges I really like are Commissioner Barnett in a Downey courtroom—very impressed by this guy—and Judge Anna Luna in Downey. I spend a lot of time in Downey"
He has, however, not appeared before them, he concedes, but has gained a high opinion of them while serving in Downey as a pro tem.
Escalante acknowledges that courtroom experience is important for would-be judge to have, saying:
"That's why I accept as many criminal and trial-bound cases as I can now, and that's why I work as a pro tem."
The candidate says that some would not see that as an "ideal background," but remarks: "I'm fine with it."
He adds that new judges do undergo training, noting that they are expected to attend classes at the Judges College (in Berkeley).
Knowledge of Judiciary
As to which appellate justices' opinions most impress him, he says: "I don't have any," elaborating:
"I don't have any opinions that I can recall."
Nor can he name any justice of this district's Court of Appeal, explaining: "I have very little experience in that."
Nor does he know who the members of the California Supreme Court are "other than [Ronald] George, the guy who just resigned as the Supreme Court, the chief justice, and Malcolm Lucas [his predecessor] and a few names here and there."
With respect to the Los Angeles Superior Court, he can't name the assistant presiding judge (David Wesley) but does know that Lee Edmon is the presiding judge.
It's not surprising that he can identify Edmon. On YouTube, there appears a video of Edmon presenting Escalante with a scroll of appreciation. It's from the Oct 17, 2011 "Award Ceremony for Volunteer Temporary Judges" who served during 40 or more days in 2010.
A still shot of the presentation appears on Escalante's Facebook page.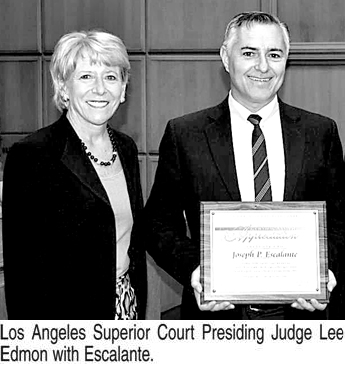 Prominently featured is on the Facebook page is a pledge signed by Escalante to desist from buying space on any slate mailers.
He writes:
"This election cycle you will see judicial candidates on slates insinuating the candidate is aligned with the Republican presidential nominee. You will also see that same candidate on a slate insinuating that he is aligned with the Democratic presidential nominee. That deceives voters, plain and simple. I refuse to be a part of it. Candidates in the past have been forced to just buy as many of these slates as they can afford because this is the corrupt system that has developed over the years."
Escalante goes on to say:
"And what does all this junk mail do for the planet? They cause pollution, unnecessarily sapping the earth's precious resources. And if I see one that says it's printed on recycled paper I'm going to puke.This election cycle you will see judicial candidates on slates insinuating the candidate is aligned with the Republican presidential nominee. You will also see that same candidate on a slate insinuating that he is aligned with the Democratic presidential nominee. That deceives voters, plain and simple. I refuse to be a part of it. Candidates in the past have been forced to just buy as many of these slates as they can afford because this is the corrupt system that has developed over the years."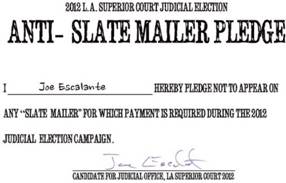 Escalante is seeking to rouse support for his candidacy by planting his message on Internet sites, such as on the forum pages of the Skinheads.net and Punknews.org. He tells of his pro tem experience and says:
"I'm good at it, but if I ever want to get paid for it, I have to be elected officially. That's where you come in. If you live in L.A. County, register to vote and consider me. [smiley face] Thank You."
On the noisecreep.com website, the text of an interview with him appears. He's quoted as saying:
"I've watched too much corruption go on around me for too long and I really want to make a difference. When voters look at a ballot, they should know who they are voting for and I'm working hard so that they can get to know me. Once they do, I think they'll realize I deserve it."
Copyright 2012, Metropolitan News Company