Tuesday, January 17, 2012
Page 1
Woodland Hills Lawyer Bernsley Slates Judicial Campaign
By KENNETH OFGANG, Staff Writer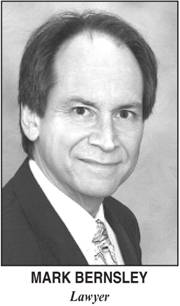 A Woodland Hills lawyer has taken the first steps toward running for the Los Angeles Superior Court, possibly against an incumbent judge.
"I'm looking for a way to make a difference," Mark Bernsley told the MetNews Friday.
Bernsley has formed a fundraising committee and put up a campaign website.
"I don't need it for ego," he said of his potential candidacy. "If I can't make it into something bigger than myself, I won't do it."
Bernsley becomes the first potential candidate this cycle who has not ruled out the possibility of taking on a sitting judge. Deputy District Attorneys Sean Coen, Andrea Thompson, and Eric Harmon; private practitioners Lawrence Kaldor, Robert M. Ross, and Benjimin Brees; and Los Angeles Deputy City Attorney Matthew Schonbrun have previously indicated they intend to run for open seats.
Bernsley, 58, is a graduate of the State University of New York at Buffalo and New York University School of Law. He said he came to Los Angeles to work for the Internal Revenue Service, but left after about a year to join a firm in Century City.
He now maintains a solo practice. He is married to attorney Erica Marlaine.
Bernsley ran for the state Assembly in 2008 as a Republican, losing to Democratic incumbent Julia Brownley 66 percent to 34 percent. He noted Friday that his percentage of the vote exceeded the district's Republican registration percentage, a fact he said encourages him to consider a judicial candidacy.
"I did very well in a bad year [for Republicans]," Bernsley, who describes his views as "very moderate," said.
His possibility of success, he acknowledged, may be limited by his distaste for fundraising. He spent less than $10,000 against Brownley, and even gave part of what he did raise back to his donors.
"I'm not a political animal," he said. "I don't like the process, I don't like how it works, I don't like going around raising money."
He was shocked, he said, to learn that it would cost $106,000 to have a candidate statement printed and mailed with the sample ballot. The requirement that candidates pay for the printing and mailing of their candidate statements has been the subject of several failed court challenges.
He also acknowledged that taking on an incumbent judge is a difficult undertaking. "A lot of people have a knee-jerk reaction to voting for incumbents," he commented.
But there are some incumbent judges who ought to be defeated, he said, declining to name names.
Copyright 2012, Metropolitan News Company