Tuesday, February 7, 2012
Page 1
Services Thursday for Retired Judge Karl W. Jaeger
By a MetNews Staff Writer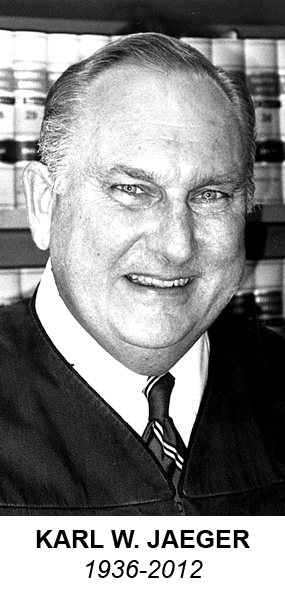 Services are scheduled for Thursday for retired Los An­geles Superior Court Judge Karl W. Jaeger, who died last week at the age of 75.
A son, Robert Jaeger, said the jurist passed away in Upland last Thursday of congestive heart failure. Jaeger was hospitalized in mid-December after suffering a heart attack, the son said.
Jaeger served on the Los Angeles Municipal Court and the Superior Court from 1987 until his retirement in 2003.
He was elected to the Superior Court in an unusually vitriolic 1996 election, defeating then-Citrus Municipal Court Judge Pat Murphy in a runoff after eliminating Stephen Marcus, now a Superior Court judge, in the primary.
That race featured attacks by Murphy, who had ousted incumbent Abe Khan from the Citrus court in 1992. Murphy, who later resigned from the bench on the verge of being removed for abandoning his office, claimed Jaeger had been moved by his colleagues into the civil division because he couldn't handle the volume of criminal cases.
Jaeger denounced the charges as "hogwash," and won the election by a margin of 52.81 to 47.18 percent despite being outspent. His campaign consultant, Joe Cerrell, since deceased, attributed the victory largely to his having hit a "grand slam"—winning all of the newspaper endorsements made in the race.
Jaeger also won the backing of a long list of officials, including many of his fellow judges. He was elected to the Superior Court's Executive Committee not long after defeating Murphy.
Jaeger, who sat in Pomona during his last years on the court, is a Chicago native who graduated from USC. His son said he was a drummer in the marching band and continued to play the drums professionally after he graduated, performing in Elvis Presley movies after Presley got out of the military.
He graduated from Southwestern University School of Law—which he attended at night while working as a bailiff and later a court clerk—and was admitted to practice in 1967. He was a civil trial attorney, working for small law firms until he started his own practice in 1974.
He was heavily involved in local politics, serving on the Covina City Council. He was the city's mayor in 1979 and 1980.
Then-Gov. George Deukmejian appointed him to the Los Angeles Municipal Court in 1987. He soon became involved in court administration, serving as chairman of the Temporary Judge Committee, then as assistant presiding judge, and finally as presiding judge of what was then the largest limited-jurisdiction trial court in the United States in 1991.
He was involved in a number of important administrative changes at the court, including the renaming of the Traffic Courts Building as the Metropolitan Traffic Court, the addition of small claims and misdemeanor trials to the services provided there, and the mandatory training program for temporary judges, said to be the first in the country.
He joined the Superior Court in December 1996, after then-Gov. Pete Wilson appointed him a month prior to the start of the term to which he was elected. He retired in 2003, and subsequently became a private judge with Inland Valley Arbitration & Mediation Services in Rancho Cucamonga.
He continued working with IVAMS until just a couple of weeks before being hospitalized, his son said. He also traveled around Europe and elsewhere and spent time on his boat along the Colorado River near Laughlin, Nev.
Thursday's services are scheduled for Forest Lawn Covina Hills at 11:30 a.m. Survivors, besides his son Robert, include another son, William Jaeger; his wife, Robin Jaeger; and two grandchildren. His first wife, Martha Jaeger, predeceased him by six years.
Copyright 2012, Metropolitan News Company