Wednesday, May 16, 2012
Page 1
Former ADDA Head Ipsen to Be Fired, Sources Say
By a MetNews Staff Writer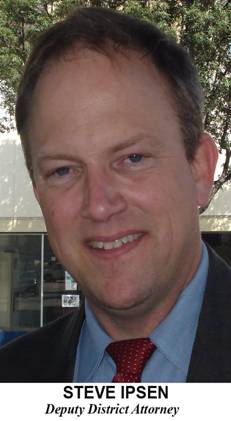 Los Angeles Deputy District Attorney Steve Ipsen, past president of the Deputy District Attorneys Assn. and an election opponent to District Attorney Steve Cooley in 2008, yesterday was served with a "notice of intent to discharge," informed sources told the MetNews.
Ipsen was reportedly stripped of his ID and his badge and escorted to the door of the Lancaster facility, where he was stationed, at about 3 p.m.
Ipsen will have the opportunity to contest the charges against him at a personnel hearing, with litigation possibly ensuing once administrative remedies are exhausted.
There was no official confirmation yesterday of the action. District Attorney's Office spokesperson Sandi Gibbons would only say:
"We are unable to discuss pending personnel matters."
Allegations 'Very Dicey'
However, informed sources advised that charges set forth in the letter include matters previously made public, as well as information that has not been disclosed. The allegations are "very dicey," according to one source.
Ipsen could not be reached for comment.
The deputy has been a controversial figure for several years. In 2004, he recruited candidates who unsuccessfully opposed the reelection bids of Los Angeles Superior Court Judges David Wesley (now the court's assistant presiding judge) and Dan Oki (a candidate for assistant presiding judge to succeed Wesley).
He had announced his candidacy for district attorney in this year's election, but backed out at the last moment.
Ipsen has been involved in federal and state court litigation against Cooley, alleging union-bashing activities on his part.
Writ Proceeding
In a matter in the Los Angeles Superior Court—in which a writ is being sought by the District Attorney's Office to overturn a finding of the county Employee Relations Commission in favor of the union—an attorney for Cooley said in a memorandum of points and authorities that Cooley's dislike of Ipsen predates, and is independent of, his union activities. A portion chronicles conduct that Cooley has perceived as misconduct on the part of Ipsen.
The lawyer, retired Court of Appeal Justice Elwood Lui, wrote:
a. Starting in about 1993 and continuing for roughly the next ten years, Cooley received repeated complaints about alleged zoning violations and other nuisances on Mr. Ipsen's various properties. Cooley later was told by one of Mr. Ipsen's former supervisors that Mr. Ipsen had used his position in the District Attorney's Office to discourage county officials from continuing to investigate alleged violations at his residence in Agua Dulce.
b. In 1995, Mr. Ipsen lobbied to have an assault against one of his friends prosecuted as a felony notwithstanding that both the filing deputy and Cooley initially had determined it should be prosecuted as a misdemeanor. Ultimately the Attorney General's Office handled the matter (after the District Attorney's Office was disqualified due to Mr. Ipsen's involvement) and the case was resolved as a misdemeanor—just as the filing deputy and Cooley initially had determined the case should be prosecuted.
c. In or about 2000, Mr. Ipsen testified on behalf of one of his "closest friends," Ivan Buhac, at a sentencing hearing. Mr. Buhac had been convicted of indecent exposure, and notwithstanding that this was Mr. Buhac's third such conviction, Mr. Ipsen testified that he did not believe Mr. Buhac should be required to register as a sex offender. On cross-examination by the deputy district attorney handling the case, Mr. Ipsen admitted that Mr. Buhac was in Mr. Ipsen's vehicle and in possession of Mr. Ipsen's I.D. badge at the time he was arrested.
d. In or about 2002, Mr. Ipsen was the deputy assigned to try a death penalty case arising out of the murder of a police officer. Shortly before the trial, Mr. Ipsen and District Attorney Cooley met with the parents of the officer and during that meeting Mr. Ipsen joined District Attorney Cooley in assuring the parents that the office would "give it our best." A month later, Mr. Ipsen abandoned the case after doing very little to work it up, and another deputy was forced to step in on very short notice and take the case to trial at a time when that deputy's wife was suffering from cancer.
e. In or about 2003, Mr. Ipsen organized a campaign to defeat certain Superior Court judges who were up for re-election. Specifically, Mr. Ipsen sought the defeat of Judges [Dan] Oki and [David] Wesley based on his claim that those judges' decision to close the court at its normal closing time had led to the release of a criminal defendant who later committed a murder. In the course of that campaign, Mr. Ipsen ran an ad in the Daily Journal that identified the judges who were endorsed by, and those who were opposed by, ADDA. The LACBA Fair Judicial Election Practices Committee ultimately found the ad was misleading because it falsely implied it had been placed by the ADDA. It also appeared to District Attorney Cooley that Mr. Ipsen had failed to disclose certain information regarding the financing of that ad that was required to have been disclosed under California's campaign reporting laws.
f. At or around the time Mr. Ipsen ran his ad in the Daily Journal calling for the defeat of Judges Oki and Wesley, Mr. Ipsen approached Cooley and proposed that the District Attorney's Office open murder investigations against those judges. When District Attorney Cooley refused, citing the lack of any legal theory on which to hold the judges liable for murder, Mr. Ipsen became visibly upset and District Attorney Cooley had to ask him to leave.
g. In 2004, District Attorney Cooley learned that Mr. Ipsen had been conducting political activity in the office, including asking fellow deputies about their views regarding Proposition 66, handing them flyers against that Proposition, and soliciting their help in the further distribution of those flyers. One of the deputies who had been approached by Mr. Ipsen complained about his behavior as being "transparent, offensive, and possible [sic] in violation of the Hatch Act." The deputy further indicated that she felt Mr. Ipsen was trying to intimidate her.
h. In 2005, the California Supreme Court issued a decision pursuant to which it reversed a murder conviction obtained by Mr. Ipsen on the ground that Mr. Ipsen had violated the defendant's due process rights. In re Sakarias, 35 Cal. 4th 140 (2005). Specifi­cally, the Court found that Mr. Ipsen "intentionally and without good faith justification" had argued inconsistent and irreconcilable factual theories in the trial of that defendant and an earlier trial of another defendant arising out of the same incident. With regard to Mr. Ipsen's claim that his argument of inconsistent factual theories was inadvertent, a Court-appointed referee, the Honorable Thomas Willhite, Jr., had reviewed the evidence and determined that Mr. Ipsen's claim was "unconvincing."
i. In 2007, the Metropolitan News reported that Mr. Ipsen had called District Attorney Cooley "the worst D.A. L.A.'s ever had," and accused him of "selling out to the criminal defense bar" by soliciting campaign contributions from defense attorneys. In March 2008, the Metropolitan News quoted Mr. Ipsen as saying that District Attorney Cooley was a "complete disappointment to prosecutors and crime victims." Mr. Ipsen also was quoted in a Daily News article as claiming that "Cooley has taken hundreds of thousands of dollars from the criminal defense bar and [that] he's been swayed by the influences."
Copyright 2012, Metropolitan News Company