Friday, September 21, 2012
Page 3
Restraint Marks Debate Between Candidates for District Attorney
By a MetNews Staff Writer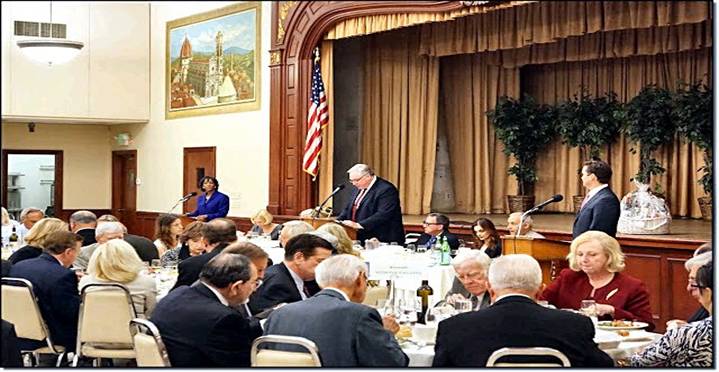 Chief Deputy District Attorney Lacey, left, engages in debate with Deputy District Attorney Alan Jackson. Retired U.S. District Court Judge George P. Schiavelli is the moderator.
The debate that took place between the candidates for Los Angeles County district attorney Wednesday night before the Italian American Lawyers Association was mellow, in contrast to the spirited exchange that occurred during an encounter Aug. 7 before a law enforcement group.
In this second of three scheduled debates—the final one slated for last night—both candidates were markedly restrained. Unlike what occurred at their confrontation before the Los Angeles County Organization of Police and Sheriffs, no charges, or even barbs, were exchanged.
The debate, which took place at Casa Italiana, north of Chinatown, commenced as attendees were being served dinner, the candidates deprived of vittles. Jackson began his opening statement by declaring:
"Good evening. I'm hungry."
Emcee George P. Schiavelli, a retired U.S, District Court judge and a past IALA president, told him he would get a doggy-bag.
Jackson then set the tone for the good-natured jostle by saying:
"I walked over to Ms. Lacey's side of the table and I asked if I could grab the bottle of wine—my wife likes red wine. And Jackie turned around and she said to me, 'Drink up!' "
Schiavellli, a UCLA Law School graduate, and Lacey, who earned her law degree at USC, engaged in banter at various points—starting with Schiavelli's playful potshot in introducing her that he didn't know "junior colleges" awarded JDs degrees. She later chastised Schiavelli for referring to her as an "administrator" in the office rather than an "executive," then explaining: "I had to get you for that USC remark."
Illegal Immigration
Schiavelli asked the candidates if they would favor "opting out" of the federal Secure Communities Program calling for information being provided to federal authorities by local law enforcement agencies with respect to illegal aliens who are booked. He also queried as to their stances on AB 108`1, a measure on the desk of Gov. Jerry Brown, that would bar such disclosure if the crime was not a serious or violent felony.
Jackson said he was opposed to "opting out," explaining:
"The job of district attorney is to uphold the law. I think that it would be undermining the law to hide specific information from the federal government when they need that information to make determinations about immigration enforcement."
He said he opposes the bill on Brown's desk, declaring that it "undermines the federal law, and it puts state law over federal law."
Lacey related that the District Attorney's Office plays no role in reporting a suspect's immigration status. She said:
"This is between the Sheriff's Department and the feds….I respect the sheriff's decision, whatever that decision is."
With respect to AB 1081, she declined to take a stance.
"It is the same type of respect for our jurisdiction that I exercise when deciding to weigh in on a law before the governor," Lacey remarked. "That will be up to the governor what he does."
Capital Punishment
Lacey expressed her opposition, as she has in the past, to Proposition 34 which would ban the death penalty in California.
"There are some crimes out there that just call out for it," she declared, adding:
"We need that as a punishment for the worst of the worst."
She called for a reform of the appeals process.
Jackson told the audience:
"You're never going to hear this in another political debate in your life:
"Ditto."
"I couldn't agree with Ms. Lacey more."
Three Strikes
They did disagree with respect to Proposition 36 which would restrict a crime which would give rise to a "third strike" to serious felonies.
Jackson said the measure "puts our communities in harm's way."
He complained that "attempted murder, aggravated assault, arson, assault on a police officer with a gun—those are all crimes that are permanently removed, in Prop 36, from the Three Strikes framework."
The prosecutor termed himself a "big fan" of District Attorney Steve Cooley's three-strikes policy and said he would retain it—but part of that policy, Jackson observed, was having "the discretion to deviate from the presumption" that a non-serious offense should not give rise to a third strike.
Lacey commented:
"I couldn't disagree more."
She said the policy in Los Angeles County "for the last 12 years" is that "we have not been using a third strike that is non-serious crime as a way to put people in jail for 25 years to life."
She said of the ballot measure:
"It's close to our policy and it would make it go statewide."
The candidates were scheduled to hold their final debate last night before the Association of Deputy District Attorneys meeting in Little Tokyo.
Copyright 2012, Metropolitan News Company