Wednesday, June 13, 2012
Page 1
U.S. Senate Confirms Arizona Justice to Ninth Circuit
From Staff and Wire Service Reports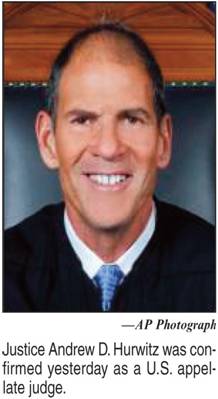 An Arizona Supreme Court justice was confirmed as a Ninth U.S. Circuit Court of Appeals judge yesterday, despite complaints from conservatives that he influenced the Roe v. Wade ruling while a law clerk four decades ago.
The Senate confirmed Andrew David Hurwitz by voice vote, one day after cutting off debate by a vote of 60-31. Sixty is the minimum number of votes required to invoke cloture and force an up-or-down vote.
Eight Republicans, including John Kyl and John McCain from the nominee's home state, joined 52 Democrats on Monday's vote. Joe Manchin of West Virginia was the lone Democrat to vote against cloture.
Republican conservatives took the unusual step of criticizing Hurwitz as a young law clerk in 1972, raising the issue of how far back senators should go in judging a nominee's qualifications for the federal bench.
At that time, he clerked for U.S. District Judge Jon Newman of Connecticut, who wrote two opinions that have been described as the forerunners of the 1973 Supreme Court decision to legalize abortion.
Sen. Patrick Leahy, D-Vt., chairman of the Judiciary Committee, argued, "If we start doing that sort of thing, then we can vote down anybody for anything."
Leahy mocked the opponents Monday when the Senate debated—and then decided—to move forward with Tuesday's confirmation:
"Oh, when they were 11 years old, they stayed out late one night," he said. "We can't have a judge on our court who disobeyed the rules, the laws laid down by their families, and they were out late."
Leahy added that law clerks provide judges with background information on the law related to a particular case, but judges make up their own minds on the outcome.
The ranking Republican on the Judiciary Committee, Sen. Charles Grassley of Iowa, offered a second reason for opposing the nomination—arguing that Hurwitz' record indicates he opposes the death penalty.
He cited a case a year ago, where Hurwitz was the lone dissenter in a decision that refused to give a murderer a new trial.
Grassley said that while a federal judge signed the 1972 abortion decisions—not his law clerk—Hurwitz wrote a 2002 article "embracing and celebrating the rationale and framework for Roe v. Wade."
Another Republican opponent, Sen. Mike Lee of Utah, said Hurwitz "continues to write about Roe with fondness, nostalgia and even pride."
Hurwitz's confirmation, to fill a vacancy created when Judge Mary M. Schroeder took senior status, will leave just one opening on the 29-judge court. It will also give Arizona Gov. Jan Brewer a chance to appoint a majority of the state high court's justices.
Brewer, a Republican, already has appointed two of the five justices since taking office in 2009.
Brewer will pick a replacement for Hurwitz, a Democrat, from among nominees submitted by a state commission, which must give her at least three names of applicants for the opening.
Supreme Court spokeswoman Jennifer Liewer said Hurwitz will set a date for his departure from the state court when he submits a resignation letter to Brewer.
Liewer said the commission will have 60 days from the resignation date to submit nominations to Brewer. The current justices now include three Republicans and two Democrats.
In other news, President Obama Monday nominated an Alameda Superior Court judge and a Justice Department official to the U.S. District Court for the Northern District of California.
Jon S. Tigar has been a judge on the Alameda Superior Court since 2002. Prior to taking the bench, he practiced complex commercial litigation at Keker & Van Nest LLP for eight years.
He served as a deputy public defender in San Francisco from 1993 to 1994 and was a litigation associate at Morrison & Foerster LLP from 1990 through 1992. He began his legal career by serving as a law clerk for Judge Robert S. Vance of the United States Court of Appeals for the Eleventh Circuit.
He graduated in 1989 from UC Berkeley School of Law and received his undergraduate degree in 1984 from Williams College.
William H. Orrick III currently serves as a deputy assistant attorney general in the Civil Division of the Department of Justice, a position he has held since June 2010. From June 2009 to June 2010, he served as counselor to the assistant attorney general for the Civil Division.
Prior to joining the Department of Justice, Orrick worked at the San Francisco law firm of Coblentz, Patch, Duffy & Bass LLP for 25 years. Orrick joined Coblentz as an associate in 1984 and became a partner in 1988.
He began his legal career as an attorney at the Georgia Legal Services Program from 1979 to 1984. Orrick received his law degree in 1979 from the Boston College Law School and his undergraduate degree in 1976 from Yale University.
Copyright 2012, Metropolitan News Company