Friday, November 30, 2012
Page 3
Los Angeles Superior Court Judge Phillip Hickok to Retire
By a MetNews Staff Writer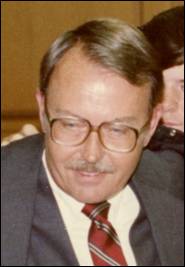 PHILLIP HICKOK
Superior Court Judge
Los Angeles Superior Court Judge Phillip Hickok will retire in February after more than 23 years on the bench, the MetNews has learned.
Hickok, who did not return a phone call placed to his Norwalk chambers yesterday, was named to the court by then-Gov. George Deukmejian in July 1989, after a 17-year career in the County Counsel's Office. He was vice president of the County Counsel Association from 1983 to 1987.
The jurist, who is 65, is a New Jersey native and holds undergraduate and law degrees from UCLA.
He began his judicial career in Long Beach, where he heard criminal cases. He once told a reporter that he was fond of the assignment, despite his lack of a practice background in criminal law, because he had a great staff and appreciated the civility of the lawyers, whom he said were less prone to sniping than civil litigators.
He moved to Compton in 1991, hearing criminal and some civil matters, then moved to criminal court in Norwalk in 1994. He served as supervising judge of the court in the late 1990s.
It was in that capacity that Hickok had to tell the Southeast District's judicial officers that one of their colleagues, Commissioner George H. Taylor, had been gunned down, along with his wife, outside their Rancho Cucamonga home after he returned from a bar association event in 1999.
The case remains unsolved. Courthouse security was beefed up after that, but fear gripped the courthouse for a time, he said in a July 1999 newspaper interview.
Among Hickok's best-known cases was that of Bruce Koklich, whom he sentenced to 15 years to life in prison in 2004, for the murder of his wife three years earlier. Jana Carpenter-Koklich's body was not found, but police said they were sure she was dead after traces of her blood were found in her home and car.
The couple owned a Long Beach real estate business. The victim's father, Paul Carpenter, had been a California state senator and U.S. Senate candidate.
The case was tried on circumstantial evidence, and Hickok, in denying a new trial, said there was "sufficient, credible" evidence of guilt, according to a news account. The judge also chided the defendant for his lack of remorse and for not disclosing the location of the victim's body.
The lead detective on the case, who is now retired, told a television producer earlier this year that he believes Koklich may have used his knowledge of construction to hide the body.
Copyright 2012, Metropolitan News Company