Wednesday, December 5, 2012
Page 1
Court of Appeal Upholds Conviction in Crash That Killed Angels Pitcher
By KENNETH OFGANG, Staff Writer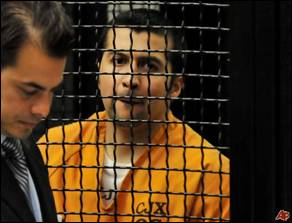 —AP
Andrew Thomas Gallo, 22, looks out into the crowd while his attorney reviews court documents in Orange Superior Court on June 8, 2009
A defendant convicted of murder as a result of a car crash that killed three people was not the victim of judicial bias, the Fourth District Court of Appeal ruled yesterday.
Div. Three affirmed Andrew Thomas Gallo's convictions on three counts of second degree murder and one count each of felony drunk driving and felony hit-and-run, both with findings of great bodily injury. Gallo is currently serving a sentence of 51 years to life in prison.
Killed were Nick Adenhart, 22, Courtney Stewart, 20, and Henry Pearson, 25. Jon Wilhite, 24, survived the crash but was severely injured.
Adenhart was a rookie pitcher for the Angels, and appeared in his last game just hours before his death. Pearson, a law student and son of Los Angeles attorney Nigel Pearson, and Stewart, a college student who was driving, were killed instantly, while Adenhart died in surgery shortly after the crash.
Prosecutors presented evidence that Gallo and his stepbrother drank multiple pints of beer at multiple bars before the crash. His blood alcohol tested at more than twice the legal limit two hours after the crash, and may have been as high as .24 at the time of impact.
Prior Drunk Driving Conviction
He had previously been convicted of drunk driving and gone to rehab twice, was on probation and had a suspended driver's license. Prosecutors successfully argued that he was guilty of murder under People v. Watson (1981) 30 Cal.3d 290, which allows a murder conviction in a vehicular homicide case if the defendant exhibited "a wanton disregard for life" and had "a subjective awareness of the risk created."
On appeal, the defense argued that Orange Superior Court Judge Richard Toohey was biased against the defendant. It alleged that the judge had disparaged trial counsel at a pretrial hearing where she substituted into the case, and routinely ruled against Gallo on evidentiary issues.
But Justice William Rylaarsdam, in an unpublished opinion for the Court of Appeal, said the defendant could not have been prejudiced by comments the judge made at a pretrial hearing, and noted that the substitution was allowed. As for the evidentiary rulings, the justice—who noted that there were six days of trial and over 1500 pages of transcript—wrote, the defense failed "to establish they were erroneous, much less prejudicial."
No Instructional Error
Rylaarsdam also rejected several claims of instructional error, including the argument that Toohey should have allowed jurors to consider involuntary manslaughter as a lesser included offense, based on voluntary intoxication. The defense contended that Gallo suffered an alcoholic blackout before the crash and lacked the malice requisite to a murder conviction.
The justice, however, cited Penal Code Sec. 22, which limits consideration of voluntary intoxication to "the issue of whether or not the defendant actually formed a required specific intent, or, when charged with murder, whether the defendant premeditated, deliberated, or harbored express malice aforethought."
Because murder under Watson is a question of implied, rather than express, malice, Sec. 22 precludes consideration of voluntary intoxication as a defense, Rylaarsdam said.
The case is People v. Gallo, G044732.
Copyright 2012, Metropolitan News Company