Tuesday, March 27, 2012
Page 1
Frederick 'Fritz' Ohlrich to Retire as California Supreme Court Clerk/Administrator
By KENNETH OFGANG, Staff Writer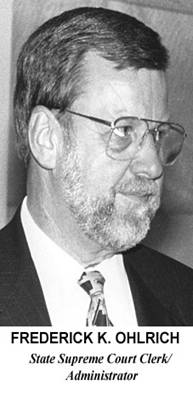 State Supreme Court Clerk/Administrator Frederick "Fritz" K. Ohlrich said yesterday he will retire June 29, ending 47 years of government service.
"I have been privileged and honored to serve the Supreme Court as its 25th Clerk of the Court, serving two of the court's Chief Justices and nine of its Associate Justices," Ohlrich said in a statement released by the Administrative Office of the Courts.
"I have very much enjoyed working with the court's incredibly skilled staff of dedicated and hardworking clerks, attorneys, and other professionals," he added. "I will be forever grateful for the opportunity to serve the Supreme Court of California. I leave offering my most sincere thanks and heartfelt gratitude, and wishing Chief Justice Cantil-Sakauye and the entire court the very best in the future."
The court said it will immediately begin a recruitment to succeed Ohlrich,69, in the position he has held since 2000. Then-Chief Justice Ronald M. George tapped him for the post while he was serving as top administrator of the now-defunct Los Angeles Municipal Court.
Long Career
Ohlrich entered public service as a Ventura County deputy sheriff in 1965. While serving there, he graduated from California Lutheran University in Thousand Oaks, where he later earned a master's degree in judicial administration. He is a graduate fellow of the National Center for State Courts, Institute for Court Management Program.
He was hired as assistant executive officer of the Ventura County Municipal Court, serving there for two years before joining the Newhall Municipal Court as administrator in 1976. He joined the Los Angeles Municipal Court in 1983 as assistant administrator under Edward Kritzman.
In 1993, Kritzman became administrator of the Administratively Unified Courts of Los Angeles County. That entity combined functions of the Los Angeles Superior Court, the Los Angeles Municipal Court, and a handful of smaller municipal courts. Ohlrich became one of two assistant administrators of AUCLA.
But when the Los Angeles Municipal Court pulled out of AUCLA in 1995, in part because of anger over Superior Court judges' objections to court consolidation, Kritzman and Ohlrich returned to their former positions. Kritzman soon retired, however, and the Ohlrich, the only candidate considered for the job, was named to replace him.
Many Committees
Ohlrich is now serving his second term as an advisory member of the Judicial Council and is a member of the council's Executive and Planning Committee and Appellate Advisory Committee. He also is a member of the council's Emergency Response and Security Task Force and the Appellate Court Security Committee, and is a former member of the Working Group on Third-Party Use of Court Facilities.
He was one of the first court executives to serve on the Governing Board of the Center for Judicial Education and Research. He was honored with a Distinguished Service Award from the National Center for State Courts in 1998 and a Judicial Council Distinguished Service Award in 1999.
Both of the chief justices under whom he served praised him yesterday. Chief Justice Cantil-Sakauye called him "an invaluable advisor and friend," while George said he "was of invaluable service to the court" and "played a vital role in ensuring the success of the special outreach sessions annually held by the California Supreme Court throughout the state."
Copyright 2012, Metropolitan News Company