Friday, March 16, 2012
Page 1
Michael Fitzgerald Confirmed as U.S. District Judge
From Staff and Wire Service Reports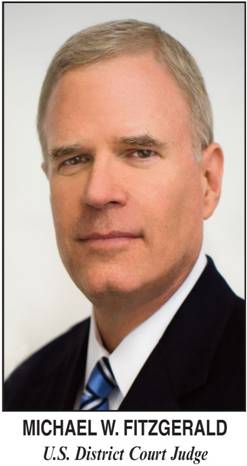 The U.S. Senate yesterday confirmed Los Angeles attorney Michael W. Fitzgerald as a judge of the U.S. District Court for the Central District of California.
Fitzgerald, who becomes the first openly gay judge in the court's history, and only the fourth in the nation's, was approved by a vote of 91-6. Voting no were Roy Blunt of Missouri, Jim DeMint of South Carolina, David Vitter of Louisiana, Rand Paul of Kentucky, James Inhofe of Oklahoma, and Mike Lee of Utah, all Republicans.
Another nominee, Gina Groh of West Virginia, a state court judge, was confirmed yesterday by a vote of 95-2.
Fitzgerald, 52, was nominated by President Obama on July 20 of last year to succeed Judge A. Howard Matz, who had taken senior status nine days later. The Judiciary Committee favorably reported the nomination on Nov. 3 without a dissenting vote.
The nominee received a unanimous "well qualified" rating from the American Bar Association's evaluating panel. A graduate of Harvard College and UC Berkeley School of Law, he clerked for Second Circuit Judge Irving Kaufman before joining the U.S. Attorney's Office here in Los Angeles.
White Collar Defense
A State Bar member since 1987, he is currently a partner in Corbin, Fitgerald & Athey, handling white collar criminal defense, complex commercial litigation, copyright and securities cases. He joined the firm in 1998 after having previously worked in the Los Angeles office of Heller Ehrman White & McAuliffe LLP.
He also serves on the board of the Los Angeles Chapter of the Federal Bar Association business litigation,
He was involved in two investigations of the Los Angeles Police Department, serving pro bono as deputy general counsel of the Rampart Independent Review Panel, and as volunteer counsel to the Webster Commission. He received the Maynard Toll Pro Bono Associate Award from the Legal Aid Foundation of Los Angeles.
Reached by telephone, Fitzgerald declined to comment on his confirmation, but the office of Sen. Barbara Boxer, who recommended him for appointment, issued the following statement from him:
"I am honored by the Senate's confirmation vote today. I am grateful to the President for my nomination. I am grateful to Senator Boxer for her recommendation of me to the President. I am grateful to Senator Feinstein for her support in the Senate Judiciary Committee. I look forward to serving the people of the Central District of California."
Boxer said in her own statement:
"The federal bench in California will gain an extremely talented new judge as a result of today's historic vote to confirm Michael Fitzgerald. His sharp intellect and broad legal experience will make him a tremendous asset to the people of the Central District. While I am pleased by today's overwhelming vote, it is shameful that he had to wait so long for a vote and I hope that Republicans will stop blocking the confirmation of highly qualified nominees."
First Nominations
The Groh and Fitzgerald nominations were the first of 14 that are to be voted on by May 7, under an agreement made Wednesday by Democratic and Republican leaders.
One more of the 14, Judge Jacqueline Nguyen, is from California. She would be elevated from the Central District court to the Ninth U.S. Circuit Court of Appeals.
The agreement leaves uncertain the prospects of eight nominees who were approved by the Judiciary Committee but are not covered by the deal. They include two Ninth Circuit choices, Los Angeles attorney Paul Watford and Arizona Supreme Court Justice Michael Hurwitz.
Despite the agreement, Judiciary Committee Chairman Patrick Leahy, D-Vt., complained yesterday that Republican are now delaying nominations that are still in committee. Leahy said seven nominees are stuck in committee because GOP senators won't return home-state senator "blue slips" and that one nomination that was about to go to a hearing didn't because both GOP home-state Senators withdrew blue slips they had already returned.
The blue-slip tradition prevents the committee from holding a hearing on any nominee unless both senators from the nominee's home state agree.
Copyright 2012, Metropolitan News Company