Friday, October 19, 2012
Page 1
Court Revives Drug Conspiracy Charges Involving Anna Nicole Smith
From Staff and Wire Service Reports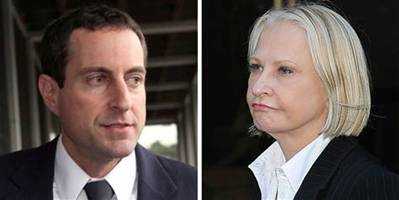 —AP
Howard K. Stern, left, was found guilty of giving false names and acting by fraud to obtain prescriptions. Dr. Khristine Eroshevich was found guilty of multiple charges, including unlawfully prescribing Vicodin by fraud.
A Los Angeles Superior Court judge erred in throwing out conspiracy charges against a doctor who prescribed numerous drugs for Anna Nicole Smith and the lawyer who managed her career and much of the last 12 years of her life, the Court of Appeal for this district ruled yesterday.
Presiding Justice Paul A. Turner, writing for Div. Five, said there was sufficient evidence, as a matter of law, to support the jury's verdict that Dr. Khristine Eroshevich and attorney Howard K. Stern were guilty of conspiring to obtain drugs for Smith—whose real name was Vicki Lynn Marshall—by means of fraud and misrepresentation and the use of false names and addresses in prescriptions.
But because Judge Robert Perry found the evidence against Stern insufficient, Turner explained, double jeopardy principles bar retrial. On remand, the presiding justice said, Stern's convictions can be reinstated and the case set for sentencing, or the case may be dismissed on other grounds, such as in the interests of justice under Penal Code Sec. 1385.
In the case of Eroshevich, Turner said, the judge erroneously dismissed under Sec. 1385 but did not find the evidence insufficient as a matter of law, so she could face another trial.
Lawyers told The Associated Press that the decision was confusing.
Charges Thrown Out
Stern and Eroshevich were convicted Oct. 28, 2010, in the case of the reality TV star and former Playboy model, but the bulk of the charges against them were thrown out at their sentencing hearing. In September of last year, prosecutors filed an unusual appeal saying Perry was biased and abused his discretion when he dismissed the few counts on which Stern and Eroshevich were convicted.
A jury previously acquitted them on most of the 11 charges involving drug prescriptions given to Smith in the months before she died in Florida on Feb. 8, 2007, of an accidental drug overdose. The defendants were not charged with causing her death.
Perry dismissed the conspiracy counts and reduced the one conviction against Eroshevich, on a charge of obtaining controlled substances by fraud or misrepresentation, to a misdemeanor with a sentence of one year on probation. The prosecution did not appeal the sentence on that count or the dismissal of a charge of giving a false name or address in a controlled-substance prescription, which Perry found to be duplicative of the misrepresentation count.
Prosecutors argued in the appeal that Perry was biased against them and had created a celebrity exception to the law. They noted that Perry accused a prosecutor of ethical violations during the case and said that the case had been overcharged.
Co-Defendant Acquitted
Perry suggested authorities had chosen the wrong case to prove their point and indicated they did not understand the legislative intent of the law involving prescription drugs. A co-defendant, Dr. Sandeep Kapoor, who was Smith's physician, was acquitted of all charges.
The defendants' nine-week trial was the final act of the long-running drama centering on the blonde beauty's troubled life, which was documented on reality TV, in tabloids and in trial testimony.
Eroshevich, a Beverly Hills psychiatrist who was Smith's friend and neighbor, and Stern did not dispute that drugs prescribed in Stern's name, or in the names of others who had no connection to the case other than having their identities misused, were for Smith's use. But they claimed that they were simply engaging in a common local practice of using false identities to protect the privacy of celebrities.
But Turner, writing for the Court of Appeal, said the prosecution met its burden of proving that Stern and Eroshevich conspired for a criminal purpose.
Stern, he said, was aware that multiple prescriptions were being written in multiple names—by Eroshevich and other doctors—and being filled at multiple pharmacies, and that Smith's treating doctor's were unaware of this. Both defendants, Turner noted, "knowingly side-stepped" Kapoor's efforts to detoxify Smith after she became pregnant.
"His knowledge and involvement was such the jury could reasonably conclude Mr. Stern, a lawyer, knowingly participated in the ongoing illegal practice of securing illegal prescriptions," the presiding justice wrote. " The prescriptions were secured unsupervised by treating physicians or pharmacists and without medical documentation. The controlled substances were procured for Ms. Marshall with the fraudulent use of multiple names other than her own. The jury could reasonably have concluded that a lawyer would know such ongoing and unrelenting fraudulent activity was unlawful."
Erroneous Conclusion
As for Eroshevich—who was placed on probation by the Medical Board of California and had her license suspended for 90 days as a result of the case—Turner explained that the dismissal of the charges against her was based on the erroneous conclusion that she could not have conspired with Stern because there was insufficient evidence that Stern was guilty of conspiracy. On remand, the judge can still consider her motion for a new trial or dismiss on other grounds, Turner said.
Attorneys on appeal included Deputy District Attorneys Brentford J. Ferreira, Shirley Sui-Nin Sun and Natasha Cooper for the prosecution; Janyce Keiko Imata Blair, by appointment, for Eroshevich; and Peter Gold, by appointment, for Stern.
The case is People v. Eroshevich, B231411
Copyright 2012, Metropolitan News Company