Monday, May 14, 2012
Page 1
Challenger Blasts His, Opponent's 'Not Qualified' Ratings
By a MetNews Staff Writer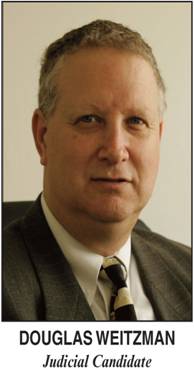 A Los Angeles Superior Court candidate has blasted the Los Angeles County Bar Association's Judicial Elections Evaluation Committee, saying that neither he nor his opponent deserved the "not qualified" ratings delivered by the committee.
Douglas Weitzman provided the MetNews Friday with a copy of his e-mailed response to the rating, which the committee made public on Thursday.
Referring to the fact that he has now received the committee's lowest rating in each of the four races that he's run in, Weitzman commented:
"I greatly object to this rating and I think it is very unfair of this committee to continually rate me 'not qualified' when I gain another 2 years of experience each time I run, have submitted many letters attesting to my good work and results, have 31 plus years of experience and 14 years of experience hearing cases for the courts, and receiving a plaque from the presiding judge each year congratulating me for all the good work I did. They find me very well qualified, so that is in direct conflict with this committee."
In referring to his opponent, Judge Lynn Olson, Weitzman wrote:
"I also object to the finding of 'not qualified' for my opponent, Judge Olson. She is due deserved respect for her years on the bench. Even though she is my opponent, I find it very bizarre that a sitting judge would be given such an outrageous ruling. That goes against the voting public who put her there and from the bench, where many judicial officers feel that she is doing a good job.
"I continue to lose respect for this committee. I don't get a rating that I feel I deserve, and you give a terrible , and in my opinion, unfair rating to a bench officer. I don't get it."
Olson, who did not respond to a MetNews phone call Thursday, did not participate in the committee's rating process, unlike Weitzman. The committee rates all candidates, however, and nothing in its rules requires it to give the lowest possible rating to a candidate who does not participate.
In his response to the committee, Weitzman also alluded to issues that were apparently raised, and that have been raised in the past, including a series of lawsuits in which he was accused by insurance companies of involvement with staged accidents.
He wrote:
"All the negative things that have happened in my life continue to get a little older and in my opinion, less relevant. When is something that I did 20 years ago going to lose so much importance in the minds of this committee? I would like to know if the members of this committee have done everything perfectly in their lives, and in their legal careers?
"The insurance cases were filed unfairly against me. I didn't do anything wrong and I was not culpable in any result....
"I also have a perfect record of no discipline before the state bar. Pretty good for 31 plus years of experience. Lawyers make mistakes sometimes, but even I have never had any problems with the bar."
Copyright 2012, Metropolitan News Company