Tuesday, January 10, 2012
Page 1
Lawyer Says He Will Seek Open Superior Court Seat
By KENNETH OFGANG, Staff Writer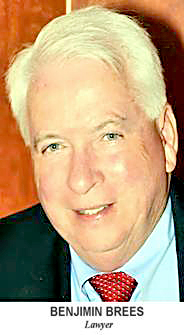 A Mid-Wilshire personal injury attorney said yesterday he intends to seek an open seat on the Los Angeles Superior Court.
Plaintiff's lawyer Benjimin Brees told the MetNews that he had retained the services of campaign consultant Carlos Leon, who successfully managed Patricia Nieto's campaign for the court four years ago, and had established a fundraising goal of $150,000.
He was motivated to run, he said, because he has "thousands of hours" of experience as a mediator, arbitrator, and settlement officer for the court. "I think I have the temperament to be a judge, and a reputation as a good lawyer and a fair lawyer."
He is a graduate of the University of LaVerne College of Law, and was admitted to the State Bar in 1990. "I was a late bloomer," the 60-year-old attorney explained, going to law school nights while working first in sales, and later as a law clerk for an insurance defense firm. .
Having originally planned to become a French teacher—he studied in France for a year, but said his Spanish is now better than his French—he found jobs hard to come by, and worked in a number of occupations, including driving buses and trucks, he said. His undergraduate degree is from the University of Notre Dame.
In other news, an Encino practitioner who took out papers Friday to seek signatures in lieu of a filing fee said he will not be a candidate for the seat now held by Judge Malcolm Mackey.
Robert M. Ross of Klass, Helman & Ross said the wrong seat number was indicated, and he will amend his papers today, designating the seat now held by Judge Leland B. Harris. The 65-year-old jurist, who last week completed 20 years on the bench, did not return a MetNews phone call seeking comment on whether he intends to run for another term.
Ross is a 38-year practitioner who mostly does criminal defense and civil rights work. The USC and Loyola Law School graduate said he intends to hire a campaign consultant this week.
Deputy District Attorneys Sean Coen, Andrea Thompson, and Eric Harmon; private practitioner Lawrence Kaldore; and Los Angeles Deputy City Attorney Matthew Schonbrun have previously indicated they intend to run for open seats. The declaration-of-intent filing period opens Jan. 30.
Copyright 2012, Metropolitan News Company