Thursday, August 9, 2012
Page 1
In First Debate Following Primary
Jackson Labels Himself a 'Prosecutor,' Lacey an 'Administrator'
Chief Deputy Says Being an Administrator Is the Role of District Attorney
By a MetNews Staff Writer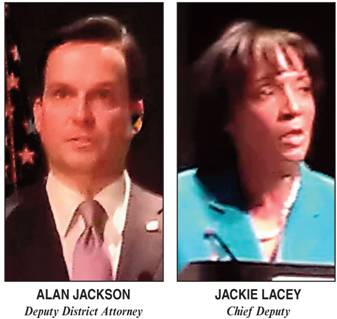 The two rivals for the post of Los Angeles County district attorney in the November run-off engaged in a spirited debate Tuesday night, with Deputy District Attorney Alan Jackson pledging to be a DA with a "steel spine" and Chief Deputy Jackie Lacey vowing that, in heading the office, she would "work" her "butt off."
Sponsored by the Los Angeles County Organization of Police and Sheriffs, the debate—the first in which the two engaged since the June 6 primary—took place in the Deaton Auditorium in the new downtown Los Angeles Police Department headquarters at First and Main Streets, with about 120 persons in attendance. Their barbs were far more caustic than in exchanges preceding the primary, with each candidate demeaning the other for not understanding what is involved in heading the office.
Jackson referred to himself as an "18-year, battled-tested prosecutor," currently prosecuting cases, and dismissed Lacey's role as that of "an office administrator who has not set foot in a courtroom in 12 or 15 years."
Lacey told of her own handling of trials prior to gaining a management role, and stressed that the district attorney does not personally make appearances in courtrooms and is precisely what she now is: an administrator,
(The last Los Angeles County district attorney who made a court appearance in a prosecutorial role was Robert H. Philibosian, who served in 1982-84.)
Jackson, who avoided uttering any criticisms of the current DA, Steve Cooley—who is endorsing Lacey—maintained that the incumbent is "the top prosecutor" in the county, who makes key prosecutorial calls, and is not the office's "chief bureaucrat."
He told the audience:
"Folks, I know how to lead this office from the front and by example….This is the time for someone with a steel spine. This is not the time for someone who is going to shy away from the enormous challenges that we're going to be facing."
Pledges Hard Work
Lacey made this statement:
"When you're talking about a leader of the largest [prosecutorial] office in the nation, you had better have someone with experience, with the temperament, with the judgment—and without all of the ego—to work with some of the other great law enforcement agencies such as the ones represented by LACOPS. I've gotten here the hard way—not by any special privileges. I worked my butt off, and I'm ready to work my butt off as your next district attorney."
Rankled by Jackson's repeated assertion that he is a prosecutor and she no longer is, Lacey declared:
"My opponent characterizes me as an administrator. That's like saying that the senior partner at Latham and Watkins is an administrator."
She insisted:
"My courtroom experience has never left me—and it is demeaning to say a leadership position, the very position my opponent wants, is just an administrator."
Death Penalty Supported
Both candidates indicated they oppose Proposition 34, on the November ballot, which would abolish the death penalty in California.
"I've gone on record as probably being the strongest candidate on this issue," Lacey claimed, attributing to Jackson equivocal statements made to the Los Angeles Times. She said:
"His position was: he didn't want to politicize it, whatever the voters decide, he didn't want to take, necessarily, a strong position."
Lacey contended that the district attorney of Los Angeles County "must be strong on this very important issue," and declared: "That is one difference between my opponent and I."
Jackson responded:
"Ms. Lacey might not understand what my stance actually was because she just wasn't listening closely enough. What I have said is: 'Vote no on Prop 34.' I don't know how to say it more clearly. I am not in support of a ban on the death penalty."
The last person he prosecuted, Jackson said, he "put on death row." He insisted:
"This is not something I'm soft on. This is not something I'm equivocal on."
Proposition 36
The candidates took opposing stances on Prop. 36 which would change the three-strikes law to authorize a sentence of 25 years to life, except in specified circumstances, only where the third offense is a "serious or violent" felony.
Jackson said he's against the initiative, saying:
"It takes away the DA's discretion, ultimately, at the end of the day. And that, I think, is what the public pays us for, to use our experience—which I've had in the courtroom and out—and to use our discretion."
He said he supports the policy Cooley instituted when he took office in 2000 which, in general, precludes alleging that an offense is a third strike where it is not a major felony. Jackson noted, however, that "[t]his policy does include an element of discretion."
Lacey said she does support the initiative "because it mirrors very closely our current policy," and remarked:
"This is the way to take our way of doing it and make it statewide."
She noted that if the measure is passed, persons who were sentenced under the old standard could petition for resentencing, observing that their release would "leave room" in prisons "for more violent and serious criminals."
'Lack of Leadership'
The chief deputy then laced into Jackson, saying:
"I seems to me it's a lack of leadership to say one thing, 'I support what we're doing here in L.A. County,' and not want to extend it statewide."
Jackson responded:
"Ms. Lacey's absolutely wrong. She's just dead wrong….
"The ballot initiative is not the current policy that we have in the District Attorney's Office. We can use our discretion. It's been a long time since Ms. Lacey's been in a courtroom. She's forgotten that certain circumstances require that we will, in fact, use our discretion."
Lacey responded that deviation from the policy is rare and requires approval of a department director.
"This is where Mr. Jackson's lack of experience and leadership show," she commented.
She said Jackson does not know this because has not actually been in a courtroom, but has been "in a plumb assignment the past six or seven years." (He is presently assistant chief of the Major Crimes Unit, and previously was in the Gang Homicide Division.)
"I resent the demeaning attitude of Mr. Jackson," she declared, saying of the death penalty case he recently tried: "I was probably on the committee that approved" seeking that sentence
"To say that I'm not familiar, I'm out of touch, this is ridiculous. This lacks an understanding of what it means to actually run that office."
She said she understands how the office works and has not been in an "elite unit," taking two years to try a case.
Ballot Designation
Lacey took Jackson to task for using the ballot designation 'Gang Homicide Prosecutor' when he "is not in the gang unit anymore."
Jackson responded that his latest case involved a man who had paid gang members to kill his wife.
He said of the designation:
"It's accurate."
He reminded Lacey that if she thought the designation was misleading, she could have sought a writ to bar its use.
Copyright 2012, Metropolitan News Company