Tuesday, July 24, 2012
Page 3
Lawyers Philharmonic And Legal Voices Draw Enthusiastic Ovation
By a MetNews Staff Writer
The Los Angeles Lawyers Philharmonic, performing before an audience of more than 2,000 persons Saturday in its "Third Annual Concert Extraordinaire" at Disney Hall, drew a standing ovation that lasted in excess of five minutes.
It appeared with Legal Voices, a vocal chorus that debuted at last year's concert.
There was silence during the 25 movements of the cantata "Camina Burana," but after the last chord, members of the audience lept to their feet, with thunderous applause resonated throughout the hall.
During an earlier part of the program, the orchestra played a composition by the president of the Republic of Croatia, Ivo Josipović, and selections from Les Misérables.
The orchestra, which first performed Jan. 30, 2009, at the Metropolitan News-Enterprise "Persons of the Year" dinner, and Legal Voices are comprised entirely of judges, lawyers, paralegals and legal support staff. The conductor is attorney Gary S. Greene, who founded both groups, as well as a big band, which will perform next month in Chicago at the American Bar Association convention.
Los Angeles Superior Court Presiding Judge Lee Edmon—who introduced Josipović's work, Pater Perotinus Millennium Celebrat—attended with her husband, Los Angeles County Bar Association President Richard Burdge. The emcee, actress June Lockhart, announced that it was their 21st wedding anniversary.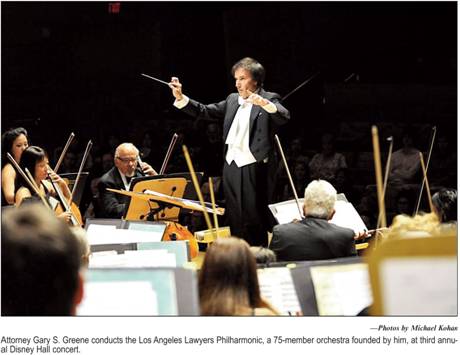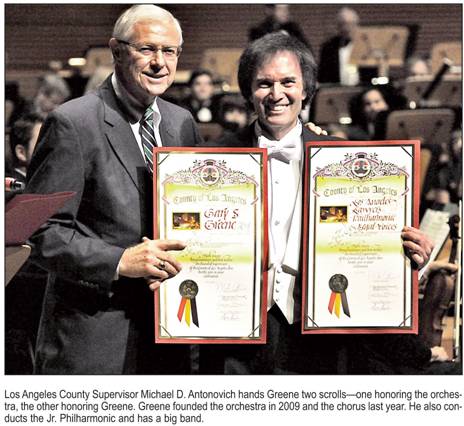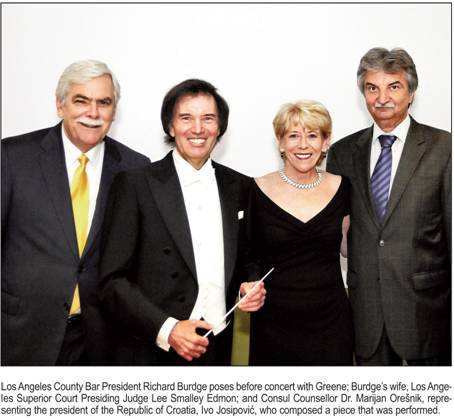 Copyright 2012, Metropolitan News Company