Tuesday, June 5, 2012
Page 1
C.A. Managing Attorney Named Clerk of Supreme Court
Frank McGuire to Succeed 'Fritz' Ohlrich July 2
By a MetNews Staff Writer
The California Supreme Court has named First Appellate District Managing Attorney Frank A. McGuire has its new clerk/administrator, Chief Justice Tani Cantil-Sakauye said yesterday.
McGuire, who will turn 51 days before taking up the position, will replace Frederick "Fritz" Ohlrich on July 2. Ohlrich, once the top administrator in the Los Angeles Municipal Court, previously announced that he would retire after 12 years in the post.
"I am delighted to announce the appointment of Frank McGuire as the Supreme Court's new Clerk/Administrator," the chief justice said in a statement. "Mr. McGuire's experience in court administration and his background practicing appellate law and as a judicial staff attorney for the Supreme Court and Court of Appeal make him uniquely qualified for this position."
McGuire said: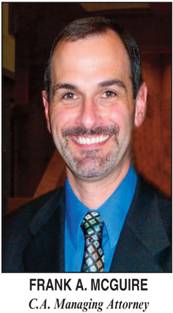 "It is a great honor and privilege to be invited to join the Supreme Court of California as its twenty-sixth Clerk/Administrator. I look forward to the opportunity to serve the Chief Justice and Associate Justices in the coming years. I am also grateful to the justices and staff of the First Appellate District for the confidence they have vested in me during my tenure as Managing Attorney. Finally, my heartfelt congratulations to my predecessor, Fritz Ohlrich, on his well-earned retirement. It will be difficult to follow in his footsteps."
Ohlrich said McGuire would be "serving the finest Supreme Court in the country."
The native Californian's undergraduate and law degrees are both from Stanford University, where he majored in both English and industrial engineering. He was elected to the Order of the Coif prior to his 1986 graduation from law school.
He clerked for Ninth U.S. Circuit Court of Appeals Judge Cynthia Holcomb Hall from 1986 to 1987, then joined Morrison & Foerster LLP as an associate. He left there in 1991 to join the First District Court of Appeal, where he served as staff attorney to Justices Robert L. Dossee and John E. Benson until 1996.
After serving as staff attorney to state Supreme Court Justice Janice Rogers Brown from 1996 to 1999, he became of counsel to Crosby, Heafey, Roach & May in Oakland. He left there 10 years ago to accept his present position.
In other news, the chief justice said she had appointed four new voting, and six advisory, members of the Judicial Council.
Among the voting members is Los Angeles Superior Court Judge James Brandlin. The jurist was appointed to the South Bay Municipal Court in 1993 and was elevated to the Los Angeles Superior Court in 1997.
He served as assistant presiding of the South Bay court in 1996 and 1997, site judge Airport Courthouse from 2001 to 2005, and supervising judge of the Southwest District in 2007. He also served multiple stints as an assigned justice pro tem in Div. Two of this district's Court of Appeal between 1995 and 1997.
as the Site Managing Judge of the (2001–2005), and as the Assistant Presiding Judge of the South Bay Municipal Court (1996, 1997). He also served as a pro tem Associate Justice for the Court of Appeal, Second Appellate District, Division Two (1995, 1996–1997).
He is regarded as an expert on court security issues and regularly teaches security and privacy protection classes across the country and has served on a number of security-related task forces. He has authored and sponsored several bills on judicial security and privacy protection.
His three-year term on the council is set to begin Sept. 15.
Also named as voting members were Riverside Superior Court Presiding Judge Sherrill A. Ellsworth, Yolo Superior Court Presiding Judge David Rosenberg, and Sacramento Superior Court Judge David De Alba. Rosenberg and De Alba currently serve as advisory members.
De Alba is filling a vacancy, so his appointment as a voting member is effective immediately Ellsworth and Rosenberg were appointed to three-year terms that begin Sept. 15.
Named as advisory members were Sacramento Superior Court Presiding Judge Laurie M. Earl, Alameda Superior Court Judge Morris D. Jacobson, Merced Superior Court Presiding Judge Brian L. McCabe, Sutter Superior Court Executive Officer Mary Beth Todd, Placer Superior Court Judge Charles D. Wachob, and San Diego Superior Court Judge Kenneth K. So.
So is currently a voting member; he was named to a one-year term as an advisory member. McCabe, Jacobson, and Wachob fill positions that were created last month "to expand the geographical diversity of the council and gain input from a wide spectrum of judicial officers," the Administrative Office of the Courts said in a release, and are to serve three-year terms beginning Sept. 15.
Todd is also to serve a three-year term, as is Rosenberg, who is currently serving a one-year term by reason of being chair of the Trial Court Presiding Judges Advisory Committee. Earl is the incoming chair of that committee and is to serve a one-year term on the council, also beginning Sept. 15.
Copyright 2012, Metropolitan News Company