Wednesday, April 4, 2012
Page 1
CJP Admonishes Commissioner Alan Friedenthal
By a MetNews Staff Writer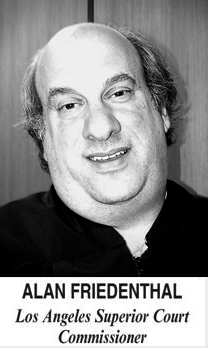 The Commission on Judicial Performance yesterday admonished Los Angeles Superior Court Commissioner Alan Friedenthal for actions and comments in five family law cases.
The commissioner, who now has a non-family law assignment in Chatsworth, engaged in misconduct that "included making discourteous, undignified, gratuitous and denigrating remarks to litigants, attorneys and related parties, and attempting to engage in humor at the expense of litigants; engaging in conduct that reflected embroilment and conveyed the appearance of bias; engaging in improper exparte communications; and failing to disclose on the record information that was reasonably relevant to the question of disqualification."
The cases were heard between 2007 and 2009.
The commission said Friedenthal acted unethically by:
•Failing to disclose that he had testified as a character witness on behalf of Carol Sternberg, an attorney involved in a case before him, during a State Bar proceeding and that he had attended the funeral of Sternberg's husband, both events occurring the year prior to his hearing the case;
•Commenting in court about a litigant who had filed a complaint against him, saying she "has no right to lie" and that "if I wasn't a semi-public figure, I would seriously contemplate suing her for defamation," along with similar remarks;
•Made other remarks suggesting he was personally embroiled in cases;
•Conducted an independent investigation of a divorce file and other records involving a litigant;
•Reviewed posts on a website dealing with court matters, which the commission said was improper where the posts concerned a case before him, and then commented on those posts in open court;
•Threatened to award custody of a child to non-parental family members in response to a father's statements that he needed a payment plan to pay court fees;
Commission Chairperson Lawrence Simi explained in his order that Friedenthal, who waived formal proceedings but responded to the commission's notice of intended admonishment, had described his conduct as "momentary lapses" in response to having to deal with difficult litigants.
Simi disagreed.
"He made multiple denigrating and undignified comments toward multiple litigants and related parties in multiple proceedings reflecting a pattern of poor demeanor and embroilment. In addition, his misconduct includes inappropriately commenting on complaints made against him, viewing web posts of litigants concerning matters pending before him, independently investigating facts, and failing to disclose on the record information that was reasonably relevant to the question of disqualification."
The commission voted 9-1 in favor of public admonishment, with Judge Erica R. Yew voting for a private admonishment of Friedenthal, a commissioner since 2005.
Neither the commissioner nor his attorney, Edith Matthai, could be reached for comment late yesterday.
Copyright 2012, Metropolitan News Company