Wednesday, June 20, 2012
Page 1
Commissioner Alan Friedenthal Elected to CJA Post
By a MetNews Staff Writer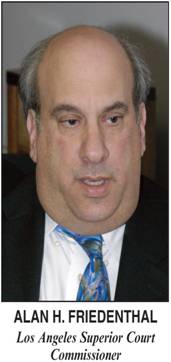 Los Angeles Superior Court Commissioner Alan H. Friedenthal was elected yesterday as secretary-treasurer of the California Judges Association.
The jurist was elected without opposition at a Sacramento meeting of the group's executive board.
Two other local judges sought CJA office but fell short in the voting, sources said.
Sonoma Superior Court Judge Allan D. Hardcastle defeated Los Angeles Superior Court Judge James Dabney for president. Three candidates sought two seats as vice presidents, with San Joaquin Superior Court Judge Barbara Kronlund and Butte Superior Court Judge Rob Glusman defeated Los Angeles Superior Court Judge Victor Wright.
The new officers will begin their terms Oct. 14, the group said, and serve for one year.
Friedenthal, 56, has been a commissioner since 2005 and served as a referee for eight years before that. He is a graduate of USC and of Southwestern Law School.
After graduating from law school, he left the state for graduate study in Washington, D.C., then clerked for U.S. District Judge George Revercomb in the nation's capital and Ninth U.S. Circuit Court of Appeals Judge Melvin Brunetti, now deceased, in Reno, Nev.
Hardcastle, 57, has been a CJA board member for two years. His undergraduate and law degrees are from the University of the Pacific and its McGeorge School of Law.
He served on active duty as an Army JAG officer between 1979 and 1982, then joined the Reserves and has served as a military judge. He was appointed to the Sonoma County Municipal Court in 1997 after having been in private practice in Sonoma for 11 years, then became a Sonoma Superior Court judge through unification in 1998.
He has been a member of every division of the court other than family law, and is currently presiding juvenile court judge.
Hardcastle told the MetNews that the coming year "will be a challenge for every judge in the state." He said he hopes to build on the work current president Judge David Rubin "has been trying to do improve our profile."
He will be working to recruit new members and to regain members who have left the organization recently due to a perception that the group lacks independence from the Administrative Office of the Courts, he said. CJA "is very much an independent organization," he said, but California "is a big state, a divergent state" and a statewide group has to represent "a lot of different views."
Hardcastle added that he intends to take an active role in implementing the recommendations of the Strategic Evaluation Committee appointed by Chief Justice Tani Cantil-Sakauye. "I think [the chief justice] is taking [the SEC report released last month] seriously," including comments that were critical of the AOC.
Copyright 2012, Metropolitan News Company