Tuesday, August 7, 2012
Page 3
Attorney Gary S. Greene's 'Big Band of Barristers' Wins ABA Competition
By a MetNews Staff Writer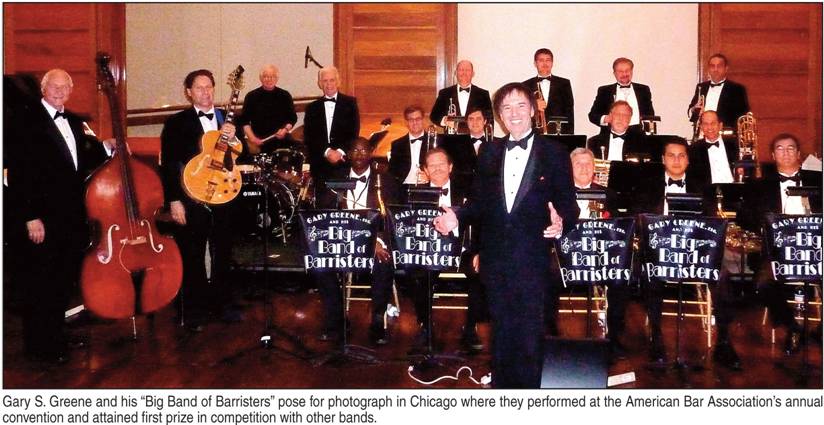 Los Angeles attorney Gary Greene's "Big Band of Barristers" came in first place Saturday night in Chicago at the American Bar Association's "Battle of the Lawyer Bands," held at the President's Reception at the Art Institute of Chicago. during the ABA's annual convention.
More than 2,000 persons attended the event. The Los Angeles group defeated the other three bands— from Orlando, Detroit, and Chicago—that made it into the finals, with the winner determined by on-site voting.
Greene's band, formed last December, will receive a $5,000 prize.
"It's a dream come true," Greene remarked. "We came to the 'Windy City' and blew them away."
The 18-member band is composed of lawyers, Court of Appeal Presiding Justice Arthur Gilbert, a law student, and some legal staff members.
Among those from Los Angeles in attendance was former County Bar President Harry L. Hathaway of Fulbright & Jaworski L.L.P. He commented:
"It was a wonderful show….The other bands were western style and jazz both comprised of lawyers and much smaller. Gary Greene's L.A. dance style band was far superior and much more professional. We were very proud of the quality and choice of music. Those in attendance enjoyed the show and were most complimentary of the performance and musical selections."
He continued:
"We ran into Gary [Sunday] on our way to a luncheon honoring our Chief Justice, Tani Cantil Sakauye, and had the opportunity introduce him to the ABA President, Bill Robinson [of Kentucky]. Gary was very proud of his band's performance and was able to explain his proud history with the full symphony orchestra to Bill."
The band is an adjunct to the Los Angeles Lawyers Philharmonic, formed by Greene, its conductor, in 2008. Its debut was Jan. 30, 2009, at the Metropolitan News-Enterprise "Persons of the Year" dinner.
The 100-voice "Legal Voices," a chorus, was organized last year, and accompanies the orchestra.
Greene also conducts the Jr. Philharmonic, instituted by his late uncle, Ernst Katz, 75 years ago.
Copyright 2012, Metropolitan News Company