Thursday, August 2, 2012
Page 1
CA Reverses Conviction of Ex-Compton Mayor Bradley
By a MetNews Staff Writer
The Court of Appeal for this district yesterday reversed the conviction of former Compton Mayor Omar Bradley on corruption charges, declaring that he might not have known that what he was doing was wrong.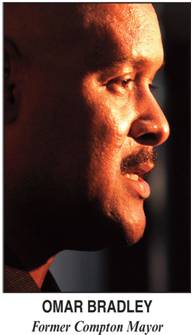 Bradley had used his city credit card to pay for personal items, including trips and golf fees, and obtaining cash advances.
Div. Eight of the appeals court affirmed the convictions, in the same opinion, of Bradley's co-defendants, former City Manager John Johnson II and former City Councilman Amen Rahh. As to them, Justice Madeline Flier wrote, instructional error was, beyond a reasonable doubt, harmless.
Charges against the three were brought on Feb. 27, 2003, by way of a Los Angeles County Grand Jury indictment. It was secured by the newly established Public Integrity Division of the District Attorney's Office.
Convicted by Jury
The defendants were convicted by a jury Feb. 10, 2004, on two counts, each, of misappropriation of public funds and unauthorized loans of public money, in violation of Penal Code Sec. 424. Los Angeles Superior Court Judge Jack W. Morgan remanded them to custody.
On May 14, 2004, Morgan sentenced the former mayor to three years in state prison. However, Bradley was able to serve time in a half-way house, leaving the facility five days a week to do community service work.
Having 158 days of presentence custody credit, Bradley was released in August 2005.
On Aug. 24, 2006, Div. Eight, in an opinion by Flier, affirmed the convictions. The California Supreme Court on Sept. 14, 2011, transferred the case back to Div. Eight for reconsideration in light of the decision it had just handed down in Stark v. Superior Court, 52 Cal. 4th 368.
There, the high court held:
"Strong public policy supports a rule requiring either actual knowledge or criminal negligence in failing to know the legal requirements underlying the section 424 charges."
Reversal Required
Flier said in yesterday's opinion that Bradley's conviction must be reversed in light of an instruction not having been given on scienter. She wrote:
"In contrast to Johnson and Rahh, the error with respect to Bradley was not harmless beyond a reasonable doubt. Bradley presented evidence, which if credited by the trier of fact, negated his wrongful intent. Bradley testified he conferred with Johnson regarding many of the expenses and received permission to use the funds for purposes other than the initially intended purpose. Even the prosecution agreed that for some of the expenses Bradley had received authorization from Johnson, who was authorized to approve expenditures under $5,000. Additionally, [county investigative auditor Jane] Ngo acknowledged she could not determine if funds not used for their intended purpose were used for other City-related business—which was the crux of Bradley's defense. Bradley's effort to argue that he had authorization from Johnson and that he spent funds on other City-related business was undermined by the prosecution's argument, supported by the erroneous instructions, that appellants had to intend only the act that resulted in the misappropriation. Bradley's testimony that he believed the golf games and hotel stays were properly charged to the City because he discussed City business during them also could not be evaluated by jurors absent the instruction on intent. The instructional error therefore was not harmless beyond a reasonable doubt as to Bradley."
The case is People v. Bradley, 2012 S.O.S. 3834.
Copyright 2012, Metropolitan News Company