Tuesday, August 7, 2012
Page 1
Court of Appeal's Reduction of Fake-Bomb Conviction to Misdemeanor Reversed by State High Court
By a MetNews Staff Writer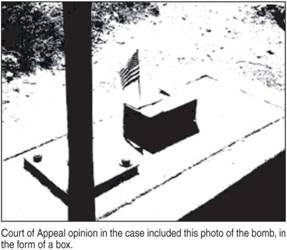 It does not offend equal protection to punish use of fake bombs to scare people as a felony while punishing the placement of phony "weapons of mass destruction" as misdemeanors unless it is further shown that somebody was actually caused fright, the California Supreme Court ruled yesterday.
The opinion by Justice Marvin Baxter, for a unanimous court, affirms the Court of Appeal insofar as its opinion upholds the conviction of Barry Allen Turnage for violating Penal Code §148.1(d). That section permits a felony or misdemeanor prosecution of someone who "maliciously…causes to be placed…any false or facsimile bomb, with the intent to cause another to fear for his or her personal safety or the safety of others."
However, the opinion reverses the determination of the Court of Appeal that the conviction must be reduced to a misdemeanor, meaning a one-year county jail-time lid on the sentence. Under the three-strikes law, Turnage had been sentenced in Yolo Superior Court to 25 years-to life.
Third District Opinion
The Third District Court of Appeal's April 1, 2010 opinion in the case contrasted §148.1(d) with Penal Code §11418.5, relating to placing bogus weapons of mass destruction and said:
"We…conclude that placing a false bomb within the meaning of section 148.1(d), which does not include the element of causing sustained fear as defined in section 11418.5, is only a misdemeanor."
The opinion was by Justice Vance Raye.
Baxter Rejects Reasoning
Baxter rejected the Court of Appeal's reasoning. He said:
"The challenged distinction — allowing false bomb crimes to be punished as felonies without proof of sustained fear, while requiring such a showing for felony violations of the false WMD statute — is not irrational. The Legislature could reasonably assume that the public is highly familiar with, and uniquely afraid of, the explosive properties of bombs. Hence, mere observation or awareness of an object that looks like a bomb, and that was meant to instill fear like a bomb, is almost certain to cause the alarm and disorder associated with sustained fear under the statutory scheme.
"Upon close examination, the same reasoning does not apply to false WMD's. A WMD is statutorily defined to include a vast array of chemical and biological substances, and radioactive and mechanical devices, weaponized for use in both conventional and unconventional forms against all kinds of targets, not just people. It is conceivable from a legislative perspective that, given the breadth and relative novelty of WMD's, a facsimile of a WMD would not necessarily be recognized or cause fear, even where it is detected and was intended to do so. Requiring sustained fear for felony offenses under the false WMD statute, but not the false bomb statute, promotes a valid state interest in deterring and punishing the societal harm such crimes clearly cause."
The case is People v. Turnage, 2012 S.O.S. 3960.
Copyright 2012, Metropolitan News Company