Monday, July 2, 2012
Page 3
Bingham McCutcheon Partner Elected to ADL Post
By a MetNews Staff Writer
Seth Gerber, a partner at Bingham McCutchen LLP, was elected regional board chair of the Anti-Defamation League Pacific Southwest Regional Board, the firm said in a release last week.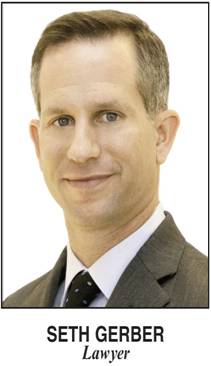 The action took place at a meeting June 19 in Los Angeles.
Gerber specializes in complex commercial litigation and protection of intellectual property assets. He has extensive experience prosecuting claims against foreign governments under the Foreign Sovereign Immunities Act, the firm noted.
In 2010, he won a landmark judgment against the Russian Federation ordering it to return a large collection of irreplaceable, sacred Jewish books and manuscripts that were looted during the Bolshevik Revolution and the Second World War.
Gerber has served as the ADL region's vice chair, secretary, Legal Advisory Committee chair, Asian Jewish Initiative chair, and Speaker's Bureau chair. He is a 2005 graduate of ADL's Glass Leadership Institute and received the ADL's Daniel R. Ginsberg Leadership Award.
Nationally, he serves as a member of the ADL National Commission, Legal Affairs Committee and Civil Rights Committee.
He is a also a member of the Guardians for the Jewish Home for the Aging and a friend of the UCLA Nazarian Center for Israel Studies, and has provided pro bono legal services with Bet Tzedek Legal Services and the General Assistance Advocacy Program, including for Holocaust survivors, the homeless, elderly and disabled.
During his acceptance speech, the release noted, Gerber made a commitment to "continue to expand our outreach to partnership organizations in the Asian, Latino, African-American and LGBT communities in Los Angeles."
Gerber received his law degree in 1999 from Hastings College of the Law, and his undergraduate degree from Trinity College in 1994.
In other news, Southwestern Law School said it had elected Larraine Segil, a 1979 graduate, to its Board of Trustees in May. Segil was described in a release as "a highly respected senior executive with entrepreneurial general management experience and specialized expertise in conflict resolution and the creation, implementation and management of complex business alliances in multiple industries—healthcare, technology, consumer products, manufacturing, aerospace and financial services."
Outgoing Dean Bryant Garth, who is retiring and joining the faculty at UC Irvine School of Law, said, the new trustee's "unique insight and connections to the corporate, financial, legal and government arenas will greatly enhance our efforts toward the advancement of the law school, particularly in our strategic partnerships with the Drucker Graduate School and other institutions."
Segil was formerly owner and director of Vantage Partners, a privately held consulting firm where she is now partner emerita. Vantage Partners evolved out of the Harvard Project on Negotiation and acquired her firm The Lared Group in 2003.
Segil has assisted major companies in creating and managing business relationships and serves on the board of Frontier Communications and the Advisory Board of Edgecast, a Content Delivery Network Company. She co-founded a California thrift and loan company as well as a series of free-standing ambulatory care clinics providing medical services, and previously practiced international corporate law, the school said.
She is a member of the Governing Board of The Committee of 200, a global group of women CEOs and a member of the Board of Governors of Cedars Sinai Medical Center.
Segil also teaches executive education at the California Institute of Technology and is a member of the Advisory Board for the Southwestern-Drucker Graduate School of Management J.D./M.B.A. concurrent degree program, as well as being an adjunct associate professor of law at Southwestern.
She has written several business books and holds several degrees besides her Southwestern degree, including an M.B.A. from the Presidential Key Executive Program at Pepperdine University and an undergraduate degree from the University of Witwatersrand in Johannesburg, in her native South Africa.
Copyright 2012, Metropolitan News Company