Friday, November 30, 2012
Page 1
Monterey Judge Grover Named to Sixth District C.A.
By KENNETH OFGANG, Staff Writer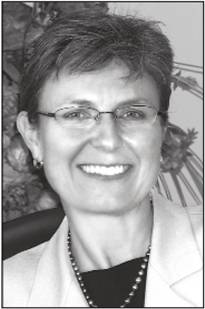 ADRIENNE M. GROVER
Monterey Superior Court Judge
Gov. Jerry Brown yesterday nominated Monterey Superior Court Judge Adrienne M. Grover to the Sixth District Court of Appeal.
Grover, a 50-year-old Carmel resident and a Democrat, has served as a judge of the Monterey Superior Court since 2002. She served as county counsel for Monterey County from 1999 to 2002 and as deputy county counsel from 1995 to 1999.
She worked for Calaveras County from 1992 to 1995, serving first as assistant county counsel and then deputy county counsel. Grover was an associate attorney at Long and Levit LLP from 1990 to 1992. She is a graduate of Santa Clara University School of Law and UC Berkeley.
If confirmed by the Commission on Judicial Appointments for the position, which pays $204,559 per year, Grover would fill the vacancy created by the retirement last year of Justice Wendy Clark Duffy.
December 20th Hearing
The commission will consider Grover's nomination at a public meeting on Dec. 20 at 9:45 a.m in the Supreme Court courtroom in San Francisco, the Administrative Office of the Courts said in a release. Later that day, it will consider two earlier nominations by Brown, those of James Humes—a senior aide to the governor—for the First District Court of Appeal and Fresno Superior Court Judge Rosendo Peña Jr. for the Fifth District Court of Appeal.
The hearing for Humes is scheduled to begin at 11 a.m, and the hearing for Peña at 12:30 p.m.
Comments on the nominees and requests to speak at the hearing, including a summary of proposed testimony, must be received by 5 p.m. on Dec. 13, the AOC said. The address is Commission on Judicial Appointments c/o Chief Justice of California, Supreme Court of California, 350 McAllister Street, San Francisco, California 94102 Attention: Secretary to the Commission.
The governor yesterday also appointed six people to superior court judgeships in five counties.
Appointed were Bakersfield criminal law practitioner Brian McNamara, 57, to the Kern Superior Court; Napa Superior Court Commissioner Michael S. Williams, 66, as a judge of that court; Fresno attorney Michael J. Jurkovich,57, to the Madera Superior Court; family law specialist Bunmi O. Awoniyi, 48, and Senior Assistant Attorney General Steven M. Gevercer, 54, to the Sacramento Superior Court; and Ventura County Senior Deputy District Attorney Gilbert A. Romero, 40, to the Ventura Superior Court.
Criminal Practitioner
McNamara has been a sole criminal law practitioner since 1998 and teaches business law and management information systems at California State University, Bakersfield. He earned a law degree from Newport University School of Law in Newport Beach, a doctorate degree and master's degree in sport management from the University of Massachusetts, Amherst and an undergraduate degree from the University of Stirling in Scotland. He is registered decline-to-state.
Williams has served as a court commissioner since 2001. He was previously court counsel and a research attorney at the same court, and before that a deputy public defender in Napa County. He holds a law degree from Golden Gate University School of Law, and master's and bachelor's degrees from UC Berkeley.
Jurkovich has been a lawyer since 1990 and joined Gilmore, Woods, Vinnard & Magness last year after his previous firm dissolved. Before being admitted to practice, he was a Madera police officer and a Fresno County corrections officer.
He is a graduate of the San Joaquin College of Law and California State University, Fresno. Jurkovich is a Republican.
Awoniyi has had a family law practice since 1994. She is a former crown prosecutor in London, England and holds a law degree from the Inns of Court School of Law, a masters of law degree from the University of Leicester School of Law, and a bachelor of law degree from the University of Essex.
Gevercer has worked for the Attorney General's Office since 1989, having previously been a deputy public defender in Sacramento and Tulare counties and a sole practitioner. He is a graduate of the University of San Francisco School of Law and a the University of Michigan.
Romero has worked for the district attorney in Ventura County since 1999. He is a graduate of Hastings College of the Law and California State University, Northridge.
Williams, Awoniyi, Gervercer, and Romero are Democrats.
The current pay of a superior court judge is $178,789 annually.
Copyright 2012, Metropolitan News Company