Monday, May 21, 2012
Page 1
Brown Names Eight to Local Bench, Including First Muslim Judge
Local Appointees Among 17 Statewide, Including Two to Court of Appeal
By KENNETH OFGANG, Staff Writer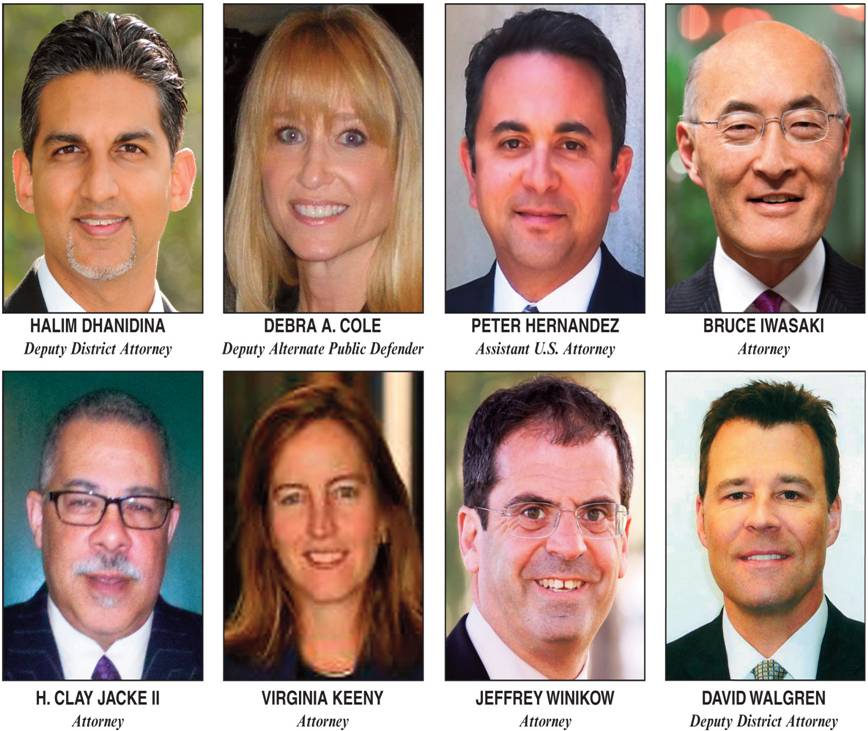 Gov. Jerry Brown Friday named 17 people to judgeships, including eight to the Los Angeles Superior Court.
Among the local appointees are Deputy District Attorneys Halim Dhanidina—whom the governor's office and the Muslim Public Affairs Council said would be the first Muslim-American judge in California—and David Walgren, lead prosecutor in the case of Dr. Conrad Murray, convicted of manslaughter in the death of Michael Jackson.
Dhanidina, 39, has been with the District Attorney's Office for 14 years and has worked in the Hardcore Gang and Major Crimes divisions. He has received a number of awards, including being named Deputy District Attorney of the Month in November 2002 by the Association of Deputy District Attorneys, the Los Angeles County Board of Supervisors' Victims' Rights Week Award in 2007, and multiple awards from Justice for Homicide Victims.
APABA Board Member
He serves on the board of the Asian and Pacific American Bar Association of Los Angeles and is a graduate of Pomona College, where he founded the first Muslim Students Association. His law degree is from UCLA, where he served as co‐chair of the Asian Pacific Islander Law Students Association and helped organize campaigns against Propositions 187 and 209, according to his biography on the APABA website.
He also was one of the founding members of the Association of South Asian Prosecutors and teaches criminal law at Glendale University College of Law.
Walgren, 43, has served as a deputy district attorney since 1996. He earned his law degree from UC Davis School and his undergraduate degree from UCLA.
Six Others
The other appointees to the Los Angeles Superior Court are Deputy Alternate Public Defender Debra A. Cole; Assistant U.S. Attorney Peter A. Hernandez; Los Angeles attorneys Bruce G. Iwasaki, H. Clay Jacke II, and Jeffrey K. Winikow; and Pasadena lawyer Virginia Keeny.
Cole, 50, has served in multiple positions in the APD's office since 1994, including head deputy, deputy in charge and trial deputy. Cole was a trial deputy in the Public Defender's Office from 1988 to 1994.
She is a graduate of Loyola Law School Los Angeles with an undergraduate degree from UCLA, and fills the vacancy created by the retirement of Judge Andrew C. Kauffman.
Hernandez, 42, has been a federal prosecutor since 1999, after having been a litigation associate at Brobeck, Phleger and Harrison LLP from 1998 to 1999. Previously, Hernandez was a trial attorney in the Civil Rights Division of the U.S. Department of Justice from 1995 to 1998.
UCLA Graduate
He holds a law degree from UCLA and an undergraduate degree from UC Berkeley. Iwasaki, 61, has been a partner at Lim Ruger and Kim LLP since 2006. He was executive director of the Legal Aid Foundation of Los Angeles from 1997 to 2006 and was an associate at O'Melveny and Myers LLP from 1988 to 1997.
From 1980 to 1988, he held multiple positions at LAFLA, including senior counsel and staff attorney. He was a staff attorney at San Fernando Valley Neighborhood Legal Services from 1976 to 1980.
His undergraduate and law degrees are from UCLA.
Jacke, 53, has been a sole criminal defense practitioner since 1983. He is a graduate of Southwestern Law School with a Bachelor of Science degree from Drake University in Iowa.
Keeny, 50, has been a partner at Hadsell Stormer Keeny Richardson and Renick LLP since 2008. She was a partner at Hadsell and Stormer Inc. from 1993 to 2007 and a senior trial attorney in the Los Angeles District Office of the U.S. Equal Employment Opportunity Commission from 1991 to 1993.
Public Interest Fellow
Keeny was a public interest fellow at Litt and Stormer from 1989 to 1991. From 1988 to 1989, she served as a law clerk for now-retired Judge William A. Norris in the Ninth U.S. Circuit Court of Appeals.
She is a graduate of Stanford Law School and Harvard University.
Winikow has been a sole practitioner since 1992, having been an associate at Mitchell Silberberg and Knupp LLP from 1989 to 1992.
He is a graduate of the University of Chicago Law School and Cornell University, and fills the vacancy created by the retirement of Judge William J. Birney Jr.
Dhanidina, Walgren, Hernandez, Iwasaki, Jacke, and Keeny fill vacancies created by the conversion of commissioner positions.
Of the other nine selections announced Friday, two are nominations to the Court of Appeal, and are subject to confirmation by the Commission on Judicial Appointments.
Orange Superior Court Judge David A. Thompson was nominated to the Fourth District Court of Appeal, Div. Three, to fill the vacancy created by Kathleen O'Leary's elevation to presiding justice.
Thompson, 55, of Costa Mesa, has served as a judge since 1998, after having been an associate at Morrison and Foerster LLP. He holds a law degree from UCLA and an undergraduate degree from Georgetown University. He is registered decline-to-state.
Court of Appeal
Santa Clara Counsel Miguel Marquez, 45, was nominated to the Sixth District Court of Appeal to succeed retired Justice Richard J. McAdams. The governor's office said he would be the first Latino justice of that court.
Marquez has served as county counsel for Santa Clara County since 2009. He served as general counsel, and previously assistant general counsel, for the San Francisco Unified School District from 2006 to 2008.
He was a deputy city attorney in San Francisco from 2004 to 2006 and deputy county counsel for San Mateo County from 1998 to 2000 and from 2002 to 2004, with a stint as a law firm associate in between.
He holds a law degree from UC Berkeley, a Master in Public Policy degree from Harvard University, and a bachelor's degree from Stanford University.
More Judges
Also named on Friday were:
•Former State Bar Executive Director Judy Johnson, 63, to the Contra Costa Superior Court;
•Superior Court Referee Julian W. Bailey, who is 63 and is registered decline-to-state, and Lewis W. Clapp, 57, director of the Orange County Associate Defender's Office, to the Orange Superior Court;
•Assistant U.S. Attorney Allison M. Danner, 41, and Santa Clara County Public Defender Mary J. Greenwood, 55, to the Santa Clara Superior Court; and
•Mendocino County Counsel Jeanine B. Nadel, 57, and sole practitioner David A. Riemenschneider, 63, to the Mendocino Superior Court. Riemenschneider is registered decline-to-state.
All of those named Friday—except Thompson, Bailey, and Riemenschneider—are Democrats.
The compensation of a superior court judge is $178,789. The compensation of a Court of Appeal justice is $204,599.
Copyright 2012, Metropolitan News Company