Tuesday, December 20, 2011
Page 3
Prosecutor Says She Will Not Run Against Colleagues for Judgeship
By SHERRI M. OKAMOTO, Staff Writer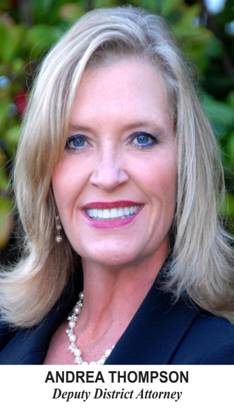 Veteran Deputy District Attorney Andrea Thompson yesterday told the MetNews that she plans to seek an open seat on the Los Angeles Superior Court bench, but she will not enter a contest against a fellow prosecutor.
At least four other local attorneys have expressed an interest in running for an open seat, including Deputy District Attorneys Eric Harmon and Sean Coen. Coen has said he is reluctant to run against a colleague, but Harmon has said he plans to pursue an open seat "no matter what."
Deputy City Attorney Matthew Schonbrun and San Fernando Valley practitioner Lawrence Kaldor are also gearing up to run for the court.
Over 150 judges are up for reelection next year, but of those who could be reached last week, only Judge Judith Vander Lans has said she will not run. If she does not retire prior to the nominating period, which begins Feb. 13, the contest for her seat will be on the June primary ballot.
If Vander Lans retires before that, there will be no election for the seat in 2012 and the governor can fill it by appointment.
Thompson has worked for the District Attorney's office for 26 years, and currently is part of the Sex Crimes Division. She serves as the deputy-in-charge of Stuart House, which is a part of the Rape Treatment Center in Santa Monica.
For the past 15 years, she said, her work "has focused on cases involving sexual and physical abuse of children, internet-facilitated violent crime, sexual assault and domestic violence."
During the course of her career, Thompson said she has handled a special circumstance triple murder of two young girls and their mother, and another case which involved the torture murder of a four year-old boy, as well as the trial of a serial child molester employed as a parochial school teacher.
She said she also has experience in civil law matters.
"I have a broad base of experience from which to draw," Thompson said, and "I would bring to the bench a strong sense of justice and fairness tempered with sound legal knowledge."
The prosecutor remarked that she has "found a career in public service to be extremely rewarding, both personally and professionally," but she is "ready to seek a new challenge and be of service to the community in a different way."
Thompson disclosed that she is also pursuing appointment to the bench, as well as her election campaign, in which she is being advised by consultant David Gould.
"Before the end of the year I expect to raise between $50,000 and $60,000," she said, and "I plan to double that figure before the primary."
She added that she has "a wide range of supporters among judges, attorneys and law enforcement" including District Attorney Steve Cooley, Sheriff Lee Baca and Los Angeles Police Chief Charlie Beck.
Others backing her include Los Angeles County Police Chiefs' Association and the California Narcotics Officers' Association, as well as criminal defense attorneys Richard Hirsch, James Blatt and Ezekiel Perlo, Thompson said.
As for support from the bench, she said she is "in the process of seeking formal endorsements."
Thompson, who is fluent in both Spanish and French, was employed as a social worker and as a ranger for the National Park Service after graduating from the University of South Dakota.
She then went on to attend McGeorge Law School at the University of the Pacific and join the California State Bar in 1984.
The attorney is a member of the Los Angeles County Bar Association's Criminal Justice Section, Association of Deputy District Attorneys and California District Attorney Association.
Thompson was named "DDA of the Month" in April 2008, and honored in 2006 by then-District Attorney Gil Garcetti for "Outstanding Domestic Violence Prosecution."
She is married to Los Angeles Police Department Sgt. Greg White, and the couple have two sons, age 11 and 13.
Copyright 2011, Metropolitan News Company