Wednesday, September 14, 2011
Page 3
State Bar Names Joan Dempsey Klein as Bernard Witkin Medal Recipient
By a MetNews Staff Writer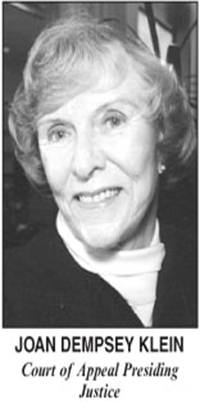 The State Bar of California yesterday said it had selected Court of Appeal Presiding Justice Joan Dempsey Klein as this year's recipient of the Bernard E. Witkin Medal.
The award was created in 1993 at the instigation of Court of Appeal Justice Norman Epstein—now presiding justice of this district's Div. Four—and named for the famed legal scholar who was its first recipient. It is awarded each year to an individual whose "outstanding contributions and achievements have enriched the legal profession and exalted the science of jurisprudence," the State Bar said in a release.
The 87-year old jurist who heads Div. Three of this district's Court of Appeal was also honored in a resolution, signed by outgoing State Bar President William Hebert, "for her extraordinary contributions to the legal profession, for her exemplary service to the community, for her courage in upholding the provisions of the United States Constitution, for her unwavering commitment to the concepts of equal access to justice and civil rights."
Both former State Bar President Holly Fujie and Court of Appeal Justice Maria P. Rivera of the First District's Div. Four, who were on the panel that chose this year's recipient, describe Klein as an "iconic" figure.
Fujie said Klein, who began practicing in 1955 in the Attorney General's Office, is "a legend in California jurisprudence."
Lengthy Career
The first graduate of UCLA law school to be appointed to the bench, Klein was tapped for the Los Angeles Municipal Court in 1963 by then-Gov. Pat Brown, elected to the superior court in 1975, and then appointed presiding justice in the appellate court by Gov. Jerry Brown in 1978.
Fujie remarked the Klein, in addition to "being a very wise and incredibly hardworking justice…has been more involved in community activities, in bar activities, than any judge I know."
Klein is founding president of California Women Lawyers, and co-founder and the first president of the National Association for Women Judges. The creation of such support systems, Rivera said, were instrumental for her and other female practitioners and bench officers, "especially in the early years when there were very few and you could feel like the Lone Ranger."
Rivera praised Klein as "such a great leader and such an inspiring role model" who is "so modest and so ready to acknowledge everybody but herself," which is "a wonderful combination."
She also expressed admiration for Klein's 507 published opinions. "It's what I call a very hefty share of excellent legal scholarship that's been added to our California appellate courts," Rivera said.
Klein has previously received the Margaret Brent Women Lawyers of Achievement Award, been named a MetNews Person of the Year, and named Appellate Justice of the Year by the Los Angeles Trial Lawyers Association, along with several other honors. She is the senior presiding justice of the Court of Appeal, and as such sits as a member of the Commission on Judicial Appointments.
In other news, the State Bar also announced its selection of other honorees who, like Klein, are slated to be presented with their awards at the State Bar's Annual Meeting this week in Long Beach.
Other Awards
The President's Pro Bono Service Awards for 2011, which recognize outstanding legal service contributions to those who cannot afford such services, are being presented to San Diego attorney Judith A. Litzenberger; San Francisco practitioner Jacqueline Brown Scott; Santa Ana lawyer Fermin Valencia; Sacramento attorney Ronald E. Blubaugh; Los Angeles-area law student Suesan Gerard; DLA Piper LLP; the Los Angeles office of Skadden, Arps, Slate, Meagher & Flom LLP; and teams from Cotchett, Pitre & McCarthy LLP in Burlingame and Loeb & Loeb LLP in Los Angeles.
Sid Wolinsky, co-founder and director of litigation of Disability Rights Advocates in Berkeley, has been selected to receive the Loren Miller Legal Services Award, which is given annually to a lawyer who has demonstrated long-term commitment to legal services and who has personally done significant work in extending legal services to the poor.
The Jack Berman Award of Achievement, presented by the California Young Lawyers Association and named after a young lawyer killed in the 1993 shooting at 101 California Street, San Francisco, is slated to be given to Emily Arnold-Fernandez, founder of Asylum Access in San Francisco, a nonprofit group that fights for the rights of refugees.
A special Benjamin Aranda III Access to Justice Award, which is cosponsored by the Judicial Council of California, State Bar of California, California Commission on Access to Justice and California Judges Association, is also set to be presented to former state courts Administrative Director Bill Vickrey.
The State Bar Diversity Award is being given to San Diego Superior Court Judge Vallera Johnson, Hanson Bridgett LLP of San Francisco and For People of Color, Inc. of Los Angeles, and to the Asian Pacific American Bar Association of Silicon Valley.
The Center for Youth Development through Law in Berkeley is also this year's recipient of the Education Pipeline Award.
Copyright 2011, Metropolitan News Company