Tuesday, January 25, 2011
Page 3
Brevity, Levity Mark Presentations at 'Persons of the Year' Dinner
By a MetNews Staff Writer
Dignitaries bestowing scrolls and plaques at Friday night's "Persons of the Year" dinner kept their remarks exceptionally short, heeding a call for brevity spread among fellow presenters by Los Angeles County District Attorney Steve Cooley.
Cooley was the last of seven presenters, prior to the three honorees—Southwestern Law School Dean Bryant Garth, attorney/conductor Gary S. Greene, and attorney/bar leader Jack Denove—being handed the Metropolitan News-Enterprise's award, at the newspaper's 23rd annual dinner. On his own, Cooley decided to speed up the program which followed a brief concert by the Los Angeles Lawyers Philharmonic, a five-course dinner, and a live auction of actress June Lockhart's photo-scrapbook.
When it was his turn at the podium, the county's chief prosecutor told the assemblage of about 225 persons at the black-tie event at a downtown private club:
"I know it's very late—and the reason it isn't later is that I kicked some ass up here with the presenters. I told them:
" 'You've got 15 or 20 seconds. I will grade you.' "
Earlier, Los Angeles Superior Court Presiding Judge Lee Smalley Edmon joked about Cooley's edict. She told the audience:
"These comments that I wrote about these folks: I've been threatened, up here, with total humiliation if I say them. So, I'm going to cut them right down."
In making the presentation to Denove, she said:
"There are so many judges who have great stories about Jack. But I don't have time to tell you any of them."
Los Angeles City Attorney Carmen Trutanich said he was going to be brief "because I don't want to run the risk of the wrath of Steve Cooley."
Baca's words of praise to each honoree, in turn, were: "You're a great man."
Other presenters were Los Angeles County Supervisor Michael D. Antonovich, Los Angeles County Bar Assn. President Alan K. Steinbrecher, and State Bar Governor Patrick Kelly.
Cooley Assigns Grades
Cooley provided this assessment of the presenters:
"Mike Antonovich got an 'A'. Streinbrecher an A-minus.
"Kelly, B-plus; then I wiped that out, gave him a C-plus; he kept talking; D-plus.
"Now the Hon. Lee Smalley Edmon, she was working on an F-minus, but I worked her over [prior to the presentations], and she wound up with a C-minus.
"Trutanich, you're doing OK, but you got a D-plus. You can't help yourself.
"Lee, you surprised me. You surprised me because I know you. We're like brothers—from different mothers. You got a B-plus.
"And I'm going to give myself an A-plus—but I'm going to stop right now."
Awards Presented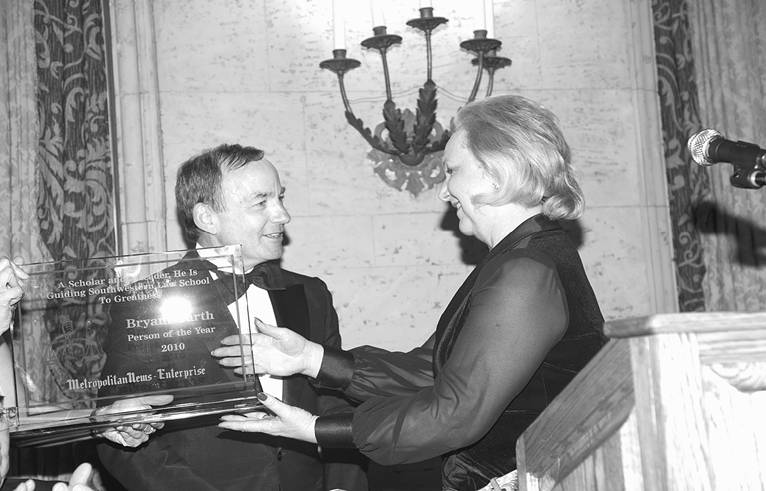 The "Person of the Year" Award was presented to Garth by MetNews Co-Publisher Jo-Ann W. Grace who noted that Southwestern, once a trade school, has climbed in status over the decades and "has reached a plateau at which it has been able to bring on board, as its dean, an internationally recognized legal scholar and administrator," adding of Garth:
"Already, he has made meaningful strides in planning—indeed, formulating big plans, and ones which emerge as realistic, based on support he has mobilized among students, alumni, and faculty."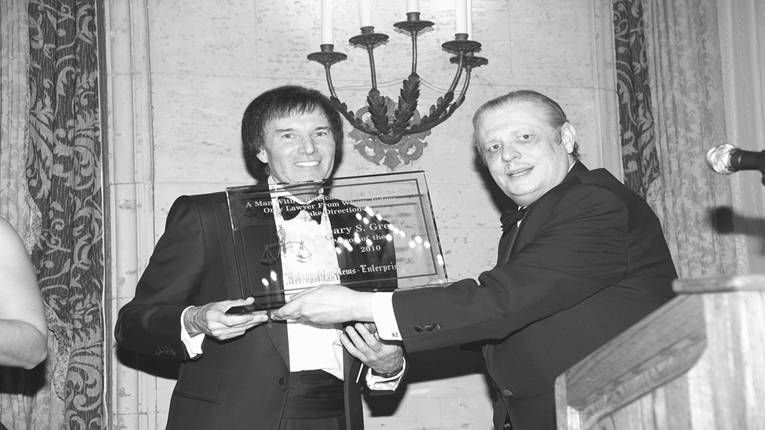 Editor/Co-Publisher Roger M. Grace gave the award to Greene. Grace drew attention to a July 6, 1977 article in the Los Angeles Times which referred to the honoree, sister Lori, brother Terry, their parents, and their uncle as "superachievers." He noted that the Times article said of Gary Greene, then 27, and a sole practitioner:
"He intends someday to be a conductor."
Greene, still a practicing lawyer, now is conductor of two philharmonic orchestras: the Jr. Philharmonic, succeeding his uncle, who died last year, and "of especial significance to us," Grace said, "the Lawyers Philharmonic, which Gary founded."
As noted by Edmon, the orchestra had performed its inaugural concert at the "Person of the Year" dinner two years earlier.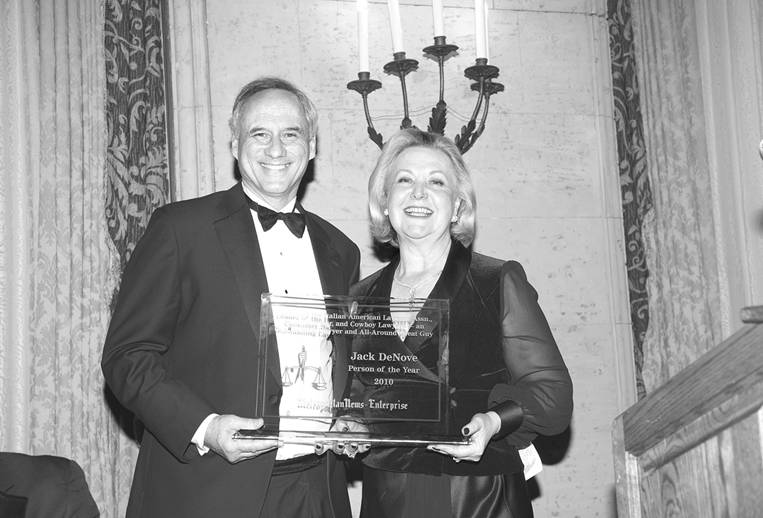 Jo-Ann Grace gave the MetNews 's 40th "Person of the Year" award to Denove, outgoing president of what she described as her "favorite bar group," the Italian American Lawyers Assn. (of which she is a past president). She noted that he headed, "very effectively, the least favored bar group among some politicos: the California Consumer Lawyers."
She continued:
"Significantly, he served as president of that magnificent group of down-to-earth, horse-loving lawyers: the Cowboy Lawyers Assn."
There were whoops and hollers at that point, and other junctures, from a contingency of cowboy lawyers occupying two tables at the dinner. Expressly exempted from the "black-tie" requirement, they were clad in western attire.
Fourth-Term Encouraged
Emceeing the event for the 16th year was former Los Angeles County District Attorney Robert H. Philibosian, who alluded to support that is developing for a try by Cooley for election to a fourth term. Cooley has not closed the door to such a prospect but has evinced a reticence toward making such a bid.
Three possible successors were in attendance: Trutanich, who has high name-identification but had publicly pledged prior to being elected as city attorney to serve out his full four-year term; Assistant District Attorney Jacquelyn Lacey who has formed an exploratory committee and is believed to be favored by Cooley if he doesn't run; and Deputy District Attorney Danette Meyers, a former Los Angeles County Bar Assn. president.
Meyers—unlike Trutanich, Lacey, or Deputy District Attorney Alan Jackson, who is raising funds for a possible run—has made clear she intends to run even if Cooley does.
Philibosian, after noting Baca's unopposed election last year to a fourth term, commented:
"And speaking of fourth terms, Steve Cooley [pause] has no announcement on that tonight."
Baca interjected: "We're waiting," and Philibosian shot back, "You can keep waiting."
The former DA continued:
"But if he does run for DA, it will be historic in the County of Los Angeles to have a district attorney for four terms—and from what I hear from a lot of people who are urging him to do that—who knows?"
Philibosian was a prime advisor to Cooley in his three prior races for the DA's post, as well as in the contest for state attorney general last year which Cooley lost by less than a percentage point.
Former Awardees
He is a former "person of the year" as are Edmon, Antonovich, Trutanich, Baca and Cooley.
Other former honorees in attendance included former San Fernando Valley Bar Assn. President Lee Kanon Alpert, former Los Angeles County Bar Assn. President John J. Collins, immediate past Los Angeles Superior Court Presiding Judge Charles W. "Tim" McCoy, retired U.S. District Judge George Schiavelli of the Central District of California, and Court of Appeal Presiding Justice Paul Arthur Turner of this district's Div. Five.
Another former "person of the year" present was Court of Appeal Presiding Justice Norman Epstein of this district's Div. Four, accompanied by his wife, retired Butte Superior Court Judge Ann Rutherford. The Jan. 21 dinner took place one year to the day from when Epstein made his marriage proposal, and it was at the "Persons of the Year" dinner last year, on Jan. 29, that the engagement was publicly announced.
Copyright 2011, Metropolitan News Company