Thursday, October 13, 2011
Page 1
Pines to Step Down From Superior Court at End of Year
By SHERRI M. OKAMOTO, Staff Writer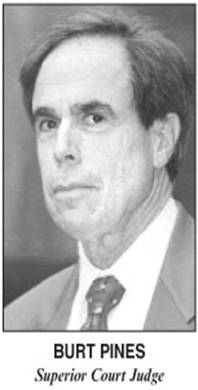 Los Angeles Superior Court Judge Burt T. Pines is scheduled to step down from the bench at the end of this year, it was learned yesterday.
Pines, a former Los Angeles city attorney who served as judicial appointments secretary for Gov. Gray Davis, joined the court in 2003 at the age of 64.
He did not return a call seeking comment yesterday.
Pines was born Burt Landeau, the only child of Charles Landeau and Ruth Pines. After the couple divorced when he was a year old, his mother gave him her maiden name.
USC Graduate
He was raised in Burbank, and attended Los Angeles High School where he served as student body president. He then graduated magna cum laude from USC with a degree in philosophy in 1960.
Three years later, he earned his law degree from New York University, where Pines was a member of Order of the Coif and the law review staff. He was on the dean's list, and finished first in moot court competition.
Pines was admitted to practice in California in 1964. He served as an assistant U.S. attorney for the Southern District of California for two years before entering private practice in 1966.
He became involved in politics in 1969, working for John Tunney's U.S. Senate campaign. In 1973, he was elected city attorney of Los Angeles and served two four-year terms.
During his tenure, Pines set up a consumer fraud section, an environmental protection section, a hearing officer program in which paralegals handled citizen complaints against police. He has also been credited with opening the City Attorney's Office to gay, female, and minority lawyers.
In 1978, Pines was considered by many to be the early front-runner in the Democratic primary for California attorney general, but lost the primary race to then-Rep. Yvonne Braithwaite Burke, who in turn lost the general election to Republican George Deukmejian. Deukmejian served one term in that office prior to being elected governor.
Staunch Supporter
Upon leaving office in 1981, Pines joined the Century City firm of Alschuler & Grossman, which became Alschuler Grossman & Pines, but he remained politically active and was a staunch supporter of Davis.
After winning election in 1998, Davis selected Pines to serve as one of the heads of his transition team, and then as his judicial appointments secretary. Davis tapped Pines for the bench five years later, just after losing the governorship to Arnold Schwarzenegger in a recall election.
Pines has served as a member of the Bench-Bar Coalition, the Judicial Council's Working Group on Judicial Pay and Benefits, the council's Judicial Service Advisory Committee, the Superior Court's executive committee, and as chair of the Legislature Relations Committee of the California Judges Association.
In 2000, he was honored as a MetNews Person of the Year and last September he was appointed to a three-year term as a voting member of the Judicial Council by then-Chief Justice Ronald M. George.
Copyright 2011, Metropolitan News Company