Tuesday, November 8, 2011
Page 1
County Counsel Andrea Ordin to Resign in February
By SHERRI M. OKAMOTO, Staff Writer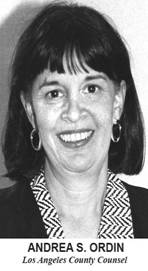 Los Angeles County Counsel Andrea S. Ordin told her staff yesterday that she plans to step down in February, almost exactly two years after she took the job.
Ordin could not be reached for comment.
In an inter-office email yesterday, a copy of which was obtained by the MetNews, Ordin told colleagues she was "extremely happy that I was given the opportunity by the Board [of Supervisors] to serve the legal needs of this most complex County, and to work closely with so many of you and the outside counsel, in meeting the many challenges faced by the County."
Ordin added that she was "pleased to have seen first hand the high degree of professionalism that exemplifies this office, and to have been a part of the management team that has hired outstanding new lawyers during these past 20 months, and promoted strong career lawyers to be part of the leadership team of the future."
She related she was "sorry that I won't be here to see you on a regular basis, and that the time has gone by too quickly."
Ordin in 2009 became the first woman to serve as county counsel since the position was established in 1913.
Earlier Career
Prior to this, she was a partner in the Los Angeles office of the international law firm Morgan, Lewis & Bockius, where she focused her practice on complex business and environmental litigation and international corporate investigations. Ordin also oversaw the firm's pro bono programs in Los Angeles and Orange counties.
She attended college and law school at UCLA and then joined the California Attorney General's Office before serving briefly as LACBA's executive director in the 1970s. Ordin also served as LACBA's president in 2001-2.
In 1975, then-Los Angeles County District Attorney John Van de Kamp named her the county's first female assistant district attorney, the No. 3 position in the office hierarchy. Two years later, then-President Jimmy Carter appointed Ordin as the U.S. attorney for the Central District of California.
First Woman
Ordin was the first woman to serve in the post and the third to serve as a U.S. attorney in the country. She rejoined Van de Kamp after he became California attorney general in 1983, and served as chief assistant attorney general in charge of the Public Rights Division.
She later became part of the Christopher Commission, which investigated the factors that led to the beating of Rodney King and subsequent uprising. She was named to the Los Angeles Board of Police Commissioners, the civilian oversight board for the Los Angeles Police Department, in 2005, and served as vice president of the commission prior to being named county counsel.
Copyright 2011, Metropolitan News Company