Wednesday, December 21, 2011
Page 3
Services Today for Workers' Compensation Attorney Randal I. Klein
By a MetNews Staff Writer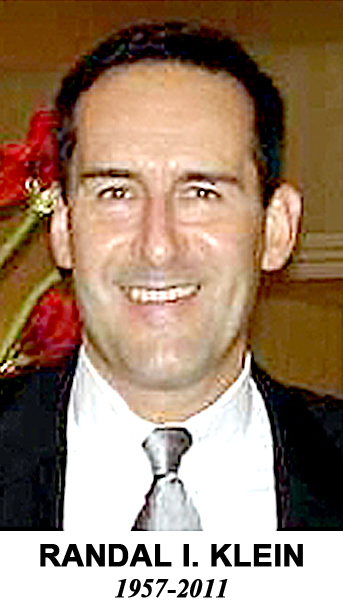 Services are scheduled this afternoon for Woodland Hills attorney Randal I. Klein, who died Sunday at the age of 54.
Klein, who had suffered a series of strokes, was a member of Tobin Lux LLP, practicing in the workers' compensation field, in which he became a certified specialist. He joined the firm in 1987 and rose to become managing attorney of its local office, a post he relinquished in March 2010.
Klein "was an exceptional litigator and really loved by his partners and his clients," Irvin Lucks, a founder of the firm, told the MetNews yesterday.
"He was a very unusual individual, very positive very ethical," Lucks said. "Nobody had a bad thing to say about him, that's how highly respected he was."
Klein graduated from El Camino High School in the San Fernando Valley, from UCLA, and from Pepperdine Law School.
The firm wrote on its website:
"Randy loved his work, his UCLA Bruins, his vigorous workout regimen, and his many friends. That love was reciprocated, especially over the last several months when his many friends and colleagues called and visited often. Randy was held in high regard and true affection by all who were lucky enough to be his friend or acquaintance, and his presence is greatly missed."
Klein, who never married, is survived by a brother, Doug Klein, and sister Debbie Klein, Lucks said.
Today's services are scheduled for 1 p.m. at Groman Eden Mortuary, 11500 Sepulveda Blvd., Mission Hills, CA 91345.
Copyright 2011, Metropolitan News Company