Friday, October 14, 2011
Page 3
Southwestern Professor Emeritus John Gallagher Dead at 80
By a MetNews Staff Writer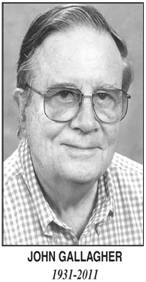 Southwestern Law School Professor Emeritus has passed away at the age of 80, a spokesperson for the school said yesterday,
Gallagher, who served on the Southwestern faculty for more than four decades, died Wednesday, she said.
Southwestern Dean Bryant Garth yesterday praised Gallagher as "a wonderful colleague and teacher who is an important part of Southwestern's history."
Garth said Gallagher "cared deeply for and inspired several generations of Southwestern students throughout his many years of dedicated service to the law school," and was "instrumental" in the establishment of the school's Moot Court Honors Program and the development of its property law curriculum.
A graduate of Loyola Marymount University and Loyola Law School, Gallagher began his legal career in 1962 with Thompson, Waters & Moss, and seven years later, opened his own practice which focused on business and property law, according to a biography provided by Southwestern.
In 1969, Gallagher joined the faculty at Southwestern where he taught Evidence, Ethics and several property courses. He became Professor Emeritus in Residence in 2001.
He served as the first faculty advisor for Southwestern's Moot Court Honors Program and was active in coaching members of the interscholastic teams preparing for competition throughout his tenure with the school.
Gallagher was also a member of the Real Estate Financing Committee of the Probate Trust and Real Estate Section of the American Bar Association and served a term as chair of its Subcommittee on Foreclosure Proceedings.
Copyright 2011, Metropolitan News Company