Friday, September 23, 2011
Page 1
Judge Jacqueline Nguyen Nominated to Ninth Circuit
By SHERRI M. OKAMOTO, Staff Writer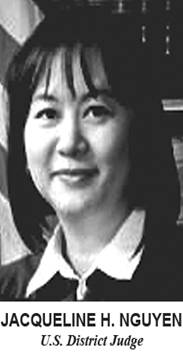 President Barack Obama yesterday announced his selection of U.S. District Judge Jacqueline H. Nguyen of the Central District of California for elevation to an open seat on the Ninth U.S. Circuit Court of Appeals.
Nguyen was Obama's first nominee to the federal bench in California in 2009. She was the first Vietnamese American woman to serve on the California bench, and to serve as an Article III federal judge.
If confirmed by the Senate, Nguyen would be the sole Asian American sitting as an active judge on the Ninth Circuit.
Efforts to reach her for comment yesterday were unsuccessful.
The White House issued a statement late yesterday in which Obama praised Nguyen as "a trailblazer," who has "display[ed] an outstanding commitment to public service throughout her career."
Sen. Dianne Feinstein, D-Calif., a senior member of the Senate Judiciary Committee, said she was "pleased" with Obama's decision.
"Two years ago I recommended her for a seat on the U.S. District Court for the Central District of California," Feinstein said, saying she was moved by the description in Nguyen's application of her family's flight from Vietnam after the fall of Saigon.
"Despite those difficult circumstances, she wrote, 'I nevertheless feel incredibly fortunate because those early years gave me invaluable life lessons that have shaped who I am today,' " Feinstein recalled.
Hailed for Character
The senator said she has "no doubt Judge Nguyen's character and her judicial experience make her well-qualified to serve with distinction on the U.S. Court of Appeals," and that she anticipated "a speedy confirmation by the Senate."
Obama's prior Ninth Circuit nominee, UC Berkley law professor Goodwin Liu, withdrew his candidacy in May after two unsuccessful Senate confirmation attempts. He was confirmed as a justice of the California Supreme Court earlier this month.
Nguyen was born in Dalat, Vietnam. In 1975, at the age of 10, she fled the country with her family and they were placed in a refugee camp in Camp Pendleton, Calif. After several months of living in a tent, her family settled in the Los Angeles area.
She went on to graduate from Occidental College in 1987, and earn a law degree from UCLA in 1991.
After joining the State Bar, Nguyen began her legal career as a litigation associate with the law firm of Musick, Peeler & Garrett from 1991 to 1994.
Nguyen then moved to the U.S. Attorney's Office and served in the Public Corruption and Government Fraud Section. Her job included overseeing Department of Defense fraud prosecutions.
'Operation Eastern Approach'
As an attorney, Nguyen made headlines as the prosecutor in the "Operation Eastern Approach" anti-terrorism case of U.S. v. Tabatabai, which was the first successful prosecution in the United States for providing material support and resources to a designated foreign terrorist organization in violation of 18 U.S.C. Sec. 2339B.
Nguyen also made her presence felt throughout the local Asian legal community, serving in the Vietnamese American Bar Association of Orange County, the Southern California Chinese Lawyers Association, the Korean American Bar Association and the Japanese American Bar Association.
She helped found and was president of the Asian Pacific American Bar Association and was a board member of the Women Lawyers Association of Los Angeles.
In 2002, Nguyen was tapped for the Los Angeles Superior Court in 2002 by then-Gov. Gray Davis and Obama appointed her to the federal bench seven years later.
Obama yesterday also nominated Missouri state court Judge Brian C. Wimes to be a U.S. district judge for the Eastern and Western districts of Missouri.
Copyright 2011, Metropolitan News Company