Friday, December 9, 2011
Page 1
Cooley Rebukes Mario Trujillo Over Campaign E-Mail
Candidate Stands by Criticism of Office Policies
By SHERRI M. OKAMOTO, Staff Writer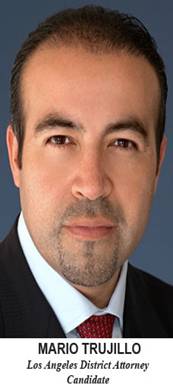 Los Angeles District Attorney candidate Mario Trujillo yesterday drew a rebuke from his boss for an e-mail blast to his supporters in which he criticized the policies of the current administration as ineffective and archaic.
A spokesperson for the office yesterday said the "unspecified criticisms contained in [Trujillo's] mass solicitation e-mail were unwarranted and disappointing," and that "Mr. Trujillo knows better."
Trujillo told the MetNews, however, that he is standing by his statements from Wednesday that "policies of the D.A.'s Office have delayed justice for victims, wasted taxpayer money and put our community at risk."
He acknowledged that the communiqué prompted a conversation with Cooley, which Trujillo described as "an intellectual conversation about our differences," on Wednesday night. But "my position stands," he said.
The candidate also insisted his e-mail was "not attacking the administration," and "in no way was it meant to be a criticism of my boss." Rather, he said, it set forth what "has been my platform since the beginning."
In his e-mail, Trujillo described himself as the "reform candidate," and yesterday he repeatedly said he was "not the status quo candidate."
Trujillo said he "I want to let people know what I perceive to be the problem and how I'm going to fix it." Cooley "may not agree with it, and that's okay," he said, "but we need to let the electorate know where we [candidates] stand."
He repeatedly expressed respect and admiration for Cooley, but said he took issue with the office's current practice of "send[ing] people to county jail knowing they're not going to serve that time" due to overcrowding.
"We've been doing that for a while," he related and "it's almost a farce when we sentence people to county jail when we know they may be released that same night."
Economic Situation
Additionally, given the state's economic situation, Trujillo insisted "we cannot afford to continue to incarcerate people at the levels that we have been doing," and so he wants the office to place more of an emphasis on alternative sentencing and rehabilitation for misdemeanor offenders.
When you have a 70 percent recidivism rate, the candidate opined, that is "like making a product that 70 percent of the time fails, and so you're doing something wrong."
A spokesperson for Deputy District Alan Jackson, one of Trujillo's opponents, suggested yesterday that "picking a fight" with Cooley was "probably the worst move a candidate could make."
He said Jackson "supports the current policies of Steve Cooley and the office," and "would be honored to follow in his footsteps."
Deputy District Attorney Bobby Grace, another of the declared candidates, remarked yesterday that he had not seen Trujillo's e-mail but was puzzled by the criticisms since Trujillo "is part of the administration in the sense that he is in management."
AB109
Grace posited that "all of the candidates in some form or fashion have talked about embracing alternative sentencing and rehabilitative programs," and "in some form or fashion there is going to be 'reform' in how we look at punishment in the state of California no matter who is elected," due to the passage of AB109.
The bill, signed into law in April, allocates certain responsibilities for lower level offenders, adult parolees and juvenile offenders from state to local jurisdictions. It was designed to transfer low-level offenders in state prisons to local jails and facilities to alleviate prison overcrowding and improve medical conditions for inmates.
Grace said Trujillo's "criticism of the office is premature" as it is "way too early to make blanket statements about the office" until "we… know how the office and how the judges are going to react to and implement AB 109."
Chief Deputy District Attorney Jacquelyn Lacey, who has Cooley's backing to become his successor, said Trujillo's comments "are inaccurate" but "interesting" since he "is a current manager who certainly has participated in meetings and could have certainly suggested changes to policies, but I don't recall that happening."
She observed that "sometimes…what can happen to people who venture into the political arena is that they will come up with a theme or a message that they believe that their constituency wants to hear, and that message may not be accurate," although "I don't know if this is true with Mr. Trujillo."
Lacey acknowledged that "there's always going to be room for change and improvement" in the office's policies, but "I think Mr. Trujillo could have said those things without throwing the whole administration under the bus."
Former Los Angeles District Attorney Robert Philibosian, a longtime supporter of Cooley, remarked that it is "counterproductive for any candidate for district attorney to criticize Steve Cooley," and "particularly inappropriate for a deputy district attorney to criticize the district attorney personally especially when the district attorney is not even a candidate for re-election."
"If Mr. Trujillo truly thinks there is something wrong with the district attorney's policies, he's free to resign from the office and run his candidacy any way he chooses," Philibosian said.
Neither Deputy District Attorney Danette Meyers nor her campaign manager could be reached for comment, and Deputy District Attorney Steve Ipsen reserved comment until after he had an opportunity to see Trujillo's e-mail.
A consultant to Los Angeles City Attorney Carmen Trutanich's "exploratory" campaign did not return a phone call.
Copyright 2011, Metropolitan News Company