Wednesday, September 14, 2011
Page 3
Mike Feuer Files Paperwork to Run for Los Angeles City Attorney
Lawmaker Says He Assumes Trutanich Will Be Elected District Attorney
By a MetNews Staff Writer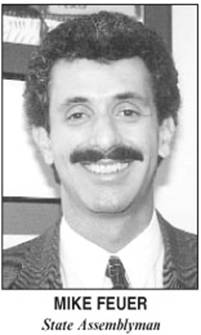 State Assemblyman Mike Feuer has filed paperwork to run for city attorney, saying he expects the current occupant of that office, Carmen Trutanich, to be the next district attorney.
Feuer, who ran for the same office in 2001, filed paperwork Monday for what he called an exploratory campaign for the seat. Trutanich recently launched his own "exploratory" effort to become district attorney of the county, a post actively being sought by six deputy district attorneys.
Feuer yesterday declined to "get into speculation" about what may happen if Trutanich does not enter the race, or loses. "I'm assuming he will run and win," the Democratic lawmaker told the MetNews.
But the assemblyman said he had not yet made a decision about whether to endorse Trutanich in that race.
Feuer has, however, hired Trutanich consultant John Shallman, who said yesterday that he did not know the answer to the "million dollar question" of whether Trutanich is going to formally declare himself a candidate for district attorney.
The consultant emphasized that Feuer's action "is not a declaration of candidacy," but "just opening a committee to begin raising money."
Trutanich has done the same thing for the district attorney race, and Shallman said he is "truly focused on his job" and will "make his decision as soon as possible."
With Trutanich's war chest of $500,000-plus, and the support of a "Draft Trutanich" movement, however, Shallman suggested Trutanich is poised to win.
Shallman also explained that the district attorney race could potentially finish in November 2012, "and that's only three months before the city attorney race," so "to wait until then to open a committee is short-sighted."
By acting now, Feuer "is putting himself into a position, should Trutanich run and win, to be able to seek that office," Shallman said.
Feuer added that he has started raising money, and "so far people have been very responsive." He said he did not have a specific fundraising goal in mind, but that he "hope[s] to make a strong statement in the December reports."
He remarked that the city attorney "has a very significant role to play on many of the most important issues in LA," and that he was "looking forward to being deeply involved in a wide spectrum of matters" such as combating gun and gang violence, issues involving housing conditions, consumer fraud, and defending the city.
"It's a job with many facets to it, and I'm very exited about it," Feuer said, positing that it "gathers all the facets of my career up to now."
Feuer served on the city council from 1995 to 2001, then lost a close race for city attorney to Rocky Delgadillo.
He has been in the Assembly for five years, representing the 42nd district, which encompasses West Hollywood, Beverly Hills, Sherman Oaks, Studio City, Brentwood and West Los Angeles.
Copyright 2011, Metropolitan News Company