Friday, December 16, 2011
Page 3
Lawyer Joins Southwestern Law School as Assistant Dean
By a MetNews Staff Writer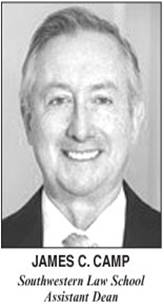 Southwestern Law School yesterday announced the selection of former McKenna, Long & Aldridge LLP partner James C. Camp as its new assistant dean for property administration and development.
Camp said that he was "excited by the opportunity to strengthen my involvement with Southwestern, especially as it embarks on an ambitious construction and development effort and creates a dynamic on-campus housing program."
Dean Bryant Garth noted that the building of on-campus student housing—the groundbreaking of which is set for today—is "the first step in a major transformation of Southwestern's campus." He credited Camp with having "played a vital role in getting us to this stage" as the school's real estate attorney and advisor.
"We are very fortunate to be able to bring him to Southwestern full time to guide us through the next steps and ensure that we provide the best possible campus environment for our students and faculty," Garth said.
In his newly created post, Camp will be responsible for Southwestern's real estate planning and development along with related business functions such as tax assessment, insurance and student housing leasing, a spokesperson for the school said.
Camp has been affiliated with the school as its attorney for property-related issues since 1988. He worked on the transaction which resulted in the school's purchase of the landmark Bullocks Wilshire Building in 1994 and represented Southwestern during a five-year negotiation with the Los Angeles City Council to permanently vacate the block of Westmoreland Avenue between 7th Street and Wilshire Boulevard that bisects the law school campus.
Southwestern Chief Operating Officer Janice Manis, who has worked with Camp for over 20 years developing the campus, said she was "delighted" to have him joining the staff. "His expertise, guidance and institutional knowledge will be invaluable for the law school's future," Manis said.
Camp also previously taught Real Estate Transactions as a member of Southwestern's adjunct faculty and is set to resume teaching the course during the Spring 2012 semester, the school spokesperson said.
A cum laude graduate of Duke University, Dean Camp and earned his law degree from Emory University before joining the State Bar in 1977.
His practice has involved the areas of corporate, finance, commercial and real estate transactions. He has done work in structuring complex real estate financings and equity investments, public/private partnerships and environmental risk management arrangements.
Camp is a past chair of the Real Property Section of the Century City Bar Association and of the Editorial Board of Los Angeles Lawyer Magazine.
Copyright 2011, Metropolitan News Company