Wednesday, December 14, 2011
Page 1
Judge Ronald Coen and Prosecutor Son May Face Parallel Election Campaigns in Next June's Primary
By SHERRI M. OKAMOTO, Staff Writer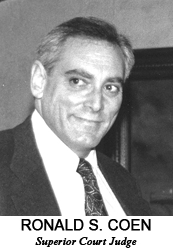 Los Angeles Deputy District Attorney Sean Coen yesterday said he has secured the support of 39 current and former Los Angeles Superior Court bench officers—including his father, Judge Ronald Coen—for his judicial campaign.
The elder Coen is also up for reelection in 2012, so should he draw a challenger, both father and son will appear on the ballot.
He said he was unaware of any judge in this state who has a child serving on the same bench, and joked yesterday about the possibility of his family forming "a dynasty," which could happen, since another son is a second year law student at UC Davis, his wife and daughter-in-law are both attorneys, and, at least according to Sean Coen, his seven-year old grandson is "starting to act like an attorney."
The judge noted that Sean Coen has "followed in my footsteps as a D.A.," and harbored no doubt he is qualified to join the bench.
"He'd make a fine judge, notwithstanding that he's my kid," Ronald Coen said, adding:
"I'm proud of the kid."
Sean Coen related yesterday that "I'm really excited about this, and my family is really excited about this," with the possible exception of his five-month old son.
He and his wife, Deputy District Attorney Lisa Coen, have four young children, and he said "I couldn't do this without her."
Running for judge, Coen said, is something he had been considering "for a while," and he thought the timing was right to make his bid now.
This April will mark his 12th year with the D.A.'s office, where he has been a part of the Hardcore Gang Unit since 2007. During that time, Coen said he has prosecuted 99 felony cases, 17 of which were homicides, and 15 misdemeanors.
His most notable recent prosecution, he said was a nine-defendant wiretap case, involving a three month investigation by the Los Angeles Police Department's Robbery-Homicide Division and over 12,000 phone calls. The gang leader targeted by the wiretap is "doing life in prison now," Coen said.
Coen also said that he will only pursue an open seat on the bench, and that he would prefer not to run against a colleague. His campaign advisor David Gould said they were proceeding on the assumption that there will be more than one seat available.
Gould is also working with Deputy District Attorney Andrea Thompson and Woodland Hills private practitioner Laurence N. Kaldor on their judicial campaigns, and is serving as treasurer for Deputy District Attorney Eric Harmon's campaign.
Harmon has retained the services of Hal Dash of Cerrell Associates Inc. as an advisor, and Deputy City Attorney Matthew Schonbrun is also mounting a campaign with the assistance of consultant Brendan Huffman.
Gould said Coen is ready to raise up to a half million dollars to finance his campaign, and "going to have $200,000 in the bank by the end of the year."
Coen is a member of the Los Angeles County Bar Association and Beverly Hills Bar Association. He said he is also in the process of joining the Mexican American Bar Association.
He is a graduate of the University of Oregon and the University of the Pacific's McGeorge School of Law.
The attorney earned his law license in 1999 and has spent his entire career with the district attorney's office.
His endorsers, he said, include District Attorney Steve Cooley and Head Deputy District Attorney Peter Cagney, along with two deputies vying to succeed Cooley—D.A. candidates Bobby Grace and Mario Trujillo.
Judges backing him include Robert Martinez, Tia Fisher, Mike Camacho, Bruce Marrs, Dewey L. Falcone, Geanene Yriarte, Steven Blades, George Lomeli, Patricia Schnegg, Alex Ricciardulli, Beverly Reid O'Connell, Yvette Verasegui, Fred Wapner, Craig Richman, William A. Sterling, Jared Moses, John A. Torribio, Philip H. Hickok, Benny C. Osorio, Tomson T. Ong, Olivia Rosales, Richard M. Goul, Shellie Samuels, Clifford L. Klein, Roger Ito, Lori Ann Fournier, Harvey Giss, Lance Ito, Thomas C. Falls, David Brougham, C. H. Rehm, Michael Cowell, Debra Cole-Hall, and Michael Jesic.
Coen has also secured the support of retired Judges Jack Hunt and Larry S. Knupp and Commissioner Wade Olson.
Declarations of intent to run for judge in the June primary must be filed between Jan. 30 and Feb. 8, although there will be an extension to Feb. 13 in open seats. The primary is on June 5, with a November runoff in any contest where no candidate receives a majority in the primary.
Copyright 2011, Metropolitan News Company