Monday, September 12, 2011
Page 3
Judith Chirlin to Head Western Justice Center Foundation
By a MetNews Staff Writer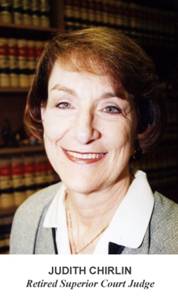 Retired Los Angeles Superior Court Judge Judith Chirlin is slated to take the helm of the Western Justice Center Foundation on November 1.
Chirlin, who stepped down from the bench in 2009 and currently works in mediation, will succeed attorney Angela Oh as executive director of the non-profit organization, whose stated mission is "to increase the opportunity for peaceful conflict resolution and displace the power of violence."
The retired jurist, who could not be reached for comment Friday, is no stranger to violence. In 2003, while on a mission to evaluate aspects of the Iraqi legal system, she left a United Nations office building in Baghdad less than two hours before it was bombed.
Oh said that Chirlin "is going to be a fabulous successor here" since the former bench officer "has the kind of creativity and energy that is going to advance the agenda of this organization in a very significant way," and also "really knows the organization" after having served on its board of directors since 2005.
"She's a proven, effective leader… who will bring a lot of wisdom to the job and in these times, especially in our space, conflict resolution, that's a quality that is very, very valuable," Oh said.
The outgoing executive director added that she has been working with Chirlin to try to make the leadership transition "seamless."
Oh explained that she decided to step down in order to "take time out to return to deep reflection" and further her training in Zen meditation, write, and travel.
The jurist received her B.A. in 1969 from George Washington University, an M.A. in 1970 from Rutgers University, and her J.D. in 1974 from USC Law School, where she served on the law review editorial board. After more than 10 years in private practice, she was appointed to the state court bench by then-Gov. George Deukmejian in 1985.
Oh holds an undergraduate degree and a master's degree in public health from UCLA, and earned her law degree from UC Davis.
Prior to her appointment as executive director, Oh served on the foundation's Board of Directors and maintained a private practice which included mediation and serving as a monitor in employment discrimination cases.
Copyright 2011, Metropolitan News Company