Wednesday, October 12, 2011
Page 3
Commissioner Robert Axel Says He Will Step Down in December
By SHERRI M. OKAMOTO, Staff Writer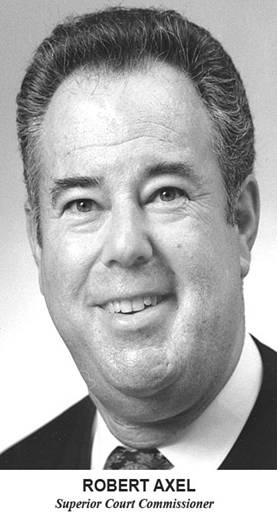 Los Angeles Superior Court Commissioner Robert Axel said yesterday that he plans to participate in the voluntary separation program announced by the court last Thursday.
Axel, who just turned 69 this month, remarked that he has "been with the court 37 years, and could go on another 37 years," but decided in light of "my personal situation as well as the court's," that  it was "time for me to pack up my gear and head off into the sunset."
He noted that the court has been through "a lot of ups and downs" during his tenure as a commissioner, but its current fiscal situation is "by far the worst," as the judiciary is "in dire straits."
The commissioner said the decision was "traumatic" for him, since his time with the court has been "the best part of my life in terms of working life." Axel spoke highly of his colleagues in Norwalk, and predicted "it will be tough to leave" after "all the wonderful times" they shared.
Axel disclosed that he plans to "take some time off" after he leaves the court, but he is "not ready to lie down" since he has "got a lot of working years left."
Come January, Axel said, "it will be the first time in 56 years that I'll be unemployed," so "I'll be looking" for work.
His first job was working in a hardware store, when he was 14, Axel said. The New York native, who is the son of former Los Angeles Municipal Court Judge Nathan Axel, went on to attend Burbank High School and what is now California State University Northridge, where he served as student body president.
Axel earned his law degree from UCLA and joined the State Bar in 1967. He worked for the Los Angeles County District Attorney's Office while in law school, but entered private practice after graduation.
He was a sole practitioner focusing on surety and construction completion bond matters in Beverly Hills before being elected as a commissioner.
He served on the Superior Court Executive Committee in 1987 and again in 1995, and was president of the California Court Commissioners Association in 1984.
Axel is the first of the court commissioners contacted to indicate his intention to participate in the voluntary separation program, which is providing an incentive for up to 30 bench officers to step down before the end of the year.
Commissioner Marilyn Martinez said yesterday she has made "no decision" and had no additional comment. Steff Padilla and Marshall Rieger on Friday both said that they too were undecided.
Martin Gladstein, Jeffrey M. Harkavy,  Alan Friedenthal, John Chemeleski and Robert Harrison have said they do not plan to take part.
Edmon last week told the MetNews that the court stands to save $7,071,570 annually, starting in fiscal year 2012-13, if 30 commissioners opt to separate. If 30 court reporters participate in the incentive program being organized for them, the court would save an additional $3.6 million.
The program entails a one-time payment of six-months salary to as many as 30 commissioners who voluntarily separate from court service effective Dec. 30, a court spokesperson said.
Any of the court's 109 full-time commissioners in good standing are eligible to participate, and must inform the court before the close of business Nov. 21 if they wish to participate, the spokesperson added.
Axel remarked yesterday that the choice of whether or not to participate is "a very difficult decision for any of us to make," and praised the court leadership for offering such an "innovative" program to address its budgetary crisis.
"If you got to be asked to leave, they did it in the best way possible," Axel said. "The administration of the court is doing it in a very considered, humane-type way, and a  lot of thought has gone into it," he concluded.
Copyright 2011, Metropolitan News Company